Career State Department Official George Kent Testifies in Impeachment Probe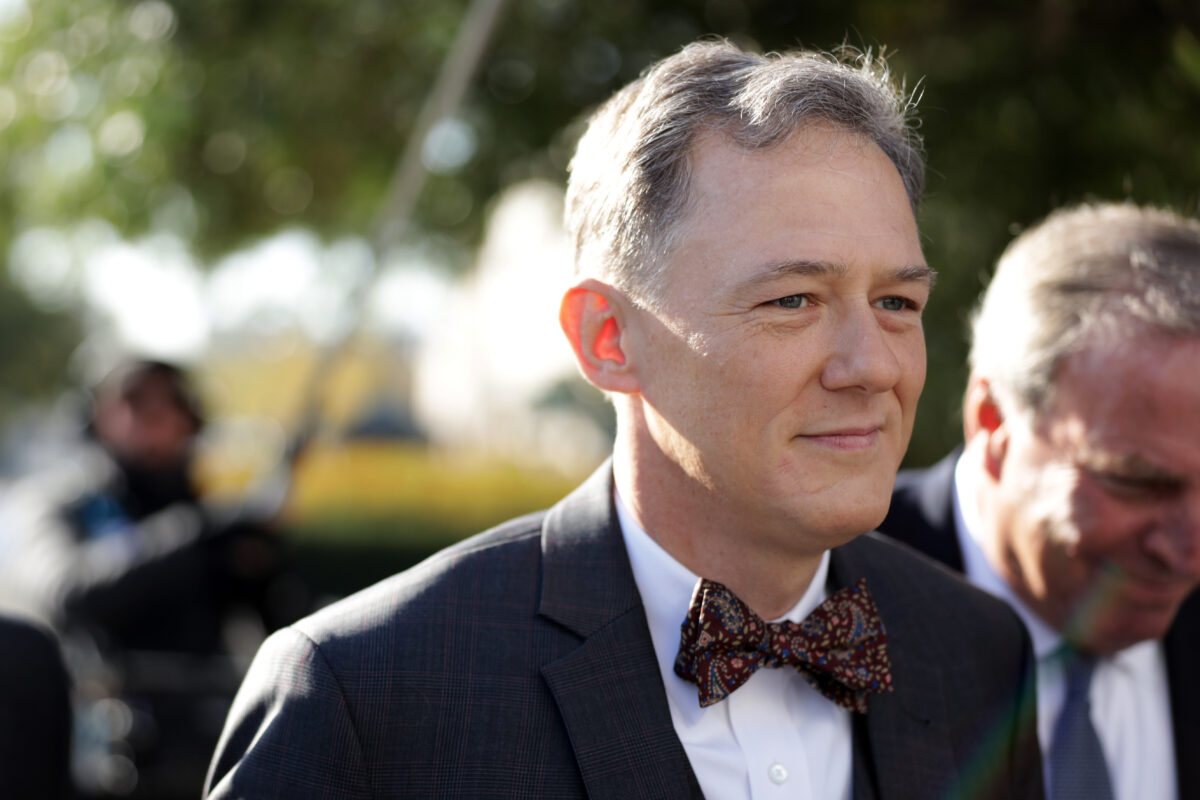 Career State Department official George Kent testified before lawmakers from three House committees on Oct. 15 as part of the Democrat-run impeachment inquiry.
Kent has served as the deputy assistant secretary in the European and Eurasian Bureau at the State Department since 2018. He oversees policy toward Ukraine, Moldova, Belarus, Georgia, Armenia, and Azerbaijan.
Congressional Democrats issued a subpoena to Kent after the State Department ordered him not to testify, according to an official involved with the inquiry.
The chairmen of the House's Oversight, Intelligence, and Foreign Affairs committees first notified the State Department (pdf) about seeking Kent's testimony on Sept. 27. The request came one day after Rep. Adam Schiff (D-Calif.) released the whistleblower complaint that had triggered the impeachment inquiry before it was made public.
The whistleblower complained about a July 25 call between President Donald Trump and Ukrainian President Volodymyr Zelensky. During the call, Trump asked Zelensky to look into the business dealings of Hunter Biden, the son of former Vice President Joe Biden, which the whistleblower suggested amounted to a violation of campaign finance law. The Justice Department reviewed the complaint and determined no further action was necessary.
In an interview with ABC News published on Oct. 15, Hunter Biden defended his work in Ukraine and China, even as he conceded that he made a political mistake by creating the appearance of a conflict of interest. According to an Oct. 14 statement from his attorney, Biden committed to step down from the board of a Chinese company and not work for any foreign companies if his father wins the presidential election in 2020.
Trump's request to Zelensky referenced the treatment of a top Ukrainian prosecutor. Early last year, Joe Biden bragged about forcing the removal of the prosecutor, Viktor Shokin, by threatening—while Biden was vice president—to withhold $1 billion in U.S. loan guarantees to Ukraine. Shokin later said in a sworn statement that he was removed due to pressure from Biden, because he refused to drop the investigation into Burisma, Ukraine's largest independent natural gas producer. Hunter Biden held a paid position on the company's board when his father forced the prosecutor's firing.
Kent is the latest official to testify in the impeachment inquiry. Trump's former Russia adviser, Fiona Hill, testified the day before. House lawmakers also have interviewed former U.S. Ambassador to Ukraine Marie Yovanovitch and former Special Representative for Ukraine Kurt Volcker.
Gordon Sondland, the U.S. ambassador to the European Union, is expected to testify later in the week, in response to a congressional subpoena.
Yovanovitch, who testified on Oct. 11, denied several accusations against her, telling lawmakers that she isn't disloyal to Trump and has never handed Ukrainian officials a so-called do-not-prosecute list. Yovanovitch said she believes she was removed based "on unfounded and false claims by people with clearly questionable motives."
According to State Department emails contained in a package of material shared with congressional staff last month, Kent told colleagues that Yovanovitch had become the target of a "classic disinformation operation."
"One key sign of it being fake is that most of the names are misspelled in English—we would never spell most that way," Kent wrote in the email, referencing the do-not-prosecute list.
He suggested the department push back by "circling in red all the misspellings and grammar mistakes and reposting it," as the U.S. Embassy in Moscow has done to counter propaganda.
Kent, who majored in Russian language and literature at Harvard, has held several jobs requiring him to grapple with corruption in Ukraine, which ranks 120th of 180 nations in a corruption perceptions index.
Before taking his current post, Kent served as the deputy chief of mission at the U.S. Embassy in Kyiv from 2015 to 2018, and as the senior anti-corruption coordinator in the State Department's European Bureau from 2014 to 2015.
One former U.S. official said Kent had been among the most vigilant officials within the State Department in reporting on corruption in Ukraine and in seeking to combat it.
Reuters contributed to this report.
Follow Ivan on Twitter: @ivanpentchoukov