Former Pompeo Aide Testifies in Democrat-Run Impeachment Probe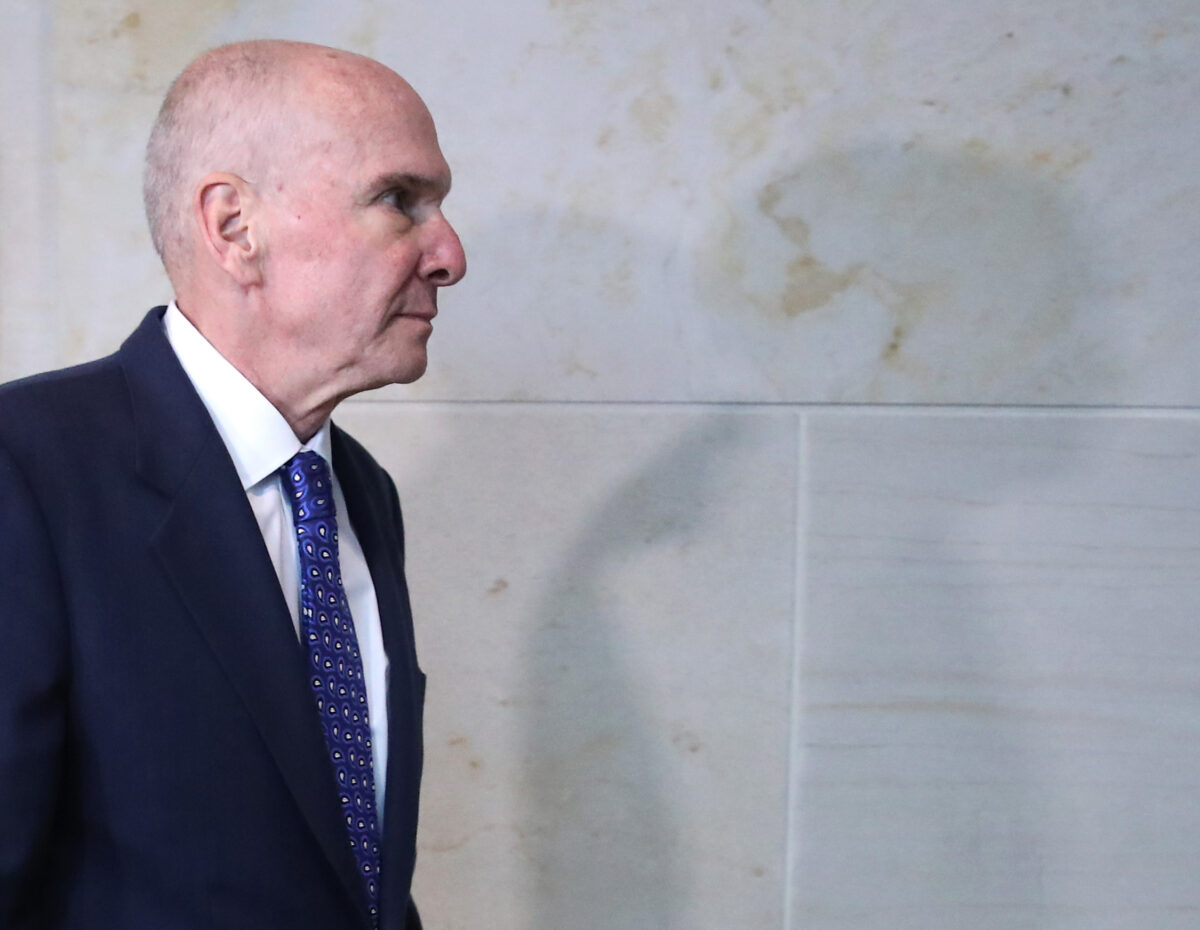 A former adviser to Secretary of State Mike Pompeo spoke on Oct. 16 to House lawmakers conducting the impeachment inquiry, which is centered on allegations that President Donald Trump pressured Ukraine to investigate former Vice President Joe Biden.
The former adviser, Michael McKinley, is the latest witness to testify behind closed doors as Republicans continue to criticize the secrecy of the process and the White House refuses to cooperate unless Democrats vote to formally launch the inquiry.
Lawmakers are working to determine whether Trump's request to Ukrainian President Volodymyr Zelensky to investigate Biden amounted to an abuse of power for political gain against an election opponent. An anonymous whistleblower triggered the inquiry by disclosing details of the July 25 call between Trump and Zelensky to Congress.
McKinley served as ambassador to Brazil and Afghanistan.
While little is known publicly about the testimonies occurring behind closed doors, a congressional Republican involved in the impeachment proceedings told The Epoch Times that an assessment can be made based on leaks from the Democrats.
"It's actually fairly easy for observers to discover what's happening in each interview because the Democrats leak any statement that a witness makes that is either damaging to Trump or can be spun to be damaging to Trump," the Congress member said. "If there's any single interview in which the Democrats don't leak anything, that means there was nothing damaging in there. Nothing happened. It was useless to them."
Previous witnesses have alleged that policy staff were sidelined on Ukraine by Trump's personal lawyer, Rudy Giuliani, and others.
"We've uncovered significant evidence of Trump's abuse of power. And we'll continue to expose the truth," House Intelligence Committee Chairman Adam Schiff (D-Calif.), who is leading the impeachment inquiry, said on Twitter on Oct.16.
Trump, in a series of early morning tweets, reiterated attacks on Schiff and House Speaker Nancy Pelosi (D-Calif.), denouncing the "impeachment witch hunt" for not giving Republicans more of a role in the process, which he's said is an unconstitutional attempt to oust him from the White House.
Trump's request to Zelensky referenced the treatment of a top Ukrainian prosecutor. Biden bragged in early 2018 about how he, as vice president during the Obama administration, forced the ouster of that prosecutor by threatening to withhold $1 billion in U.S. loan guarantees. Biden's son, Hunter Biden, held a paid position on the board of the company the prosecutor was investigating when he was fired. In a sworn statement, the prosecutor, Viktor Shokin, said he was fired under pressure from Biden because he refused to close the investigation.
House Republicans also ramped up their attacks on Democrats, complaining that they were being denied access to transcripts of witness interviews and saying they would introduce a censure resolution against Schiff.
"This is a closed system," House Minority Leader Kevin McCarthy said of the Democratic-led impeachment inquiry. "This is a system designed to already find an outcome."
House Democrats on Oct. 15 said Schiff will, at some point, move the impeachment inquiry into a public hearing phase.
Democrats accuse Trump of pressuring Ukraine to investigate Biden after withholding $391 million in U.S. security aid. Zelensky agreed to investigate but has said he wasn't pressured to do so. The Justice Department reviewed the whistleblower's complaint to determine if Trump's request amounted to a campaign finance violation and determined no further action is necessary.
Trump has denied wrongdoing and defended his request to Zelensky. Biden and his son also deny wrongdoing.
Hunter Biden agreed on Oct. 13 to step down from the board of a Chinese company that is under scrutiny from Congress and a conservative watchdog group. He also committed to not serve on the boards on any foreign companies if his father wins the presidential election in 2020.
On Oct. 15, Giuliani said he would defy a subpoena in the impeachment inquiry. Vice President Mike Pence and Defense Secretary Mark Esper also refused to comply.
Pompeo has directed State Department employees not to cooperate with the inquiry, but with limited success.
Career diplomat George Kent testified on Oct. 15. Congressional investigators also heard on Oct. 14 from Trump's former Russia adviser, Fiona Hill, who was senior director for European and Russian affairs on the National Security Council.
Gordon Sondland, the U.S. ambassador to the European Union, is expected to appear Oct. 17, a congressional source involved in the inquiry confirmed to The Epoch Times. Laura Cooper, the Defense Department official overseeing Ukraine, is expected to testify Oct. 18.
Reuters contributed to this report.
Follow Ivan on Twitter: @ivanpentchoukov