House Freedom Caucus Lawmakers Demand Adam Schiff's Recusal From Impeachment Inquiry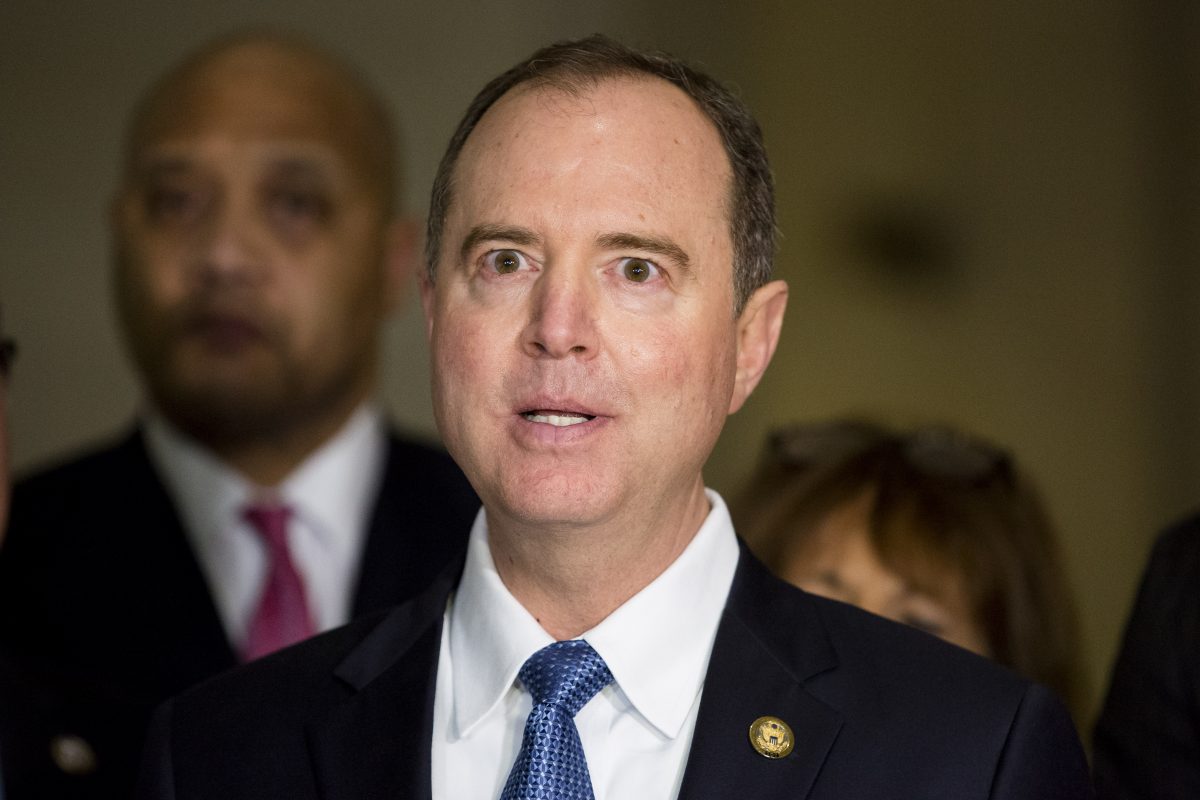 Members of the House Freedom Caucus have called on House Intelligence Committee Chairman Adam Schiff (D-Calif.) to recuse himself from the impeachment inquiry he has led against the president.
In a letter to House Speaker Nancy Pelosi (D-Calif.), a dozen GOP lawmakers, including Chairman Andrew Biggs (R-Ariz.), argued that Schiff is not qualified to lead the investigation because of his panel's interactions with a whistleblower who filed a complaint about a call President Donald Trump made with Ukraine's president. Those interactions were found to have taken place before the complaint was actually filed.
"His interactions with the whistleblower make him a potential fact witness and his actions thus far have demonstrated that he is not qualified for this serious responsibility," the lawmakers wrote in their letter.
The letter also said Schiff must answer questions about his interactions with the whistleblower under oath.
Being in contact with a key witness and then lying about it renders Adam Schiff unqualified to lead a fair and just inquiry. Members of the House @FreedomCaucus call on Speaker Pelosi to request the immediate recusal of Adam Schiff. pic.twitter.com/zYpK5Z0DAl

— House Freedom Caucus (@freedomcaucus) October 9, 2019
"The public knows little else about Chairman Schiff's dealings with the whistleblower because Chairman Schiff has failed to disclose the interaction," the letter states. "When asked directly whether the committee had any contact with the whistleblower, Chairman Schiff lied and said no."
The news that the whistleblower had approached an intelligence committee staff member prior to filing the complaint was first reported by The New York Times. The staffer had passed on the information to Schiff.
That revelation garnered criticism from Republicans due to the fact that Schiff had lied about the interaction on television and also failed to notify the intelligence committee.
Along with concealing his panel's contact with the whistleblower, Schiff also came under fire for mischaracterizing portions of Trump's call with Ukrainian President Volodymyr Zelensky during a committee hearing. The lawmaker claimed that Trump directed Zelensky to "make up dirt on my political opponent" a total of "seven times,"—an allegation pushed by House Democrats and the media and debunked by the actual call transcript. After being called out by committee members, Schiff said his version of the call was made "at least in parts, in parody."
"For over two years, Adam Schiff misled the American people with his numerous attempts to manufacture evidence of collusion between Donald Trump and the Russian government," Biggs said in a statement on Oct. 9. "Once that fairytale evaporated, Mr. Schiff quickly moved on to his next hoax: a non-existent quid pro quo between President Trump and the President of Ukraine."
"This time, just like the Russian hoax, Mr. Schiff has been caught manipulating facts leading to baseless accusations against the President. Mr. Schiff is hardly an unbiased arbiter of this unauthorized impeachment process, and we call for his immediate recusal," he added.
Biggs also introduced a motion in late September to condemn and censure Schiff for fabricating parts of Trump's call with Zelensky.
The president has also been particularly critical of Schiff for his fabricating parts of the phone transcript and his handling of the inquiry. Trump has repeatedly suggested that Schiff be "arrested for treason."
The Trump-Zelensky call, which sparked a firestorm in Washington in the past several weeks, has been the focus of an impeachment inquiry launched by Pelosi. House Democrats have accused the president of leveraging his office and withholding U.S. aid to Ukraine to obtain "dirt" on a political opponent—2020 Democratic candidate Joe Biden.
A declassified transcript of a July 25 call between Trump and Zelensky, released by the White House on Sept. 25, quotes Trump as saying, "There's a lot of talk about Biden's son, that Biden stopped the prosecution and a lot of people want to find out about that so whatever you can do with the Attorney General would be great." From the transcript Trump does not appear to pressure Zelensk or offer any quid pro quo.
Meanwhile, Trump defended his call, saying that his request for Ukraine's assistance to look into Biden's dealings was intended to investigate alleged corruption, not to look for information on a political opponent. In 2018, Biden boasted that he had pressured then-Ukrainian President Petro Poroshenko to remove a prosecutor who was investigating a Ukrainian gas company, Burisma, where the former vice president's son held a lucrative board position.
The White House sent a letter to Pelosi on Oct. 8, telling the House that it won't participate in the "highly partisan and unconstitutional" inquiry. Pelosi responded to the letter later in the day to reject the White House's claim and accuse the president of trying to "normalize lawlessness."
Ivan Pentchoukov contributed to this report.
Follow Janita on Twitter: @janitakan