Media Narrative on 'Spygate' Figure Mifsud Shifts as Barr Investigates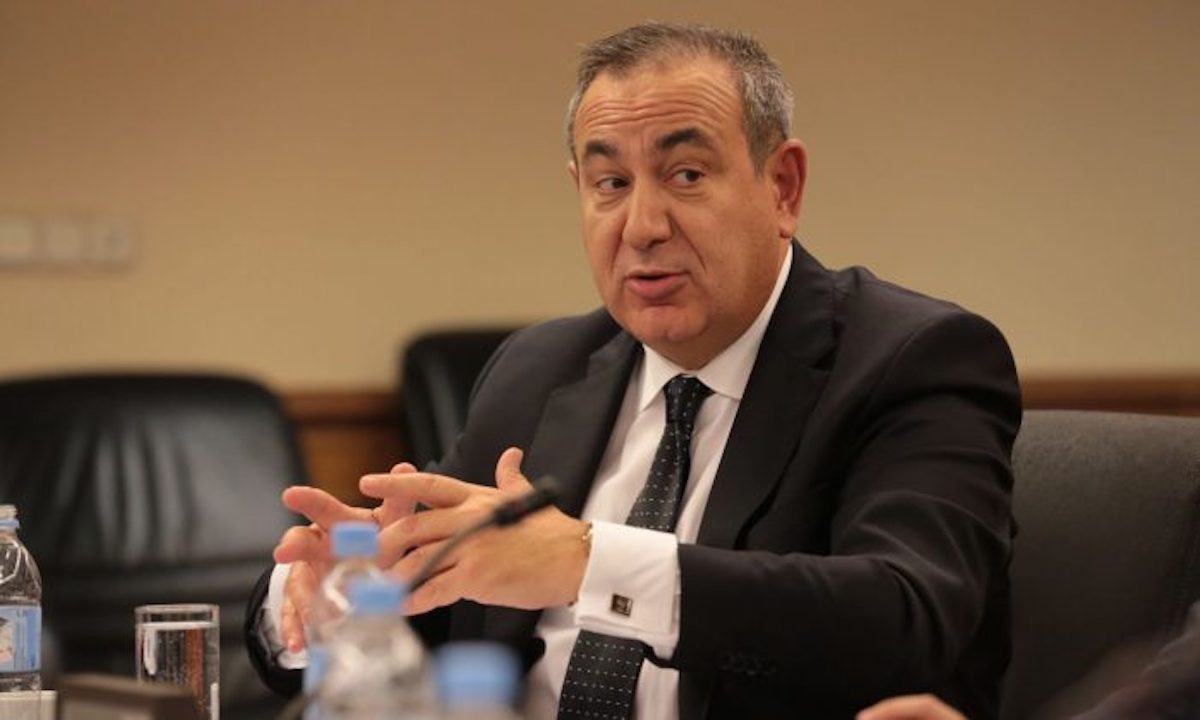 There appears to be a shift in the way media are reporting about Joseph Mifsud, one of the central figures of the 2016 Russia investigation, coinciding with the progress of Attorney General William Barr's review of the investigation's origins.
While media previously portrayed Mifsud as a mysterious character with nefarious ties to Russia, it appears the narrative has switched to downplaying his importance.
As the official narrative goes, Mifsud allegedly told a Trump campaign aide in April 2016 that Russians had "dirt" on former Secretary of State Hillary Clinton, in the form of "thousands of emails." This information was ultimately used by the FBI to open a counterintelligence investigation that involved extensive spying on Trump campaign staff.
The initial portrayal of Mifsud as a Russian spy was undermined by the fact that Mifsud had extensive contacts with people in the Western political, diplomatic, security, intelligence, and even counterterrorism circles, and none of them seemed to be concerned enough to keep distance from Mifsud.
In April, President Donald Trump's personal lawyer, former New York Mayor Rudy Giuliani, asserted the Mifsud story was the other way around—he was a Western "counterintelligence operative" involved in what looked to Giuliani as a "counterintelligence trap."
Barr reportedly visited Italy in late September to meet with security officials and, among other things, inquire about Mifsud.
Suddenly, media interest in Mifsud escalated, but the image put forward appears different.
He is "not such a relevant person," an unidentified "former Italian government official familiar with the matter" told The Washington Post.
He was "a character, both endearing and indiscreet" that "couldn't possibly have been a spy for Russia or the U.S.," Bloomberg reported, referring to "conversations with colleagues and friends [of Mifsud], most of whom spoke on the condition of anonymity."
It's also not true, as the narrative now appears to be, that Mifsud's activities, whatever they were, went under the radar.
"The Italian intelligence community had Mifsud on its radar for some years," The Daily Beast's Barbie Latza Nadeau reported. "His affiliations with both the Link University of Rome and London Center of International Law Practice [LCILP]—both often affiliated with Western diplomacy and foreign intelligence agencies—made him an easy target."
When asked by The Epoch Times what her sources were for such assertions, what "foreign intelligence agencies" she was talking about, and how Mifsud's high-level Western contacts would make him an "easy target," Nadeau didn't respond.
Mifsud's lawyer, Stephan Roh, indicated he has in recent days received inquiries from several other outlets, including CNN, Reuters, and The Times of London.
OCONUS Lures
The theory that the Trump campaign has been a target of a counterintelligence trap—and maybe more than one—has been out for some time. It points, among other things, to a yet-unexplained Dec. 28, 2015, text message from Peter Strzok, a former leading FBI counterintelligence agent, to then-high-level FBI attorney Lisa Page.
"You get all our oconus lures approved?" wrote Strzok, who at the time was leading the investigation into Clinton's use of personal email server for government business during her tenure as secretary of state. He was later also picked to lead the Russia investigation.
"No, it's just implicated a much bigger policy issue," Page responded. "I'll explain later. Might even be able to use it as a pretext for a call."
According to Chris Farrell, a former counterintelligence officer who ran double-agent operations for the U.S. Army, "OCONUS" stands for "outside the continental United States," while "lures" refers to certain "offensive counterintelligence operations."
"In plain English, it means a double-agent operation," Farrell said in a 2018 Fox News interview. "And those lures, those are the persons that are dangled out in front in the hopes that interested parties would take a bite at them. Then, the FBI would, of course, reel them in and run them against the Trump campaign."
Trump commented about the Farrell interview on June 5, 2018.
"Wow, Strzok-Page, the incompetent & corrupt FBI lovers, have texts referring to a counter-intelligence operation into the Trump Campaign dating way back to December, 2015," Trump wrote on Twitter. "SPYGATE is in full force! Is the Mainstream Media interested yet? Big stuff!"
Was Mifsud a 'Lure'?
Some aspects of Mifsud's background would fit the description of a "lure," according to Chris Blackburn, political analyst and counterterrorism expert.
But a "lure," he explained, doesn't so much refer to a person, but rather a situation.
"A lure is something that entices someone to try to recruit someone," he said.
A counterintelligence operative will pretend to be compromised by money, ideology, coercion, and/or extortion, and "hence open to manipulation and recruitment," Blackburn said in a Twitter message. If a foreign intelligence service takes the bait and attempts to recruit the operative, the relationship could then be used for various purposes, such as to identify the recruiting agents and collect information.
Several elements of Mifsud's background fit the description of a lure.
His name was repeatedly in media for alleged financial misdeeds. In the late 1990s, he worked at the University of Malta (UOM) and reportedly helped to broker the university's backing of the opening of the Link Campus University, in Rome, where Vincenzo Scotti, a former Italian interior minister, became the director.
Mifsud resigned from UOM in 2007 and ignored repeated inquiries into why he opened bank accounts in the university's name that "appear to have been used to receive sponsorships and funds in aid of academic projects for the University and spent without the normal scrutiny of the University," sources told Manuel Delia, a veteran official under two prime ministers of Malta.
But that didn't stop Mifsud from being appointed as the head of the newly formed Euro-Mediterranean University (EMUNI) in Slovenia in 2008, an institution backed at the highest levels of the European Union (pdf).
In 2012, Mifsud resigned, or was made to resign, from EMUNI. An audit showed that Mifsud incurred over $30,000 of wrongly claimed expenses, Times of Malta reported.
But that didn't stop him from assuming that same year the leadership of the London Academy of Diplomacy (LAD), an institution founded by Nabil Ayad, a veteran of diplomatic training, at the London campus of the University of East Anglia in 2010.
According to two articles in diplomatic periodicals about LAD, the school was accepting 150 students a year and counted many foreign ambassadors among its alumni.
The Diplomat magazine even gave LAD the "Diplomat of the Year" award in 2012 for "distinguished contribution to diplomacy in London."
Meanwhile, Mifsud continued to work with Link as its "director of international relations" and recruiter of foreign students.
It isn't clear why Mifsud's alleged misdeeds didn't seem to affect his career. It's also not quite clear what made Mifsud particularly qualified for those positions in the first place, aside from apparently being good at networking.
All the entities Mifsud was affiliated with were frequented and/or staffed and overseen by experts and even current and former government officials from areas such as security, intelligence, and diplomacy.
It's likely that somebody checked Mifsud's background before he was handed any of his various positions, Blackburn affirmed.
In fact, one associate of Mifsud's was involved in the British government's security clearance process.
Claire Smith is a career UK diplomat and former member of the UK Joint Intelligence Committee, a supervisory body overseeing all UK intelligence agencies. She served at the UK Security Vetting and Appeals Panel, which handles appeals of people denied security clearance by the UK government. In 2012, she gave training to high-ranking Italian military officials, which was organized by Link and LAD. Smith was photographed there, while standing next to Mifsud.
The fact that Mifsud appeared vulnerable to financial misconduct and was mingling with people who likely possessed sensitive information made him a ripe target for foreign intelligence. Meanwhile, at least since his days at EMUNI, he was making repeated overtures to Russian academic institutions, including those affiliated with the government and engaged in training future Russian officials and diplomats. Despite that, nobody in the West appeared to keep any distance from him.
There's even evidence that at least some of his Russian contacts were developed under the supervision of, or at least with the knowledge of, Link's leadership, including Scotti. The two were together in Russia in October 2016 as part of a Link delegation to sign an agreement with the Moscow State University, according to Roh, who backed his claim with several photos of Scotti and Mifsud that appear to have come from the event.
One explanation would be that Mifsud was indeed part of a lure operation. Another would be that he "duped senior former intel figures," Blackburn said.
What Was the Operation About?
Blackburn acknowledged that Mifsud's involvement with the Trump campaign, if indeed part of a counterintelligence operation, may not have been originally aimed at the campaign itself. It could have been, for example, part of the Clinton investigation designed to probe whether Russia gained access to Clinton's emails.
Indeed, the FBI affirmed that the U.S. intelligence community was trying to determine whether foreign actors gained access to the emails. The investigation itself was run by the FBI's counterintelligence division, suggesting a focus on countering any possible exfiltration of the emails. In the end, the FBI said it found no evidence that foreign actors hacked the emails, though acknowledging that a competent actor wouldn't leave a trace.
In that case, however, it would seem that the Trump investigation and all the spying involved was predicated on information tracing back to an operation run by the U.S. government itself.
Barr specifically said in April that he wanted to review "both the genesis and the conduct of intelligence activities directed at the Trump campaign."
"Spying on a political campaign is a big deal," he told Congress.
Follow Petr on Twitter: @petrsvab