Pompeo: Trump Will Take Action on Apps Linked to CCP 'in Coming Days''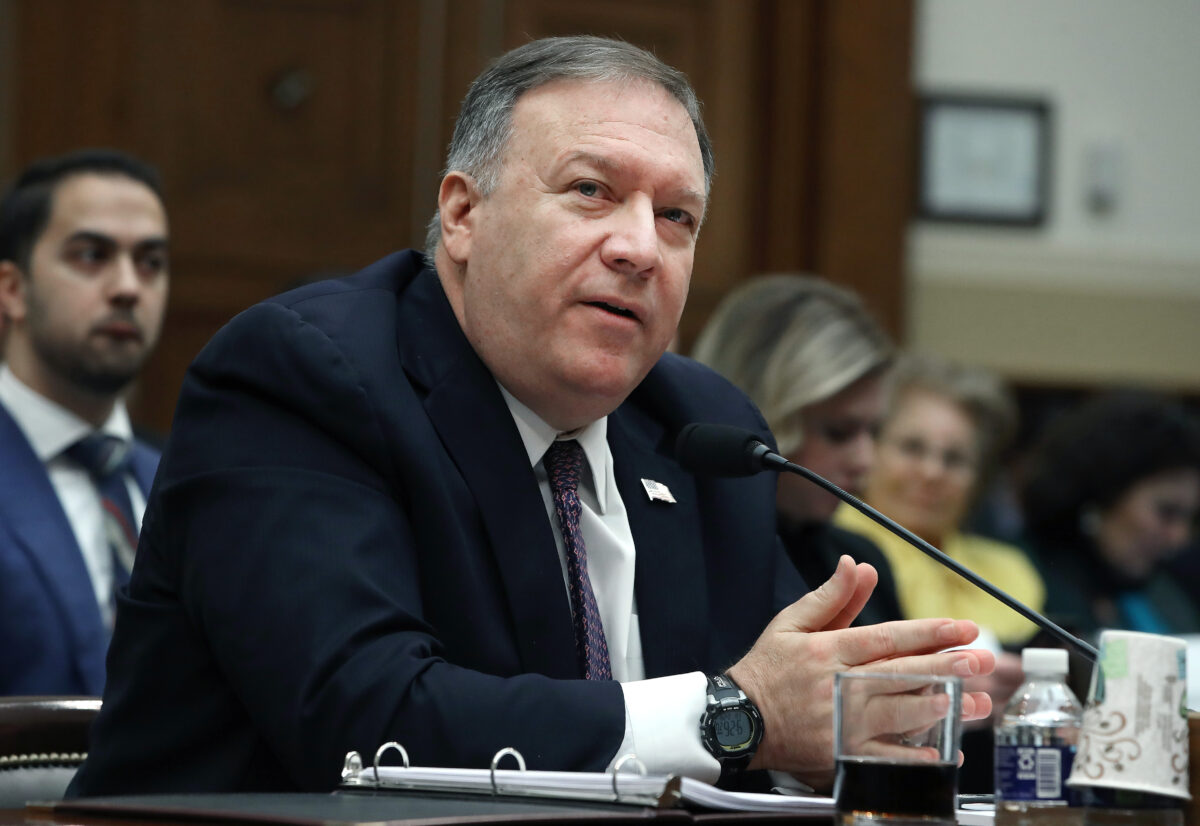 President Donald Trump will in the coming days move to address a range of national security threats posed by apps linked to the Chinese Communist Party (CCP), including TikTok, according to Secretary of State Mike Pompeo.
Trump told reporters aboard Air Force One on July 31 that he will ban TikTok in the United States as soon as Aug. 1, but the White House has made no announcements on the matter as of the afternoon of Aug. 2.
"President Trump has said enough, and we're going to fix it," Pompeo told Fox News "Sunday Morning Futures" host Maria Bartiromo in an interview aired on Aug. 2. "And so he will take action in the coming days with respect to a broad array of national security risks that are presented by software connected to the Chinese Communist Party."
TikTok didn't immediately respond to a request by The Epoch Times for comment. In response to Trump's announcement on July 31, the company's top U.S. representative said the app is "not planning on going anywhere."
U.S. officials and cybersecurity experts have long warned that the app is a surveillance tool for the communist regime. TikTok is wildly popular among youth in the United States, with the company saying its app is used by more than 100 million people in the country.
Expanding on Trump's remarks about TikTok, Pompeo broadened the scope of the upcoming action as targeting software linked to the CCP. The choice of language by the secretary of state suggests the administration is considering executive actions that would not unfairly target a single app. Pompeo said the administration is "closing in on a solution. I think you'll see the president's announcement shortly."
"These Chinese software companies doing business in the United States, whether it's TikTok or WeChat, there are countless more … are feeding data directly to the Chinese Communist Party, their national security apparatus," Pompeo said.
"It could be information about their residence, their phone numbers, their friends, who they're connected to. Those are the issues that President Trump has made clear we're going to take care of. These are true national security issues. They are true privacy issues for the American people."
The White House didn't immediately respond to a request by The Epoch Times for comment.
Trump announced his intended ban not long after reports emerged that Microsoft was talking about buying TikTok. Trump told reporters he wouldn't be supportive of the acquisition. Microsoft declined to comment.
Senate Minority Leader Chuck Schumer (D-N.Y.) said on Aug. 2 that key questions would have to be resolved if a Microsoft–TikTok merger were to go through, including whether the resulting entity would maintain links to the Chinese regime and where the data would be stored.
"I have been very opposed to TikTok. I was one of the first to expose the Chinese links. And I have urged that TikTok be closed down in America," Schumer said.
The use of TikTok has already been restricted in parts of the private and public sectors in the United States and abroad. The House of Representatives on July 20 voted on a measure to ban TikTok from all government-issued devices. Wells Fargo recently instructed employees to remove TikTok, while the Democratic and Republican national committees have warned their staff against using the app.
India banned TikTok and 58 other Chinese apps in June, saying they posed threats to the country's "security and sovereignty." The Pentagon last December ordered military personnel to delete the app from government devices.
In 2019, TikTok paid a $5.7 million fine to settle U.S. government charges that it had illegally collected personal information from users under the age of 13 in violation of child privacy laws. South Korea recently fined TikTok over similar privacy breaches.
A report by security research firm Penetrum found that the app does an "excessive amount of data harvesting."
"From our understanding and our analysis it seems that TikTok does an excessive amount of tracking on its users, and that the data collected is partially if not fully stored on Chinese servers with the ISP [internet service provider] Alibaba," the report said. Alibaba is a major internet company in China.
The Epoch Times reported in July that ByteDance, the parent company of TikTok, hires censors in China to police content on the app from around the world.
On July 28, six Republican senators wrote to Director of National Intelligence John Ratcliffe, FBI Director Christopher Wray, and acting Secretary of Homeland Security Chad Wolf with concerns about TikTok's ability to influence U.S. elections by suppressing target groups and deploying bot networks to create or prop up specific narratives.
The app has previously censored an U.S. teenager who criticized the Chinese regime's mistreatment of Uyghur Muslims in Xinjiang, as well as a Chinese student who mocked the Chinese national anthem.
Chinese hackers have stolen the personal data of tens of millions of Americans over the past decade, including more than 22 million current and former government employees. Considering that the regime is likely to have collected even more data by other means, the trove of information can be harvested to triangulate and target the family and associates of elected officials and business executives.
Cathy He, Eva Fu, and Zachary Stieber contributed to this report.