Secretary Pompeo Lists Foreign Policy Achievements of Trump Administration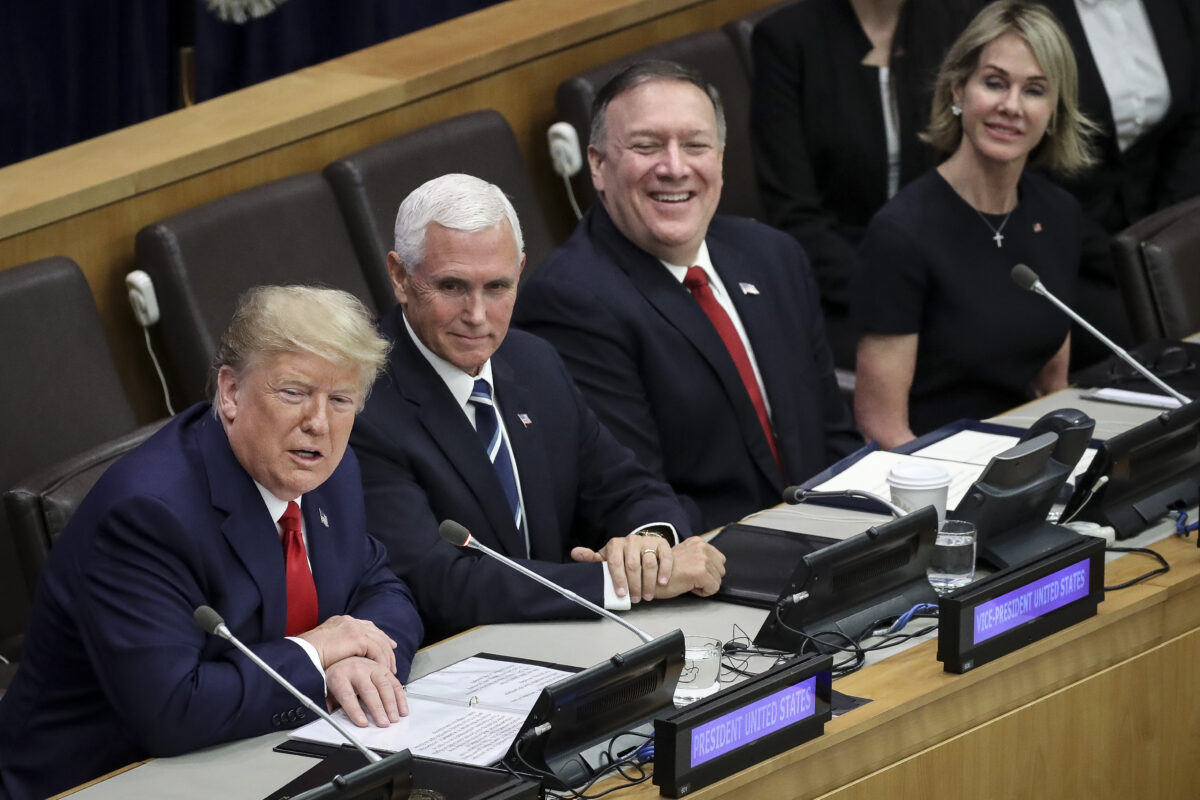 U.S. Secretary of State Mike Pompeo wrote on Twitter that in the upcoming days, he would give the complete account of their foreign policy as his New Year Resolution, adding that it could not be found anywhere else.
"America is a force for good—an exceptional nation like none other in history. First country ever to recognize that every human being has God-given rights. Truly a shining city on a hill," Pompeo wrote.
Pompeo started the series of tweets by stating that now the country is a lot safer than before the current administration took office.
He also criticized the 1619 project—a New York Times narrative that claims that the basis of the United States' founding was slavery, rather than the Declaration of Independence—as false and an attempt to smear the vision of a noble founding of America.
1619 Project has the history exactly backward. Our founding is not evil, it is noble. America was founded by visionaries who knew we'd always strive for a more perfect union. pic.twitter.com/AWldoofDvu

— Secretary Pompeo (@SecPompeo) January 1, 2021
The Secretary of State said that he has embarked on a foreign policy that takes seriously the Founding Fathers' ideas laid out in the Constitution.
"Realism. Restraint. Respect for our founding. These are the core ideas that define America First," he wrote.
A large portion of the thread includes successful counter-terrorism measures and many hostage releases that didn't involve payment to the terrorists.
"It's truly been an honor to bring home dozens of American hostages and detainees," he said, adding that they never gave payment in order to rescue the hostages, "We never, ever paid to get our people home. Appeasement invites more hostage-taking. We restored America's credibility. No more phony 'redlines' or pallets of cash to dictators and bullies."
Quick story. I keep this photo in my office, from May 2018. I had traveled to Pyongyang to secure the release of Kim Dong-chul, Tony Kim, and Kim Hak-song. @realDonaldTrump and I personally welcomed them home at JBA Andrews. pic.twitter.com/3z4sOXn76k

— Secretary Pompeo (@SecPompeo) January 1, 2021
Pompeo recalled the rescue of Americans Kim Dong-chul, Tony Kim, and Kim Hak-song from North Korean captivity, when he traveled to Pyongyang to oversee their release. President Donald Trump and Pompeo welcomed them at Joint Base Andrews.
He mentioned their efforts to secure the release of Pastor Andrew Brunson from Turkey in 2018 and Navy Veteran Michael White from Iran in 2020. Other hostages who were rescued also appeared on his feed.
Some cases we can talk about; others, we can't. One of the most public fights we had was with Turkey, over Pastor Andrew Brunson. Thanks to @StateSPEHA's efforts, President @realDonaldTrump welcomed Pastor Brunson home at the White House on Oct 13, 2018. #AmericansFirst pic.twitter.com/kDA4II5kW6

— Secretary Pompeo (@SecPompeo) January 1, 2021
Pompeo also noted Operation Mueller, named after a 26-year-old American Kayla Mueller, who was kidnapped and killed by the ISIS terrorist group. The operation concluded with the killing of terrorist leader Abu Bakr al-Baghdadi.
"We showed our enemies what happens when they harm American hostages," Pompeo wrote, adding a hashtag referring to "peace through strength."
Pompeo wrote about the U.S. sanctions imposed on North Korea for their use of ballistic missiles, which made the UN enforce them materially, "instead of looking the other way for P5 violators," he said.
He posted a video of Trump warning North Korea, writing, "We negotiated with North Korea from a position of strength."
The secretary of state also noted that the Trump administration kept its promise not to start any new wars.
"No New Wars. And we brought thousands of our men and women home to their families," he wrote. "America is still safe and our military is ready to strike if duty calls."