Trump Accuses Jewish Americans Who Vote Democrat Of 'Disloyalty'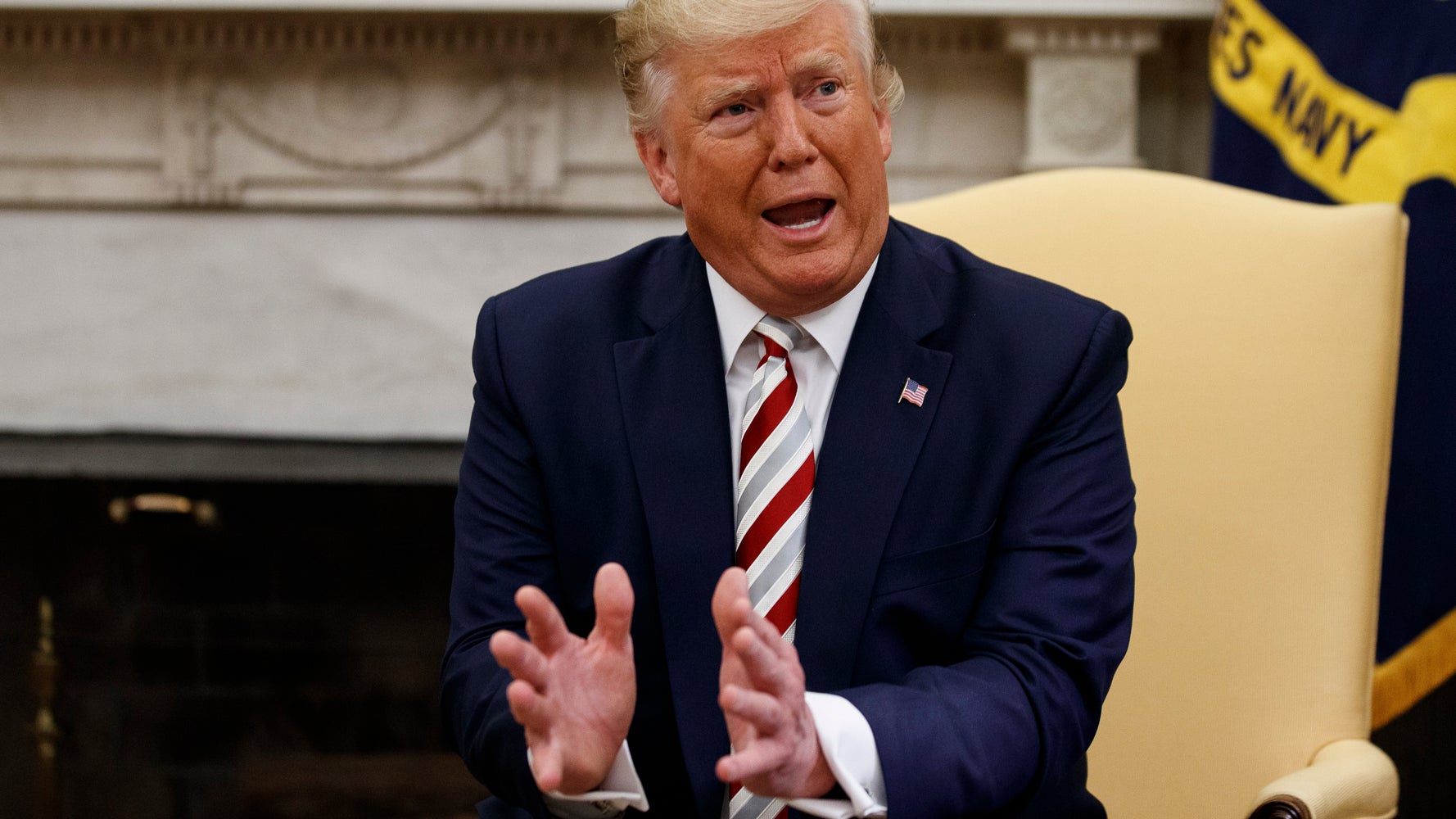 President Donald Trump said Tuesday that Jewish people in the U.S. who vote for members of the Democratic Party are not loyal.
"I think any Jewish people that vote for a Democrat, I think it shows either a total lack of knowledge or great disloyalty," he told reporters when speaking about Israel barring Reps. Ilhan Omar (D-Minn.) and Rashida Tlaib (D-Mich.), two lawmakers who have been critical of the Israeli government, from entering.
Trump did not specifically say to whom Jewish Americans who vote Democrat are disloyal, though he has a history of both calling the Muslim congresswomen "anti-Israel" and "anti-Semites," and equating Israel with all Jewish people.
"If this is about Israel, then Trump is repeating a dual loyalty claim, which is a form of anti-Semitism," said Halie Soifer, executive director of the Jewish Democratic Council of America, in a statement to HuffPost. "If this is about Jews being 'loyal' to him, then Trump needs a reality check. We live in a democracy, and Jewish support for the Republican Party has been halved in the past four years."
Israel recently barred both Omar and Tlaib from entering the country, citing their support for the pro-Palestinian Boycott, Divestment and Sanctions movement as the reason behind the decision.
The country later decided to allow Tlaib, who is of Palestinian ancestry, to visit her grandmother as long as the congresswoman agreed to Israeli restrictions on the visit. But Tlaib declined the visit, saying at a Monday press conference that she refuses to "go back caged."
At the same press conference, Omar stressed the need for better oversight of the billions in aid that the U.S. gives to Israel every year. Sen. Bernie Sanders (I-Vt.) later said that Israel should decline U.S. aid if they're going to bar congresswomen from entering the country.
Trump on Tuesday quickly struck down the idea of cutting off aid to Israel "because of two people who hate Israel and hate Jewish people."
"Where has the Democratic Party gone?" he asked on Tuesday. "Where have they gone, where they're defending these two people over the state of Israel?"
According to the Pew Research Center, about 79% of Jewish voters in America voted Democrat in the 2018 midterm elections.
Emily Mayer, a spokesperson with progressive Jewish organization IfNotNow, said that Trump's remarks are "an explicit dual loyalty charge" that is "a bullhorn to his white nationalist base."
Aaron Keyak, former head of the National Jewish Democratic Council, said Tuesday that Trump's comments are "dangerous, reckless, and wrong."
"Jews have had a long history of being in countries where we are accused of being disloyal," he said in a statement. "Just because President Trump is deeply unpopular in our community is no reason to slander us with echos of some of the most insidious attacks against our people. We've seen where this road has led before."
Trump himself has a history of making anti-Semitic comments or hesitating to denounce such rhetoric. The president used a Jewish Star of David to call Hillary Clinton corrupt; he invoked the stereotype of Jews being greedy businesspeople while speaking to the Republican Jewish Coalition; and he refuses to denounce blatantly anti-Semitic people like Rep. Steve King (R-Iowa), former KKK Grand Wizard David Duke and the neo-Nazis at the Unite the Right rally in Charlottesville, Virginia.
Trump has also previously invoked Israel when talking about all Jewish people. In April, the president told the Republican Jewish Coalition that Israeli Prime Minister Benjamin Netanyahu was "your prime minister." When Trump visited the Tree of Life synagogue in Pittsburgh ― the site of a mass shooting in 2018 ― he showed up with Israel's ambassador to the U.S.
Such behavior came as the president and conservatives accused Omar of perpetuating the trope of Jewish Americans having "dual loyalty" to Israel — something the congresswoman has never actually said. Omar was accused after criticizing the Israeli lobby in the U.S., saying, "I want to talk about the political influence in this country that says it is OK to push for allegiance to a foreign country."
"Every single American Jewish leader and Democratic politician who accused Rep. Ilhan Omar of using a dual loyalty charge should forcefully call out Trump's blatant antisemitism and recognize that the rise of antisemitism comes directly from the right," Mayer said in a statement.
The Anti-Defamation League wrote last year that accusations of disloyalty or "dual loyalty" allege that "non-Jews should not trust the motives or actions of their Jewish neighbors."
"To single out American Jews, with their complex and varied sets of relationships with Israel, its culture and society, and to then suggest that they should not be trusted citizens, patriots, or progressives, is a perpetuation of the anti-Semitic disloyalty charge that Jews have suffered from across the centuries," the organization wrote. "It is incumbent on people of good will to intervene when the charge of disloyalty is leveled today no matter who is making the claim."
Omar responded to Trump's comments with a short message on Twitter: "Oh my."
This has been updated throughout.
REAL LIFE. REAL NEWS. REAL VOICES.
Help us tell more of the stories that matter from voices that too often remain unheard.