Trump Administration Imposes Sanctions On Iran's Foreign Minister
The Trump administration placed sanctions on Iranian Foreign Minister Javad Zarif on Wednesday.
The action blocks Zarif from accessing the U.S. financial system and is an escalation in President Donald Trump's campaign of "maximum pressure" against the Islamic Republic.
Zarif "is the regime's primary spokesperson around the world. The United States is sending a clear message to the Iranian regime that its recent behavior is completely unacceptable," Treasury Secretary Steven Mnuchin said in a statement on the measure.
Zarif responded on Twitter within minutes.
"It has no effect on me or my family as I have no property or interests outside Iran," he wrote. "Thank you for considering me such a huge threat to your agenda."
While officials say Trump is keen to negotiate with Tehran and does not want a war, the hardening line suggests tension will continue ― particularly given that Zarif is Iran's top diplomat and has previously been a key interlocutor with the U.S.
"If our position is really that we want to negotiate with Iran … maybe we shouldn't sanction their chief negotiator. Just sayin," Sen. Chris Murphy (D-Conn.) posted on Twitter in response to the news.
Still, the development comes the day after officials told The Washington Post that the president will for now sustain one critical element of the 2015 global nuclear agreement with Iran despite his opposition to the deal, a potential signal of interest in dialogue. The same day, officials from the United Arab Emirates, one of Trump's closest partners in the Middle East, met with counterparts from Iran.
Sanctioning Zarif will not affect the chance to negotiate because the Trump team does not see him as "a significant decision-maker," an administration official said in a White House call with reporters ahead of the announcement. The minister's function is covering up Iranian atrocities like crackdowns on the country's LGBT community and the U.S. would like to deal with someone close to Iranian Supreme Leader Ali Khamenei, the official added.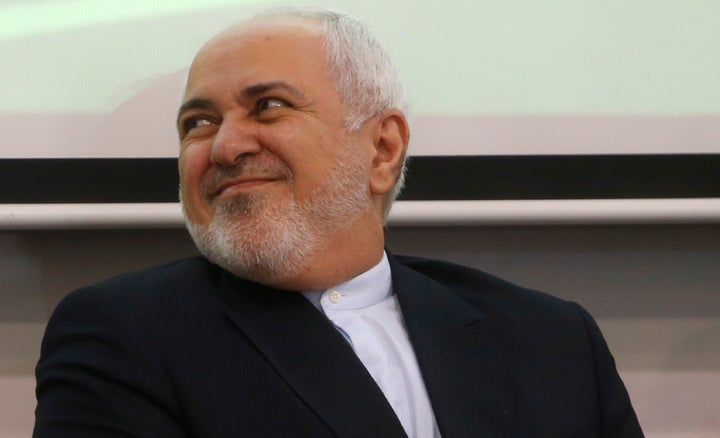 But other governments, including America's European allies, and outside analysts see Zarif as crucial to talks with Iran because he's part of the more moderate wing of the government, which pushes against hard liners in the military and clergy who are wary of the outside world.
And just last month, Trump placed sanctions on Khamenei himself, so it's unclear whom he sees as acceptable to deal with. Asked whether the sanctions on Zarif would make it impossible for him to come to the United Nations in New York, an administration official said the State Department would consider Iranian requests on a case-by-case basis and uphold past diplomatic commitments.
The United States' confrontation with Iran has worsened this summer, boosting fears of an outright military fight. Washington blamed Iran for attacks on oil tankers in May and June, and the Islamic Republic this month seized ships linked to the UAE and the United Kingdom, which captured an Iranian tanker thought to be bringing oil to Syrian dictator Bashar Assad.
Trump has ramped up the American military presence in the Middle East and said he came close to carrying out an airstrike in Iran after the country downed a U.S. drone in June.
The president appears to be struggling with how to proceed given his competing impulses to look tough on Iran and to avoid controversial foreign interventions. "Just remember, the Iranians never won a war, but never lost a negotiation," he cryptically wrote on Twitter on Monday.
It's possible that the step against Zarif ― which has a symbolic impact but limited practical effect ― is a way for him to satisfy Iran hawks at home and in friendly capitals like Tel Aviv and Riyadh while keeping the door open for diplomacy. Giving the minister a way to posture as being strong and sufficiently disliked by America could help him and other relative peaceniks in Iran's political system too.
Yet key international players don't seem confident in Trump's approach, with Germany on Wednesday ruling out a role in U.S. efforts to protect ships passing by Iran, and peace activists say the administration's approach is courting conflict, whether by accident or design.
"Either the morons in the White House have no idea what they're doing or they know exactly what they're doing and are determined to get their war," Stephen Miles of the advocacy group Win Without War wrote on Twitter.
REAL LIFE. REAL NEWS. REAL VOICES.
Help us tell more of the stories that matter from voices that too often remain unheard.