Trump Hails $500 Million Aussie Paper Mill Project in Ohio as 'Shining Example' of Fair Trade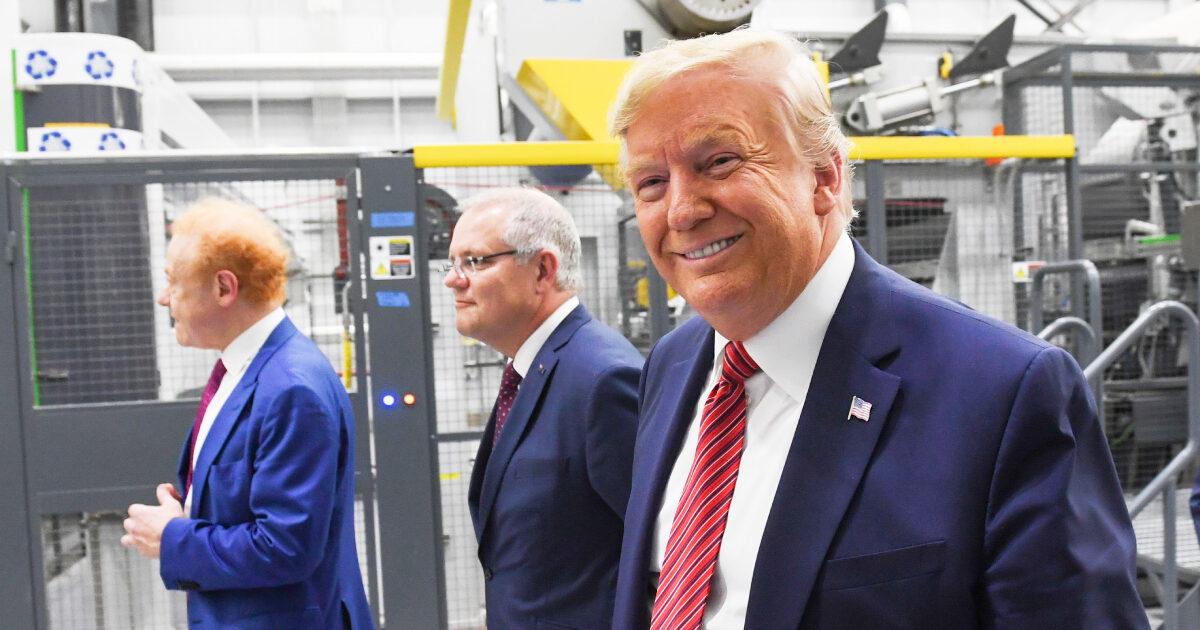 The U.S. president and Australian prime minister commended an Aussie recycling magnate for creating hundreds of new jobs in Ohio on Sept. 22.
Donald Trump thanked Pratt Industries Executive Chairman Anthony Pratt for investing billions of dollars in the United States and more recently a $500 million paper mill that will create more than 300 jobs in Wapakoneta, 185 miles southwest of Cleveland.
"When this plant is fully operational, hundreds of Ohio workers will have full-time jobs with quality healthcare and retirement benefits and really great wages," Trump said at the plant's opening ceremony.
The president revealed that Pratt, whose A$15.57 billion ($10.54 billion) wealth topped the 2019 Australian Financial Review's Rich List, committed to invest in Ohio because Trump won the 2016 presidential election.
"The most successful man in Australia said, 'I am going to come here and spend $10 billion if you win the election' and I won the election and … he spent $2 billion," Trump said. "I want to thank you Anthony for everything you have done and Pratt Industries, what a great investment. He is definitely a man of his word. He said 'I would do it' and he did it, and he is going to do more."
Prime Minister Scott Morrison agreed the recycling empire's 70 factories, spanning across 27 U.S. states, was a testament to Pratt keeping his word.
"The thing about Anthony, which is true of all Australians, is we keep our promises," Morrison said. "When we make a promise to an alliance we keep that promise and Anthony promised that he would invest in the United States with the election of the president and the jobs that are here are because this man keeps his promise."
Morrison compared the company's rapid growth as being the difference between being as "strong as steel" and a "company as strong as titanium."
"This is a great Australian who is building an even greater company and a company that is investing both in the United States and of course in Australia," he said.
The president welcomed the investment as a clear example of "fair and reciprocal trade" between the two nations, and flagged there would be more investment to come. In 2018, more than $65 billion of goods and services were traded between the countries. The United States is Australia's largest foreign investor.
"Unlike so many nations, Australia upholds the principles of fair and reciprocal trade and, for this reason, America has committed to further growing and expanding and strengthening our trade and commerce relationships between the United States and Australia," Trump said. "Mr. Prime Minister, I want to thank you for your commitment to fair trade policies that bring vast benefits in jobs to both of our countries because that is what's happened in both of our countries," the President told the leader of Australia's center-right Liberal Party.
He also described the investment in Ohio as a "shining example of the wonderful future we can build together."
"A future where proud, independent nations uplift each other and the world by uplifting their own citizens, a future where our families are prospering, our communities are thriving like never before," Trump said. "Our economies are booming, our confidence is soaring, our citizens are proud and our nations are greater than ever before."
Morrison said the Australia–United States alliance was not just about military defense but also about growing the economy.
"The president and I are here because we believe in jobs, we believe in how jobs transform lives, how jobs give people choices," Morrison said. "Jobs is what creates those choices and opportunities, so what we are celebrating here is jobs … an economic partnership where together we are making jobs great again."
The prime minister said unemployment in the United States has not been as low as 3.7 percent since the late Astronaut Neil Armstrong, who was born in Wapakoneta, became the first man to walk on the moon on July 20, 1969.
"The lowest rate of unemployment we have seen in a very, very long time," Morrison said. "That is an amazing achievement, Mr. President … the reason it is happening is because people are investing, they are investing in policies that are reducing taxes … [and] seen the economy grow and people can see things happening, they want to be part of what is happening."
Morrison admitted he found it challenging to pronounce Wapakoneta, or Wapak as locals call it, and thought that the many Aboriginal names used across Australian towns starting in 'W' should have prepared him.
"You think I'd do a little bit better because we've got Wagga Wagga, Wollongong, Wallerang, Wangaratta, Warrnambool, Woolloomooloo," he said. "Wapak—that fits right in. This is a bit of Australia right here in Ohio. I reckon. There's a bit of Australia here."