Trump Ramps Up Pressure on House Democrats to Pass USMCA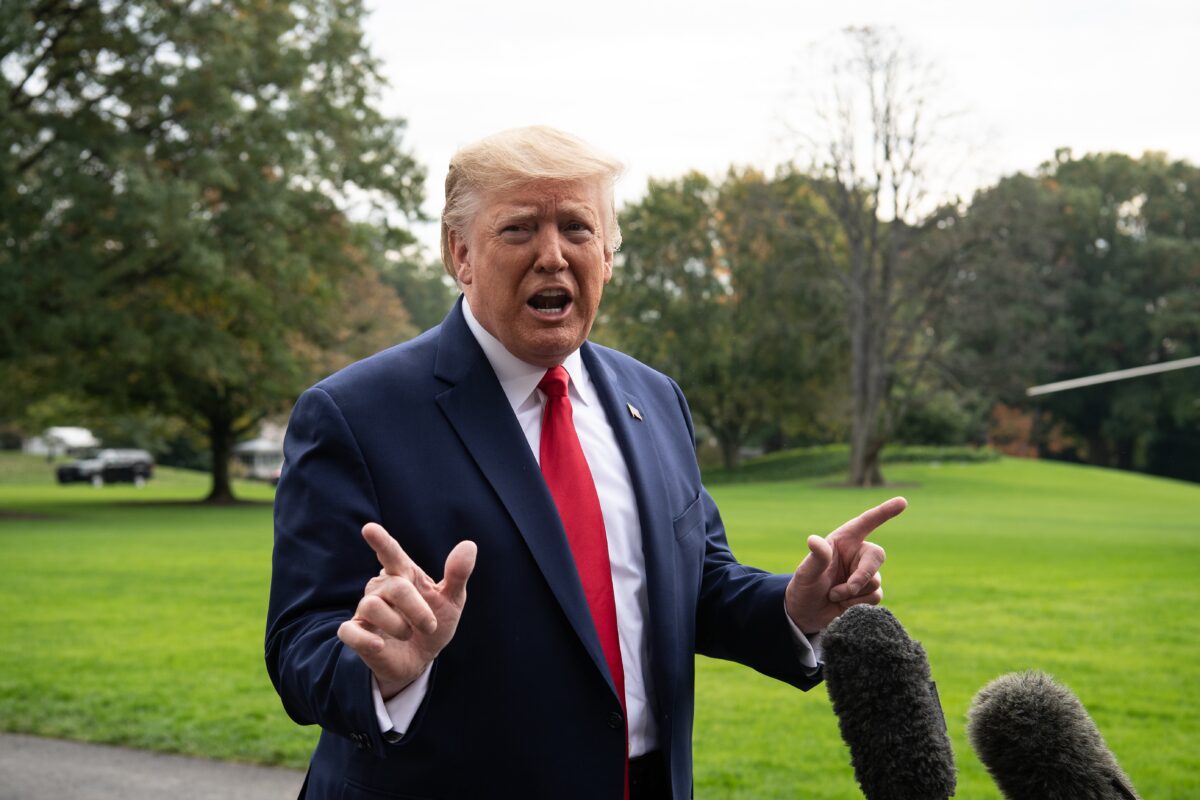 President Donald Trump has increased his pressure on the Democrat-controlled House of Representatives on Oct. 25 to pass the revised trade agreement between the United States, Mexico, and Canada, as he continued to criticize the Democrats for delays in their legislative decisions.
"Republicans are just outraged. The American public is outraged that the 'Do nothing Democrats' are doing nothing," Trump told reporters before departing the White House for an event in South Carolina. "There's such an opportunity to get things done. We need USMCA passed. It's a great deal for our country, for our farmers, manufacturers, unions, it's a great deal for our country."
While answering a reporter's question, Trump criticized Democrats for failing to focus their time on their legislative agenda, which also includes working on bills to prevent gun violence and reduce drug prices. The House is currently ramping up their impeachment inquiry against the president over allegations on Trump's conduct during a call with Ukraine. The three committees leading the investigation—Intelligence, Foreign Affairs, and Oversight—have scheduled a series of depositions with witnesses in closed-door hearings as part of their inquiry.
"Well, the Democrats don't have any time to work on anything. They have to do USMCA. They have to do guns. They have many things. We want to reduce drug prices even more," he said. "The Democrats, the 'Do nothing Democrats' have no time to do it."
Earlier in the day while speaking to reporters, White House Counselor Kellyanne Conway said it would be "terrific" if House Speaker Nancy Pelosi (D-Calif) would schedule a vote on the trade agreement this fall.
"It would be terrific if we could get Speak Pelosi to schedule a vote even this fall," Conway said. "It's good for America. It's good for American farmers, American industry, American workers, [and] American manufacturers. We need to modernize NAFTA and get the USMCA voted on."
The U.S.–Mexico–Canada Agreement (USMCA) was signed by leaders of the three nations in November 2018 and it replaces the 25-year-old North American Free Trade Agreement (NAFTA). Mexico became the first country to ratify the new trade deal, after its Senate approved it with an overwhelming majority on June 19. Meanwhile, the agreement is awaiting ratification by legislatures in Canada and the United States.
The USMCA maintains tariff-free access to Mexico for U.S. exporters. And for Canada, it provides tariff-free access for 99 percent of U.S. goods and lifts some barriers facing U.S. dairy and poultry exports.
Trump has previously warned that the impeachment inquiry against him could derail efforts to pass the agreement. A day after Pelosi announced the inquiry, Trump raised concerns that the inquiry would delay the effort to seek congressional approval for the agreement.
"I don't know whether or not they're going to have time to do any deals," Trump said. "I don't think they can do any deals. You know, we were working on guns, gun safety."
Meanwhile, Pelosi dismissed the claims that the inquiry will hinder progress in passing the agreement in the House, adding that they were still working on enforceability issues on the pact.
On Oct. 17, during a weekly press conference, the House Speaker gave an update on their progress, saying that she thinks Congress was making daily progress.
"We're still at work on the U.S.‑Mexico‑Canada Trade Agreement and making progress every day on our path to yes, but we're not there yet," she said. "As soon as we can get the assurances from the administration and from the other–everyone involved that there will be enforceability of some of the provisions of the legislation, that it will really be an improvement on the current NAFTA, then we'll be able to proceed."
Along with the White House, Republican lawmakers have also raised concerns about delays in ratifying the agreement. Rep. Vicky Hartzler (R-Mo.) wrote a letter to Pelosi on Oct. 24 to urge the House Speaker to schedule a vote on the USMCA.
"It is clear to me that the USMCA is a win for all Americans. Delays in moving this agreement forward denies several sectors of our economy the tools needed for continued economic growth," she wrote.
"There are times when we must put political grandstanding aside, united around common ground, and do the work of American democracy."
The #USMCA is a win for Missourians. Delays in moving this agreement forward denies many sectors of our economy the tools needed for continued economic growth and global competitiveness.

Here is the letter I wrote @SpeakerPelosi requesting that the USMCA gets a full floor vote. pic.twitter.com/yePZAuLhUb

— Rep. Vicky Hartzler (@RepHartzler) October 25, 2019
Emel Akan contributed to this report.
Follow Janita on Twitter: @janitakan