Trump Requests Mail-In Ballot for Florida Primary After Praising 'Safe and Secure' Election System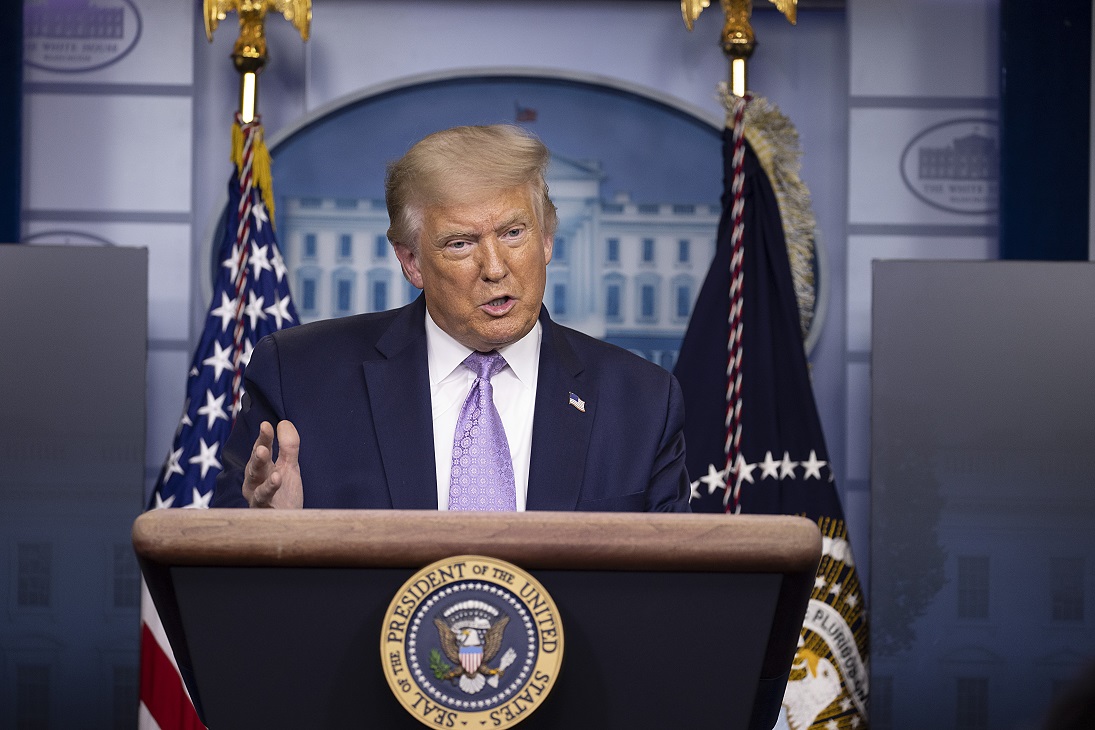 President Trump has requested mail-in ballots for himself and the first lady to vote in Florida's upcoming primary, USA Today reported.
The elections website for Palm Beach County, where Trump is registered to vote, shows that he requested the ballots on Wednesday.
A ballot will be picked up and delivered to the president's Florida residence of Mar-a-Lago before it will travel to Washington, D.C., for their votes. It will then be mailed to Florida officials before 7 p.m. Tuesday, when all mail-in ballots must be submitted.
Trump has been vehemently opposed to universal mail-in voting, suggesting that the practice is unsafe and could lead to voter fraud.
"With Universal Mail-In Voting (not Absentee Voting, which is good), 2020 will be the most INACCURATE & FRAUDULENT Election in history," he tweeted in late July. "It will be a great embarrassment to the USA. Delay the Election until people can properly, securely and safely vote???" he added at the time.
However, on Tuesday, the President recommended that people vote by mail in Florida because the state has worked out a "very good" system over many years.
"So Florida has got a great Republican governor, and it had a great Republican governor. It's got Ron DeSantis, Rick Scott—two great governors. And over a long period of time, they've been able to get the absentee ballots done extremely professionally. Florida is different from other states," Trump told reporters during a White House briefing.
"So, in the case of Florida, they've done a great job and they've had tremendous success with it. But they've been doing this over many years, and they've made it really terrific," the president added.
Earlier this month, Trump wrote on Twitter that the election system in Florida is "safe and secure, tried and true," and encouraged people to request a ballot and vote by mail.
Florida voters must request a mail-in ballot in order to receive one.
Florida lawmakers changed the legal wording from "absentee" to "vote-by-mail" in 2016 to alleviate confusion, since voters weren't required to be away from home to cast their ballot.
Meanwhile, Trump's campaign and the GOP are suing Nevada over its new vote-by-mail law. Nevada officials joined several states that plan on automatically sending voters mail ballots. Two states, California and Vermont, moved earlier this summer to adopt automatic mail ballot policies. Five other states have relied on mail-in ballots since even before the CCP virus pandemic, commonly referred to as coronavirus, raised concerns about voting in person.
In a White House press briefing on Aug. 4, Press Secretary Kayleigh McEnany said "the President has always said that absentee voting for a reason is different than mass mail-out voting like what Nevada is seeking to do, which leads to mass fraud."
"He's been unmistakably clear that when you have this mass mail-out voting, like what Nevada wants to do, the consequences are real."
McEnany cited an incident in which a postal worker said she went to "deliver some of these ballots," and in several cases, found that "people had moved or died."
"She kept 65 ballots on her first delivery, 100 on her second," the Press Secretary said. "It is rife with fraud and with delay, and that is what the President stands firmly against. He wants a free and fair election."
Also this week, Trump said he opposed a deal that would fund the United States Postal Service because Democrats required more than a trillion in funding to bail out cities and states in the package.
"They need that money in order to have the post office work so it can take all of these millions and millions of ballots," Trump said on Fox Business Network, adding, "If they don't get those two items, that means you can't have universal mail-in voting because they're not equipped to have it."
The Associated Press contributed to this report.