Trump Signs Executive Order to Improve Medicare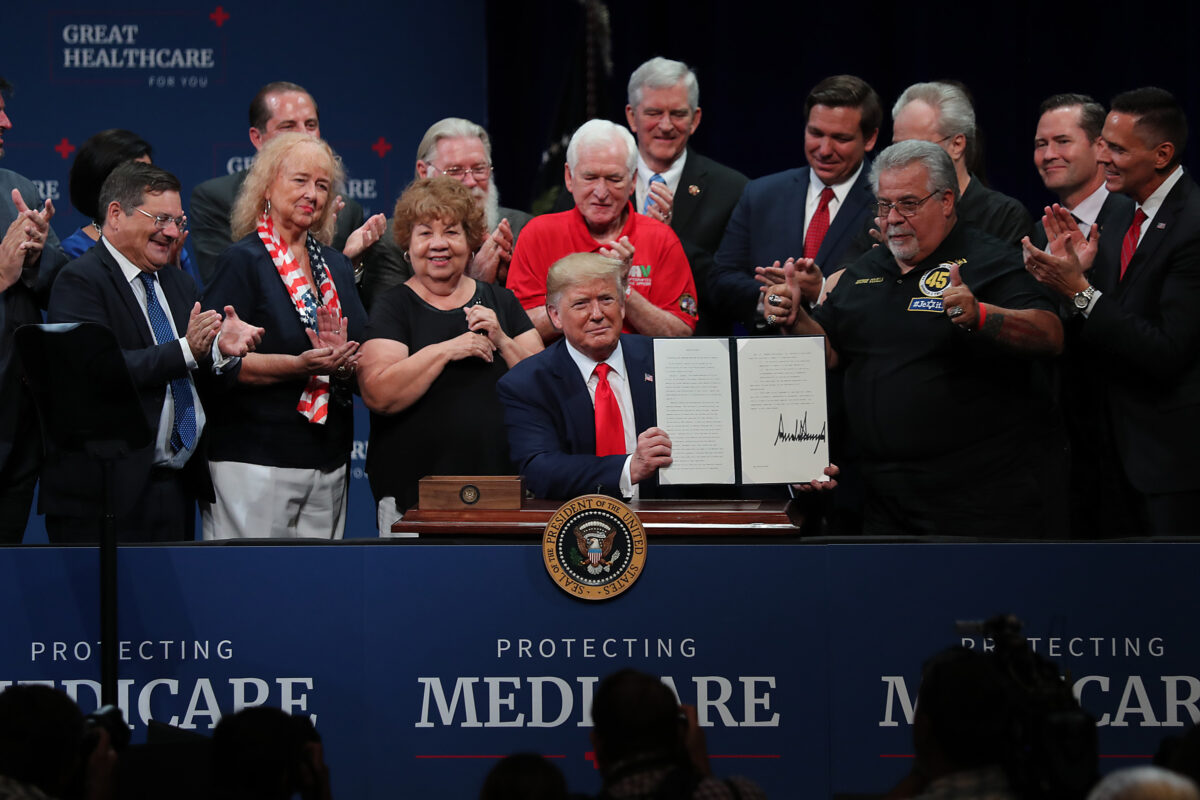 President Donald Trump signed an executive order on Oct. 3 aimed at improving and protecting Medicare with a focus on the nation's seniors, as he criticized the health care platform touted by Democrats.
The order directs his administration to pursue changes to Medicare, which covers about 60 million seniors and disabled people. Much of the order is geared toward enhancing Medicare Advantage, a private insurance option that offers savings on premiums and an annual limit on out-of-pocket costs.
As he spoke to a crowd of people at The Villages, a community for age 55 and up adults in Central Florida, Trump described the Democrats' health care plan as a "massive government health care takeover" he said would destroy the program itself.
"Medicare is under threat like never before," Trump said, adding that almost every major Democrat in Washington supports policies such as "Medicare for All."
Trump's order provides one-stop shopping, eliminating the need for separate supplemental insurance. Offered by major insurers, the plans in most cases also cover prescription drugs. The executive order doesn't include a major overhaul of Medicare, which would require congressional approval.
The central focus of Trump's remarks was his promise to protect Medicare from Democrats seeking to overhaul the program.
"These people on the other side, these people are crazy, by the way," he said of Democrats. "They want to take it away, give you lousy healthcare. As long as I'm president, no one will lay a hand on your Medicare benefits."
The event included testimonials from Floridians, including a woman who spoke about the importance to her of Medicare Advantage and said she wouldn't get the care she needs with Medicare for All, and a senior citizen who spoke about having served in Vietnam and about how Medicare is in its current form.
Trump said the order would remove some onerous regulations, add investments in Veterans Affairs health care, and help combat the opioid epidemic. While he attacked the Affordable Care Act known as "Obamacare" and former President Barack Obama's "if you like your doctor, you can keep your doctor" promise, he underlined his support for one popular pillar of the law.
"We will always protect coverage for preexisting conditions," Trump said.
Earlier, Domestic Policy Council Director Joe Grogan told reporters in a conference call that the order "puts American seniors first by expanding access to the best healthcare providers and the latest innovative therapies."
The order aims to put patients in control of their health choices, by focusing on considering competition in telehealth access and provider networks, as well as providing "affordable options through a streamlined approval process for therapy while reducing obstacles to improved patient care," Grogan said.
Among the other priorities are an expansion of telemedicine and changes to avoid overpaying for procedures just because they get done in a hospital instead of a doctor's office
During the conference call, Centers for Medicare and Medicaid Services Administrator Seema Verma condemned the Medicare for All proposal by Democrats.
"Proposals like Medicare for All, as well as the public options, are not just impractical, they are morally wrong because they would demote American seniors to little better than second-class status," she told reporters.
Medicare for All would eliminate the private health insurance industry and grant the government unprecedented control of the health sector. Sen. Bernie Sanders (I-Vt.), the author of the Medicare for All proposal, plans to tax middle-class Americans to pay for the program and calls for a four-year transition.
Verma said the order will not only expand seniors' choices, but also give them more affordable healthcare options and touted a new online initiative.
"To help seniors take advantage of their newfound choices, we are full steam ahead on our cutting-edge e-Medicare initiative, which will empower them with new online tools that will allow them to shop around for the best deal," she told reporters.
Health and Human Services Secretary Alex Azar said Trump's order directs his department to examine whether its current policies and practices put traditional Medicare ahead of the private Medicare Advantage option.
The Associated Press contributed to this report
Follow Bowen on Twitter: @BowenXiao3