Trump Supporter Praised for His Response After Being Spat On by Protester Before Minneapolis Rally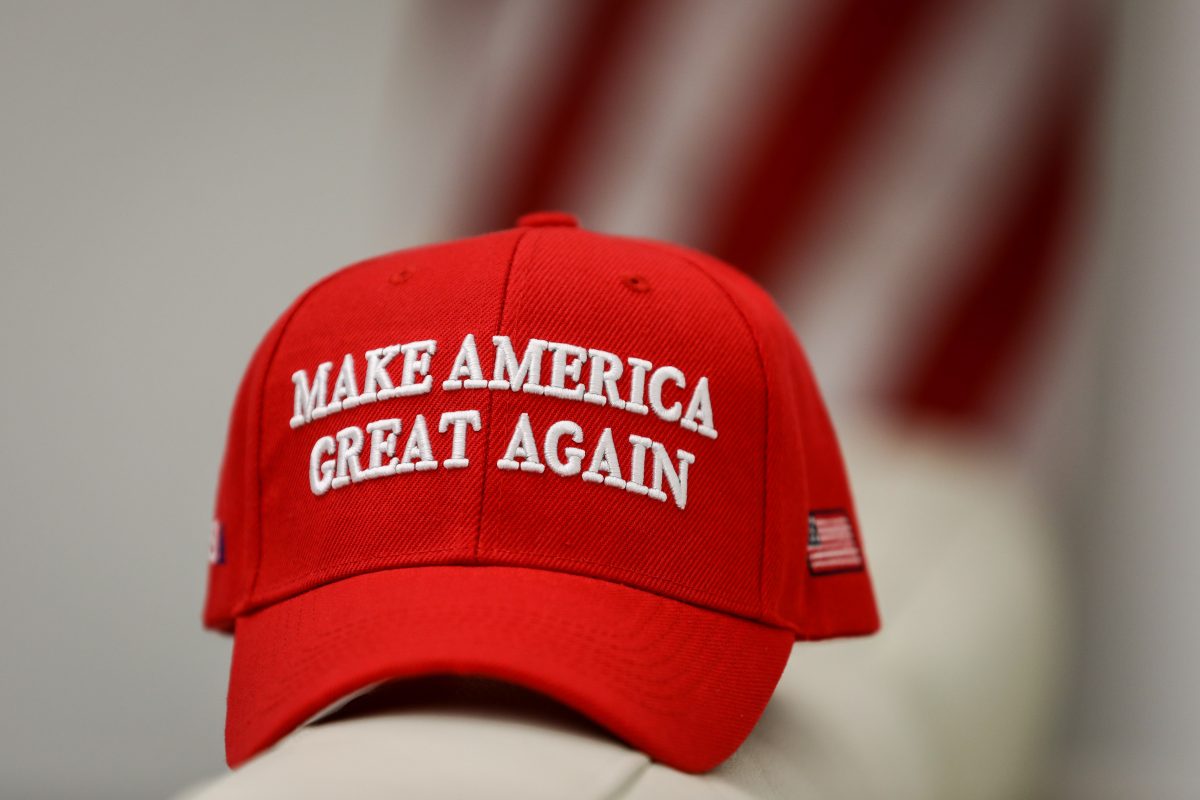 A man who was wearing a red "MAGA" hat has been commended for his reaction after being spat in the face during an interview before a campaign rally for President Donald Trump on Oct. 10.
Minnesota salesman Dave Carlson was giving an interview to Vice News outside the Minneapolis rally when an off-camera protester, who was walking by, spat on his face.
Reporter Elizabeth Landers appeared visibly shocked and apologized for the incident, while Carlson responded by saying, "Oh nice," before chuckling and wiping off the saliva.
Landers then asked the salesman whether he was okay, to which he responded, "I'm fine."
The incident prompted several bystanders to step in to comment on the situation.
"Sir, I'm sorry that happened to you," one man said.
Another man walked up to Carlson, calling the attack "disrespectful."
Landers then told Carlson that she thinks he has "a better attitude about that then I would."
In a later post on Twitter, Landers said during her time interviewing supporters of the president, she had never seen such an incident before.
"I interview a lot of the president's supporters at rallies and have never seen this before. (My reaction gives that away quickly)," she wrote.
Many social media users also weighed in on the incident, condemning the appalling behavior.
"I don't like Trump or his supporters but that was uncalled for," one person said.
"That man has some class. Very impressive. Don't agree with him on many thing (I imagine), but I certainly would be happy to have a beer with him," another said, praising Carlson for keeping his cool.
"This is purely despicable. Kudos to this man for handling such a vile situation with grace and peace," another person said.
"Completely unacceptable and that person should be ashamed for acting that way. You can hate the president without physically attacking anyone," said another.
Protesters Burn American Flag, MAGA Hats
During the same event, hundreds of people protested into the night outside Trump's rally to a bonfire of MAGA memorabilia and chants of "Nazi scum!"
Compiled footage from outside Target Center, the rally venue, shows police looking on as protesters chant, "Hey, hey! Ho, ho! Donald Trump has got to go!" and people stand around a fire consuming a stack of items including a red "Make America Great Again" hat and an American flag.
"Shine, let it shine, let it shine!" they chant.
The Blaze reporter Elijah Schaffer shared footage from the scene, which showed protesters lifting barricades, pointing lasers at people capturing photographs or video, and one person waving around a communist flag.
"The situation outside the Trump rally in Minnesota is quickly deteriorating," Schaffer captioned his post. "Left wing protesters are destroying barricades. A protester can be seen waving the Chinese flag in front of riot police. While people in Hong Kong wave American flags for freedom, we wave Chinese flags."
While Schaffer mentioned that it was a Chinese flag, it appears upon closer examination to have been the flag of the former USSR, which collapsed in 1991.
According to Trump campaign manager Brad Parscale, the venue was filled with over 20,000 Trump supporters, with another 25,000 more waiting outside.
Incredibly huge crowd! 20,000+ inside, 25,000 outside! Minnesota showed up in big numbers to prove It can go red in 2020! pic.twitter.com/HVeSk3dvuN

— Brad Parscale (@parscale) October 11, 2019
Tom Ozimek contributed to this report.
Follow Janita on Twitter: @janitakan