Ukraine Envoy's Testimony Contradicts Key Whistleblower Claim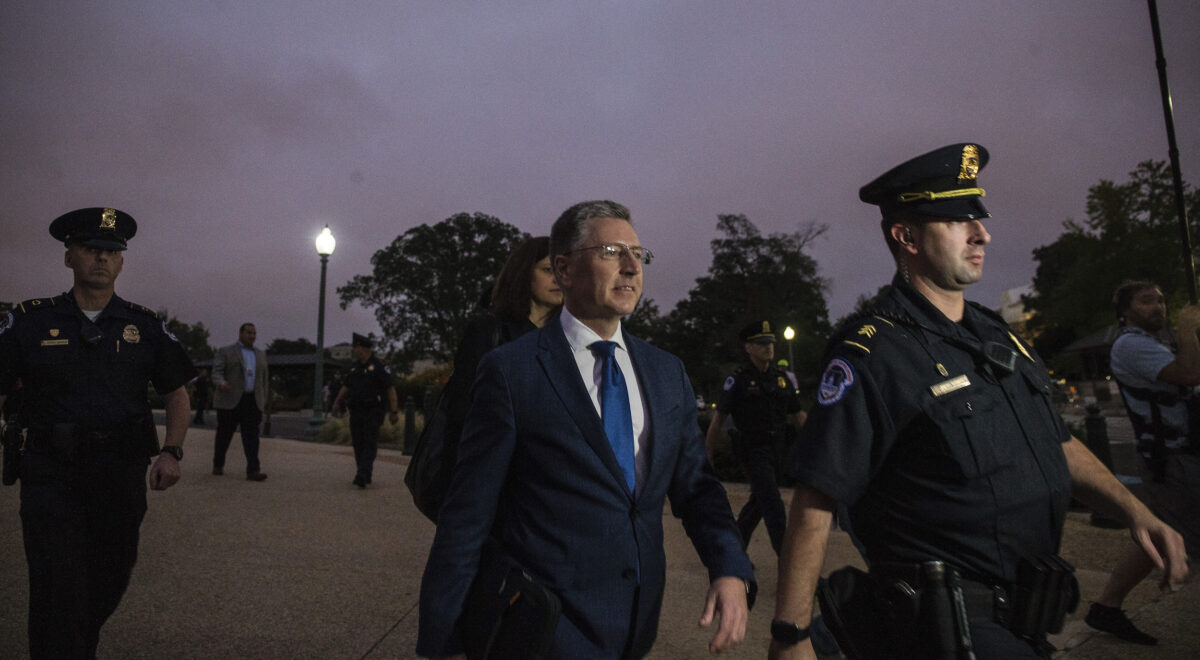 Former U.S. Special Representative for Ukraine Negotiations Kurt Volker provided testimony to the House Intelligence Committee on Oct. 3. He contradicted several of the claims made in a whistleblower complaint and the center of the Democrat-led impeachment inquiry of President Donald Trump.
Volker told lawmakers on the House Intelligence Committee on Oct. 3 that he did not partake in urging Ukraine to investigate former Vice President Joe Biden. The testimony directly contradicted a hearsay claim in the anonymous whistleblower's complaint suggesting that Volker and the U.S. Ambassador to the European Union, Gordon Sondland engaged with Ukrainian officials to help them handle Trump's request to investigate Biden.
"[At] no time was I aware of or took part in an effort to urge Ukraine to investigate former Vice President Biden," Volker told the lawmakers, according to a copy of his prepared remarks obtained by The Hill's John Solomon.
Volker backed up his claim with a trove of text messages in which Biden's name never came up. He also told lawmakers that he did not know that Biden was mentioned in the July 25 call between Trump and Ukrainian President Volodymyr Zelensky until after the White House released the transcript of the conversation on Sept. 25.
In an anonymous complaint made public on Sept. 26, the whistleblower claimed that Trump used his office to pressure Ukraine to investigate an election opponent. The whistleblower alleged that Trump's request may constitute a campaign finance violation. The Justice Department reviewed the complaint and determined no further action was necessary.
In addition to the contradiction exposed through Volker's testimony, the whistleblower's complaint includes at least three other assertions that were in conflict with the transcript of the Trump-Zelensky call. For example, the whistleblower claimed that the potential inquiry into Biden was the only investigation Trump and Zelensky discussed on the call. Contrary to that claim, the transcript showed that the two leaders discussed two other inquiries.
Volker told lawmakers he did not think that the allegations about Biden were credible and that the former top Ukrainian prosecutor who pushed some of the allegations was acting out of self-interest.
"I have known former Vice President Biden for 24 years, and the suggestion that he would be influenced in his duties as Vice President by money for his son simply has no credibility to me. I know him as a man of integrity and dedication to our country," Volker said.
In videotaped comments, Biden bragged about forcing the firing of a top Ukrainian prosecutor by withholding $1 billion in loans. Ukraine apparently gave in to pressure from Biden and fired the prosecutor, Viktor Shokin, who was at the time investigating Burisma, a gas company where Biden's son, Hunter Biden, served on the board of directors. In a sworn affidavit—also obtained by Solomon—Shokin said he was removed under pressure from Biden because he refused to drop the Burisma investigation.
Volker's testimony also puts in context a selection of Volker's electronic messages released by House Democrats late on Oct. 3. For example, in one of message Volker appears to suggest that a meeting between Trump and Zelensky was dependent on Zelensky promising to help with "an investigation."
Volker told lawmakers that the investigation in question was the one concerning Ukraine's alleged interference in the 2016 election to undermine Trump. The president's view of Ukraine was soured by the allegations, and Volker worked to convince Trump that Ukraine's new administration is set on rooting out corruption. Volker communicated with the president's personal lawyer, Rudy Giuliani, to help buttress Trump's trust in the incoming administration in Kyiv.
Volker resigned from his position on Sept. 27.
Trump maintains that the call with Zelensky was "perfect." He wrote on Twitter on Thursday that it is his duty to fight corruption, including wrongdoing taking place overseas.
"As the President of the United States, I have an absolute right, perhaps even a duty, to investigate, or have investigated, CORRUPTION, and that would include asking, or suggesting, other Countries to help us out!" the president wrote.
Follow Ivan on Twitter: @ivanpentchoukov