US Has Pulled in $35 Billion From Trump's China Tariffs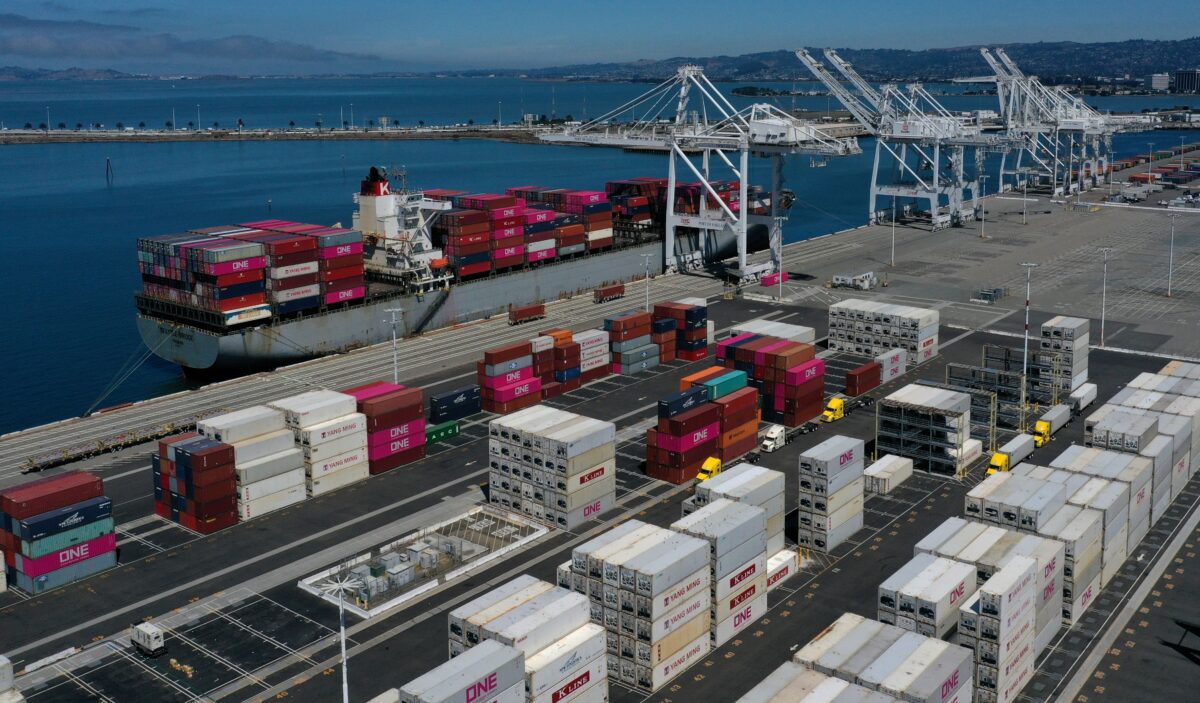 The United States has collected more than $35 billion in tariffs that President Donald Trump has imposed on imports from China, according to data from U.S. Customs and Border Protection (CBP).
Trump began imposing tariffs on China in July 2018, gradually escalating the amount to $550 billion worth of annual imports.
The president is using the tariffs to pressure China into a trade deal that would address a litany of U.S. grievances against its third-largest trading partner, including stifling American companies' access to Chinese markets, forced technology transfer, theft of U.S. intellectual property, and currency manipulation.
On Oct. 30, both U.S. and Chinese officials indicated that they're moving to finalize "phase one" of a trade deal, which is expected to focus in major part on agricultural products.
Trump has said that he expects China to buy as much as $50 billion worth of U.S. agricultural goods, more than doubling the amount in the year before the trade war began. Treasury Secretary Steven Mnuchin said on Oct. 30 that the negotiators have also been "talking a lot about forced technology transfer."
The same day, China's Ministry of Commerce announced that it had stopped anti-dumping tariffs on polyvinyl chloride imports from the United States, South Korea, Japan, Russia, and Taiwan as of Sept. 29.
Aside from those aimed specifically at China, Trump also imposed tariffs on imports of solar panels, washing machines, steel, and aluminum. At least another $9 billion have been collected on those, mostly through the steel tariffs, which total more than $6 billion.
That's an increase from about $16 billion in China tariffs and some $7.5 billion in other tariffs recorded by May 1.
The numbers are based on assessed value of the duties, which essentially mirrors what the Treasury collects, a CBP official previously told The Epoch Times via email.
Trump previously said he'd used some of the tariff money to compensate U.S. farmers affected by the trade war.
Tariff Surge
Trump's first tariffs exclusively targeting China went into effect on July 6, 2018—25 percent on $34 billion of goods. More levies hit another $16 billion of Chinese goods on Aug. 23, 2018.
Another 10 percent tariff on $200 billion worth of Chinese goods took effect on Sept. 24, 2018, and was set to climb to 25 percent on Jan. 1, but Trump postponed the increase to give room for negotiations, which, he said, were progressing well at the time.
Yet, as the deal was nearing completion, Beijing backtracked on commitments to change its laws on key issues including forced technology transfer, theft of U.S. intellectual property, and currency manipulation, according to Reuters.
Trump has suggested that China is trying to wait him out, hoping he'll lose the 2020 election and that the next president will give China more favorable treatment.
On May 10, the tariffs on $200 billion in Chinese goods increased to 25 percent, while a 15 percent tariff on another $300 billion of Chinese goods took effect on Sept. 1.
Retaliation
China responded to the U.S. tariffs by imposing its own tariffs on $110 billion of U.S. goods. On May 13, China announced it would raise tariffs on $60 billion of U.S. goods to as high as 25 percent from a range of 5 to 10 percent. But China has much less room for escalation, since it only imported about $120 billion of U.S. goods in 2018 and just over $70 billion as of August this year, based on Census Bureau data.
Impact of Tariffs
Taxing Chinese products runs the risk of raising prices for U.S. companies and consumers buying the goods, increasing inflation, and suppressing job growth. But neither have materialized on the national level. Inflation has remained tame and unemployment dropped to 3.5 percent in September, the lowest in a half-century.
That's at least partly due to the way the administration chose which products to include in the first $250 billion targeted, according to a November 2018 report prepared for the European Network for Economic and Fiscal Policy Research.
The administration went after products with high-import elasticity, the report suggested, which means their buyers are sensitive to price and would likely forgo a buy if the price goes up. In such cases, the impetus is on the seller to keep the price down.
"Contrary to public opinion, the greatest share of the tariff burden falls not on American consumers or firms, but on Chinese exporters," wrote Benedikt Zoller-Rydzek and Gabriel Felbermayr, the authors of the report.
They estimated that, with a 25 percent tariff on $250 billion of Chinese goods, U.S. companies and consumers will see prices of those products going up by less than 5 percent on average, while Chinese firms will have to reduce their prices by almost 21 percent.
Data from 2018 shows that Chinese companies tried to push most of the tariff costs on U.S. buyers, but have been able to sell less and less each month, based on a March study by economists from the Federal Reserve Bank of New York, Princeton University, and Columbia University (pdf). In December 2018, buyers appear to have been forced to bear about three-quarters of the tariff burden on the first $50 billion of targeted Chinese products, but only about a quarter of the tariffs on the subsequent $200 billion in targeted products.
Follow Petr on Twitter: @petrsvab