Vladimir Putin Jokes About Russian Meddling In 2020 U.S. Election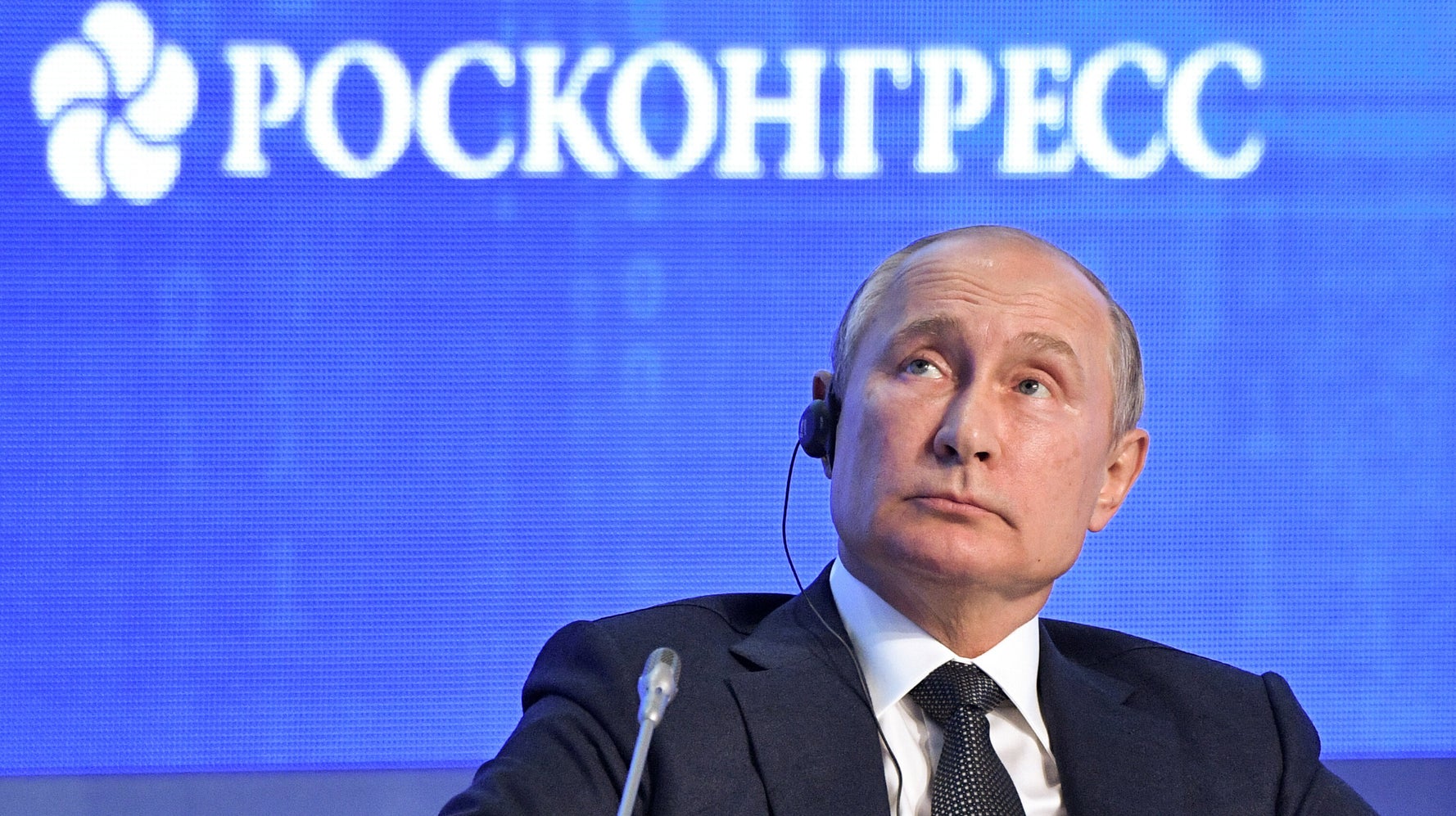 Russian President Vladimir Putin said Wednesday that Russia would "definitely" interfere in the 2020 U.S. presidential elections.
He made the comment during a panel discussion at Russian Energy Week in Moscow and appeared to be poking fun at the well-substantiated evidence of Russian meddling in the 2016 presidential election.
"I'll tell you a secret: Yes, we'll definitely do it," Putin said, according to CNN. Then he added: "Just don't tell anyone."
Putin continued: "You know, we have enough of our own problems. We are engaged in resolving internal problems and are primarily focused on this."
Putin appeared to make light of evidence of Russian interference in U.S. elections, as President Donald Trump has done in the past.
At a summit with Putin last year, Trump infamously questioned whether Russia actually meddled in the 2016 presidential election in spite of widespread consensus among U.S. intelligence agencies. He later attempted to walk back his comments but continued to indicate he didn't take the matter seriously.
"Don't meddle in the election," he said, smiling at Putin and wagging his finger. Putin and Secretary of State Mike Pompeo, who was seated nearby, both chuckled.
Trump in 2017 allegedly told two senior Russian officials he wasn't concerned about Moscow's interference in the U.S. election, claiming the U.S. had interfered in other countries' elections.
But the Trump administration's official standpoint is that it won't tolerate election interference by Russia or any other foreign nation.
"With its efforts to meddle in elections across Europe and around the world now is the time for us to remain vigilant about the intentions and the actions being taken by Russia," Vice President Mike Pence said at news conference in Warsaw, Poland last month.
Pompeo has also warned foreign agents about repercussions if they meddled in U.S. elections.
"We have been clear: We will not tolerate foreign interference in our elections," Pompeo said in a statement on Monday. "The United States will continue to push back against malign actors who seek to subvert our democratic processes."
The secretary made the comment after it was revealed he listened in on Trump's July phone call pressuring Ukraine to investigate his political rival Joe Biden.
Putin on Wednesday also commented on the phone call and claimed he had encouraged the White House to release details about his own conversation with Trump last year in Helsinki.
"When there were attempts to launch a scandal regarding my meeting with Trump in Helsinki — we directly told the administration to just publish it. If somebody wants to know something — just publish it, we don't mind," Putin said. "I assure you there was nothing to that would have compromised President Trump there."
REAL LIFE. REAL NEWS. REAL VOICES.
Help us tell more of the stories that matter from voices that too often remain unheard.