Donald Trump Is Still Whining About His Alabama Falsehood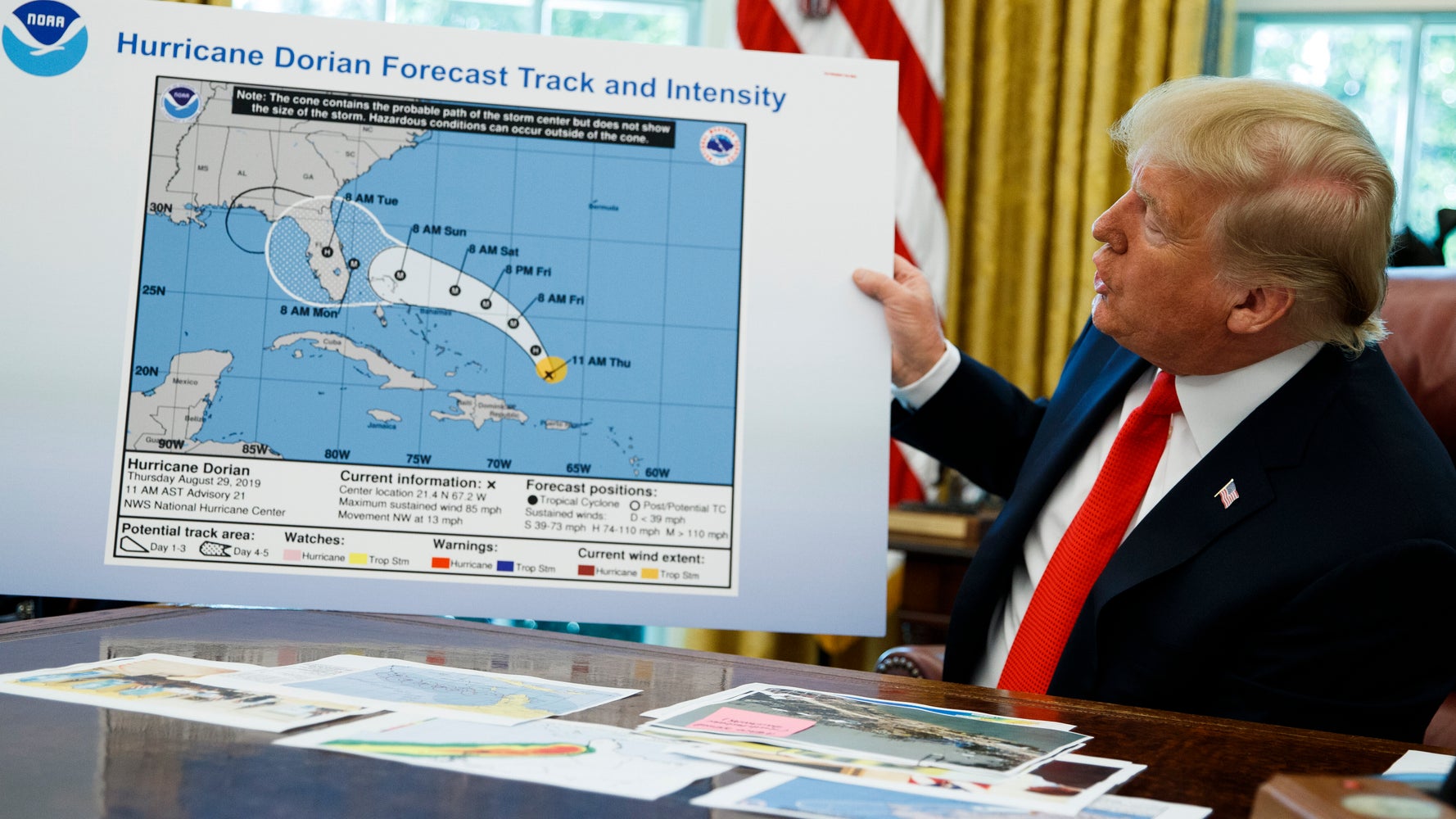 As the East Coast gets battered by Hurricane Dorian, President Donald Trump has made clear that his first priority is to keep insisting he wasn't wrong about something he was wrong about.
Days after Trump was proven wrong about the hurricane's predicted trajectory, the White House released a statement Thursday afternoon maintaining that the president was right.
The headache began this past Sunday when Trump tweeted that Alabama would be hit "(much) harder than anticipated" by the hurricane, which started to make landfall Thursday on the Carolina coasts.
He was quickly corrected by the Birmingham branch of the National Weather Service, which tweeted that "no impacts from Hurricane #Dorian will be felt across Alabama. The system will remain too far east."
But the president wouldn't let it go. Not content with his initial blunder, Trump held a hurricane briefing on Wednesday in which he displayed a weather map that showed Dorian's projected path. There were only two problems.
One, that particular map was from last week. Between that projection and his Sunday tweet, the revised predictions for Dorian had it shifting in a more northerly direction.
Two, the map appeared to be altered, with a new black line adding southern Alabama to the impact zone. When a reporter asked whether somebody had drawn on the map, Trump repeatedly said, "I don't know."
His hurricane flubs didn't stop there. The president also made news this week when he said he'd never heard of a Category 5 storm, even though Dorian is the fourth storm of that magnitude during his presidency.
On Thursday, Trump raged on Twitter, blaming the "fake news" for reporting on his Alabama mistake and insisting that early projections proved him right.
Later that day, the White House released a statement from Rear Adm. Peter Brown, the president's homeland security and counterterrorism adviser, defending his boss.
"The President's comments were based on that morning's Hurricane Dorian briefing, which included the possibility of tropical storm force winds in southeastern Alabama," the lengthy statement reads in part.
But as CNN points out, the state was never in danger:
The closest you can come to Trump telling the truth is this: CNN Weather meteorologists noted that one forecast last Friday afternoon showed one-tenth of one county in extreme southeast Alabama included in one hurricane model. ("I know that Alabama was in the original forecast," Trump said later Wednesday.)
Of course, none of that matters to the president, who will likely continue to insist he's right as other states get hit by the storm and Alabama remains unscathed.
Later on Thursday, Trump reportedly called Fox News senior White House correspondent John Roberts to his office, apparently in search of backup from his favorite network. Roberts detailed the encounter to his colleagues in an internal email obtained by CNN.
Trump was "just looking for acknowledgment that he was not wrong for saying that at some point, Alabama was at risk ― even if the situation had changed by the time he issued the tweet" on Sunday morning, Roberts wrote. Trump even provided him graphics in an attempt to prove his point.
"He insisted," Roberts wrote, "that it is unfair to say Alabama was never threatened by the storm."
This article has been updated to include a report from CNN.
Lydia O'Connor contributed to this report.
REAL LIFE. REAL NEWS. REAL VOICES.
Help us tell more of the stories that matter from voices that too often remain unheard.