G7 First Ladies Exchange High-Fives With Biarritz Surfers at Beach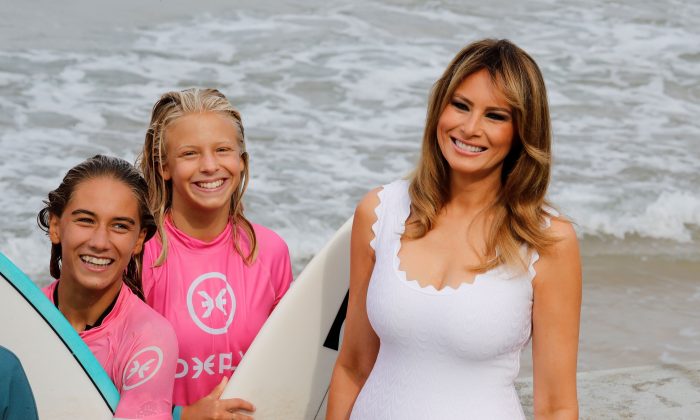 First Lady Melania Trump meets surfers as G7 leaders' spouses watch a surf class on the Cote des Basques beach in Biarritz on Aug. 26, 2019, on the third and last day of the annual G7 Summit attended by the leaders of the world's seven richest democracies, Britain, Canada, France, Germany, Italy, Japan and the United States. (THOMAS SAMSON/AFP/Getty Images)
The spouses of G7 participants took a stroll at the beach on Monday, Aug. 26, to meet youth surfers at Biarritz, a sea resort town in the south west of France.
In true American style, U.S. First Lady Melania Trump exchanged high-fives with the youngsters, with the other women following suit.
Watch:
Biarritz, situated in the French Basque country on the Atlantic coast, is popular with surfers and is usually packed with tourists in the summer.



Melania Trump and G7 Spouses Visit French Village
France's first lady Brigitte Macron and her counterparts including Melania Trump, joined by the first ladies of Australia, Chile and the EU Council, toured the streets of Espelette, a Basque village famous for its peppers, the Piment d'Espelette, on Aug. 25.

Macron, Trump, the Japanese prime minister's wife Akie Abe, EU Council President's Donald Tusk's wife Malgorzata Tusk, Chile's first lady Cecilia Morel and Australia's Jenny Morrison were treated to performances of traditional dance and chorale singing.

According to local newspaper La Depeche, they were shown a game of Basque Pelota, visited shops and tasted locally made sangria. The storekeeper asked each one to sign her glass.