Trump at the UN Declares 'Specter of Socialism' a Serious Threat to the World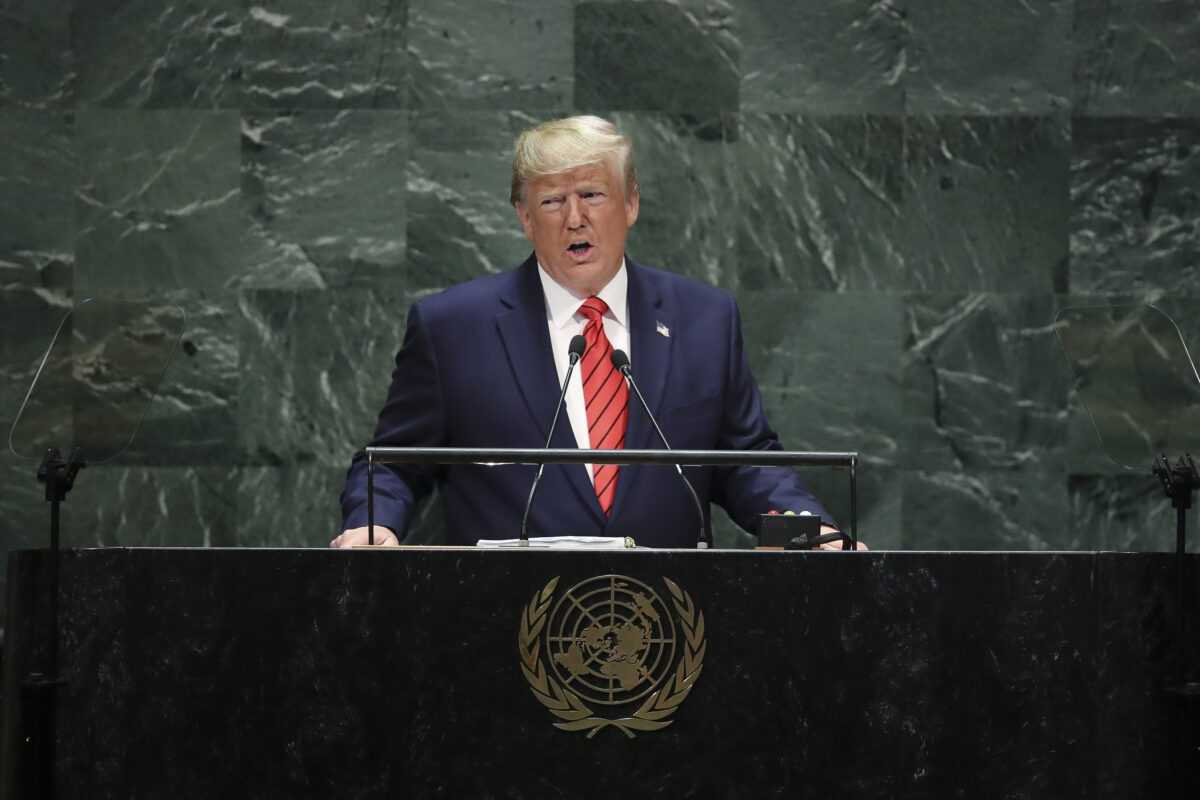 NEW YORK—President Donald Trump warned world leaders about the "specter of socialism," calling it one of the most serious challenges facing the nations.
"It's the wrecker of nations and destroyer of societies," Trump said on Sept 24 in his address to the United Nations General Assembly (UNGA) in New York.
"Events in Venezuela remind us all that socialism and communism are not about justice, they are not about equality, they are not about lifting up the poor. And they are certainly not about the good of the nation," he said.
"Socialism and communism are about one thing only: power for the ruling class."
Leaders of countries around the world have gathered this week in New York for the 74th session of the UNGA. In his address, Trump repeated his pledge that the United States would "never be a socialist country."
Trump has repeatedly criticized Democrats for embracing "radical socialism" in the United States. He denounced a wide range of proposals by Democrats such as open borders, Medicare for All, and the Green New Deal, calling them an "extreme, destructive, and dangerous agenda."
At a closed-door Republican annual conference on Sept. 12, Trump urged GOP lawmakers "to fight like hell" to win the 2020 election and defeat rising socialism in the United States.
Trump said, in his speech to the UNGA, that socialism and communism killed 100 million people in the last century and condemned the "brutal oppression" against people in Cuba, Nicaragua, and Venezuela today.
"The dictator Maduro is a Cuban puppet, protected by Cuban bodyguards hiding from his own people," he said.
"These totalitarian ideologies combined with modern technology have the power to exercise new and disturbing forms of suppression and domination," Trump said, defending the recent U.S. policy that requires increased screening of foreign technology and investment in America.
'History, culture, and heritage'
Trump in his speech also pointed a finger at the social media giants, media and academic institutions.
He accused social media companies of acquiring immense power and silencing people.
"A small number of social media platforms are acquiring immense power over what we can see and over what we are allowed to say," he said. "Media and academic institutions push flat out assaults on our histories, traditions, and values."
Trump defended traditions and customs and asked the leaders to cherish the "history, culture, and heritage." of their countries.
"The free world must embrace its national foundations. It must not attempt to erase them or replace them," he said.
"If you want freedom, take pride in your country. If you want democracy, hold on to your sovereignty. And if you want peace, love your nation."
Religious Freedom
At this year's UNGA, Trump has made the protection of religious freedom a key focus. He hosted on Sept 23 an event called "Global Call to Protect Religious Freedom," which sought to gain international support for protecting religious leaders and religious freedom in the wake of the increasing persecution around the world.
"Today, with one clear voice, the United States of America calls upon the nations of the world to end religious persecution," Trump said on Sept. 23.
Trump drew criticisms for scheduling his meeting on religious freedom during a climate change summit hosted by the U.N. secretary-general on Sept. 23.
He showed up at the climate summit for 15 minutes before leaving for his own meeting booked at a separate conference room at the UN headquarters.
Pastors and a number of Christian non-governmental organizations throughout the country praised Trump for addressing the "real problem" of religious persecution at the UN.
"It is a remarkable thing that this president would skip a UN climate change summit on an imaginary problem to address the very real problem of global persecution of believers," Robert Jeffress, an American Southern Baptist pastor, told Fox & Friends.
Almost 83 percent of the world's population live in countries with high or very high religious restrictions, according to a 2018 study by Pew Research Center.
Follow Emel on Twitter: @mlakan