Trump Compares His 'Witch Hunt' To Plight Of Americans In Criminal Justice System
COLUMBIA, S.C. ― Speaking at a historically Black college on Friday, President Donald Trump compared his experiences as president of the United States to the plight of average Americans in the nation's criminal justice system.
"We'll never let up on our efforts to ensure that our justice system is fair for every single American. And I have my own experience, you know that. You see what's going on with the witch hunt. It's a terrible thing that's going on in our country," Trump said.
Trump's speech at Benedict College came just days after he compared the impeachment process against him to "a lynching." Speaking before a crowd that included a number of his supporters and just seven Benedict College students, Trump at times treated the criminal justice reform speech like a political rally. He brought up his complaints about two former FBI officials who exchanged anti-Trump text messages, his issues with the special counsel investigation run by former FBI Director Robert Mueller, and the current ongoing impeachment inquiry unfolding in the House of Representatives.
"In America, you're innocent until proven guilty," Trump said.
Trump's speech kicked off a three-day summit called the Second Step Presidential Justice Forum. Democratic presidential candidates will appear on campus on Saturday and Sunday. Trump spoke before a curated crowd which included a large number of his supporters, along with criminal justice reform advocates. (Verizon, HuffPost's parent company, is a sponsor of the forum.)
Trump conceded in his speech that criminal justice reform was not a theme of his campaign initially, but said he realized the importance of the matter once he became president. He mentioned Kim Kardashian and Kanye West when introducing Alice Marie Johnson, whose lengthy sentence Trump commuted last year.
He spoke about the passage of the First Step Act, telling the crowd that his administration "rolled back the unjust provision of the 1994 Clinton crime law, which disproportionately harmed the African American community."
"I will always fight against abuses of power from any source," Trump told the crowd. "I will always champion the right to due process, the right to a fair trial, the right to good legal representation for every American, regardless of race, background, position."
Trump's speech attracted a number of supporters as well as anti-Trump demonstrators to Benedict College, which largely shut down during the president's appearance. Even students who lived on campus said they were restricted from campus grounds.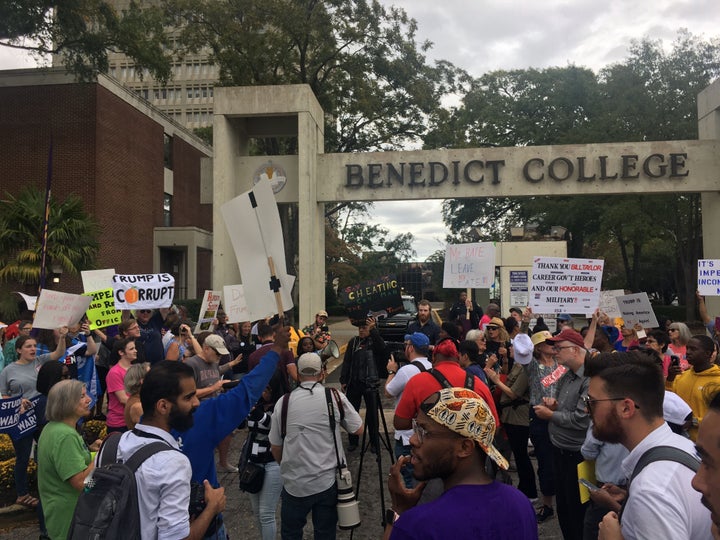 Ahead of the speech, Trump supporters said they were excited to see the president and dismissed criticism of his rhetoric.
"I wasn't raised racist. I don't know what racist is. I don't see color, and I wasn't raised to see color," said Cheryl Jackson of Columbia, a Trump supporter who got tickets to the event through the South Carolina GOP. "I don't believe he's a bigot. I don't believe he's a racist. And I don't believe he's a misogynist."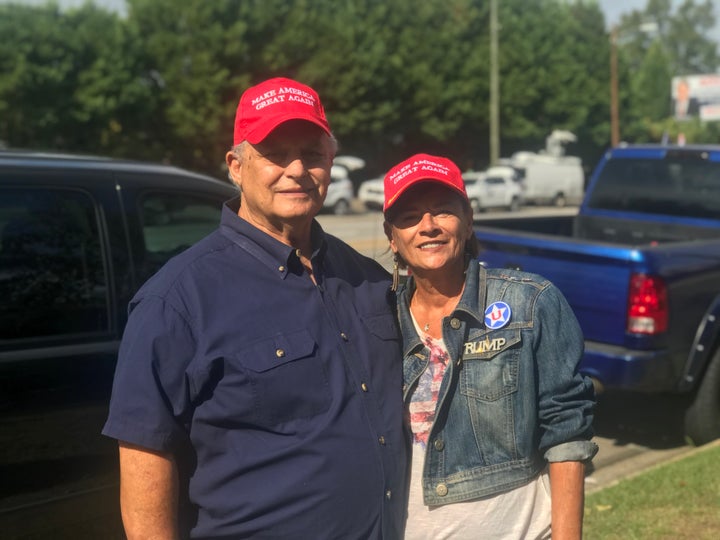 Jackson said she believed the criminal justice system needs to be dismantled and restructured from the ground up, but said that she believed the left is pushing the narrative that there are inequities in the criminal justice system she doesn't see.
"I'm not one to talk about racial inequities," she said. "I just don't see it. I think that this is a narrative that the left is pushing, and I don't think it's as big as what it's been pushed to be."
Students at Benedict and a neighboring HBCU, Allen University, were ambivalent about his visit. One Allen University student who declined to share her name said she was shocked that they allowed the president's visit. "We're an HBCU, and to me, Trump seems racist," she said. "Why would you allow someone who doesn't respect you to come to your school?"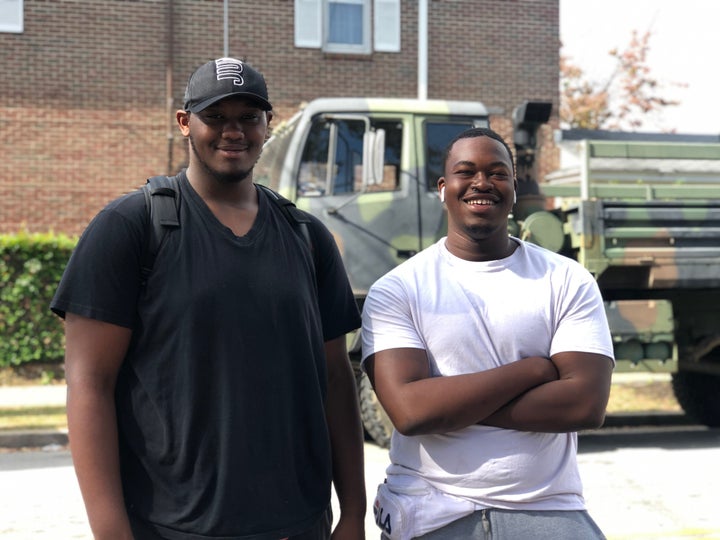 But other students appreciated that the president came to Benedict, rather than the myriad other choices of HBCUs he could have visited. "I'm honored to be attending the school that he decided to come to … I feel like it's a great opportunity that not a lot of schools get," Lorenzo Rollins, a mass communications student at Benedict College, said.
Ahead of Trump's speech, a group of anti-Trump protesters stood in front of the entrance to the private college, yelling back and forth with a smaller, but just as boisterous, crowd of the president's supporters. Benedict students watched and interacted with the protest from their windows as the crowd grew louder on both sides.
Some Trump supporters who showed up at Benedict College weren't particularly interested in the topic of criminal justice reform. Asked about the First Step Act, Len Newsome ― a 73-year-old from Hartsville who parked on the street outside Benedict College's campus with a van featuring a Trump banner that read "Make Liberals Cry Again" ― said that he believed locking up former President Barack Obama, Hillary Clinton and former FBI Director James Comey would "be a good first step."