Trump Pledges to Continue Growing Energy Production, Manufacturing Jobs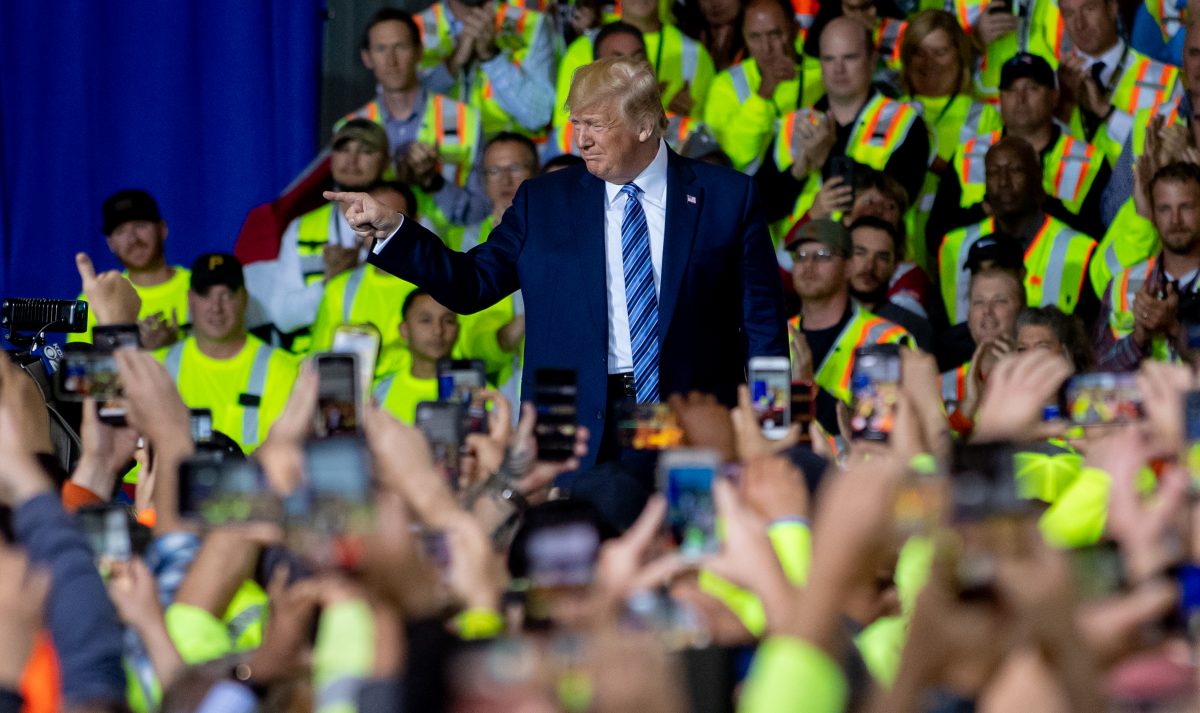 President Donald Trump highlighted his administration's commitment to expanding America's energy sector and adding manufacturing jobs, during a speech at a petrochemical plant in Monaca, Pennsylvania, on Aug. 13.
Work on Shell's soon-to-be-completed Pennsylvania Petrochemicals Complex currently employs 5,000 construction workers. Upon completion, the plant, staffed with 600 permanent employees, will churn out up to 1.6 million tons of plastic annually for a wide range of products, from consumer packaging to car parts.
Manufacturing towns such as Monaca helped Trump win the presidential election in 2016. In addition to touting the administration's progress in the manufacturing and energy sectors, the president covered a wide range of topics during a speech that lasted for more than an hour.
Trump highlighted the economic numbers in Pennsylvania, noting that the recent growth wouldn't have happened if he hadn't been elected president.
"This would've never happened without me and without us," the president said.
Trump won Beaver County, where the plant is located, by 18 points in 2016.
Drilling for natural gas deposits in the Marcellus Shale formation turned Pennsylvania into the nation's No. 2 natural gas state. The Shell plant in Monaca is a so-called cracker plant—named after the process in which molecules are broken down at high heat, turning fracked ethane gas into one of the precursors for plastics.
While Shell made the final investment decision to build the plant in 2016, it announced its initial plans in 2012.
Asked about environmental concerns regarding plastics, specifically ocean pollution, Trump told reporters aboard Air Force One that the pollution in the ocean is "not our plastic."
"It's plastics that are floating over in the ocean and the various oceans from other places," the president said.
Shell has "dedicated a great deal of time and resources" to ensure that emissions from the plant meet or exceed local, state, and federal requirements, Ray Fisher, a company spokesman said. "As designed, the project will actually help improve the local air shed as it relates to ozone and fine particulates."
Since taking office, Trump has placed a focus on deregulating U.S. industry to spur increases in manufacturing and energy production, among other sectors. The president withdrew from the Paris Climate Agreement and ended the Obama-era Clean Power Plan. The White House helped push through approvals for oil pipelines and opened up vast tracts of land for development, Trump told the workers.
The United States, which is on track to export more energy than it imports by 2020, is now the largest crude oil producer in the world, with output growing 20 percent in 2018 to nearly 11 million barrels per day.
Since Trump took office in January of 2017, the United States economy has gained 523,000 manufacturing jobs. By comparison, the Obama administration added 287,000 manufacturing jobs during the three years preceding Trump.
"Our country wasn't doing well with Biden and Obama," Trump said.
The new jobs pay substantially more on average. Blue-collar workers are expected to receive $2,700 more in annual wages on average this year, according to the White House.
Trump announced that Shell is joining the Pledge to America's Workers. Driven by Ivanka Trump, this White House initiative benefits minorities, people with disabilities, and workers without high school degrees. Companies who join the pledge vow to create apprenticeships, on-the-job training opportunities, and continuing education.
More than 300 companies and organizations have joined the pledge, committing to train more than 12 million Americans over the next five years.
The Associated Press contributed to this report. Emel Akan contributed to this report.
Follow Ivan on Twitter: @ivanpentchoukov