Trump Posts '2024' Campaign Sign on Twitter With No Explanation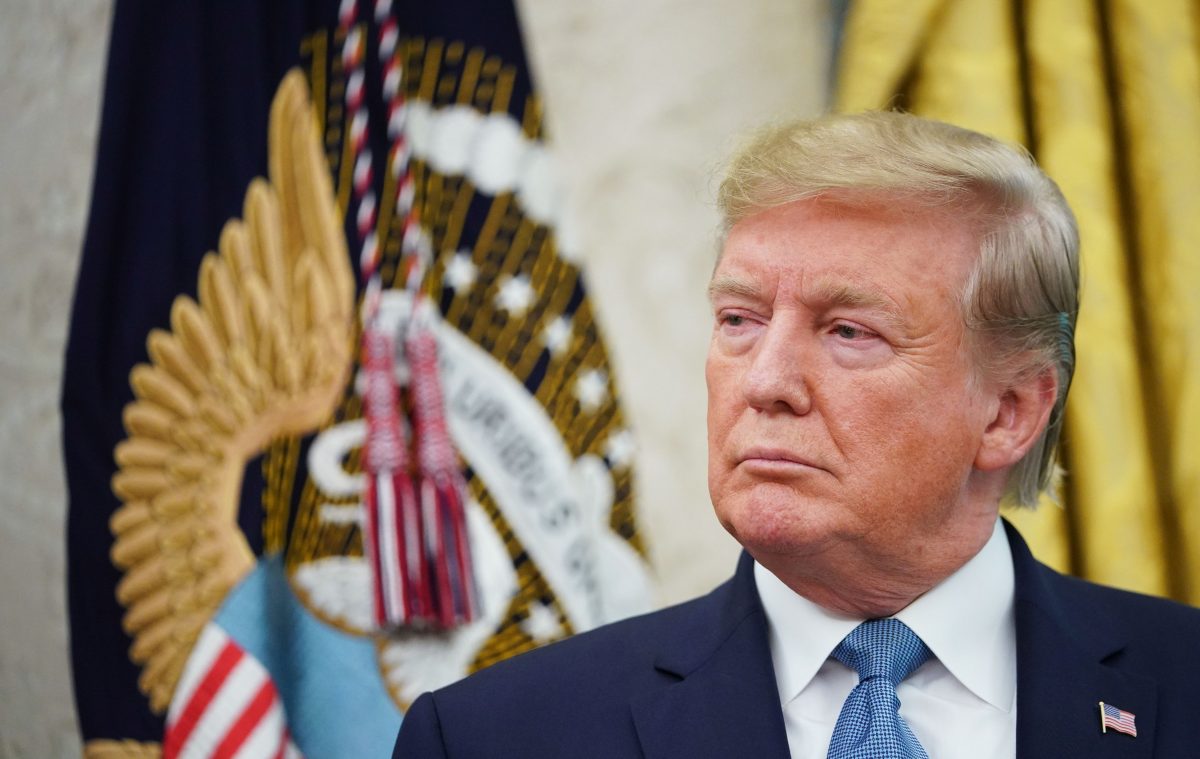 President Donald Trump on Tuesday night posted a photo of a "Trump 2024" campaign sign with a "Keep America Great" slogan to Twitter.
The photo was not accompanied by any caption or comment. Trump's Twitter post came in the wake of two GOP victories in North Carolina in special elections in the 3rd and 9th congressional House seats.
pic.twitter.com/eK7swFWq1A

— Donald J. Trump (@realDonaldTrump) September 11, 2019
Republican Dan Bishop defeated Democrat Dan McCready by 50.81 percent to 48.59 percent for the 9th congressional district special election, and Republican Greg Murphy defeated Democrat Allen Thomas by 61.74 percent to 37.47 percent for the 3rd congressional district special election.
Trump wrote on Twitter late Tuesday that it was a "Big night for Republicans," and congratulated both Bishop and Murphy for their wins.
Earlier, at a rally in North Carolina on Monday, after saying that the United States is hosting the Soccer World Cup in 2026, Trump joked that he "may have to go an extra term."
"I announced today that we got the soccer World Cup, that's a big thing, who else was going to do it? But we've got a problem, it's in 2026," he said. "And I said, 'Well, wait a minute, under the normal rules I will be out in 2024 so we may have to go for an extra term.'"
Trump went on, joking about how news outlets would report that he wants an extra term.
"Oh, they're going crazy. Tomorrow, you will see headlines, Trump wants an extra term, I told you, I told you. He wants an extra term, ladies and gentlemen. We told you, we told you he's a dictator, we told you. No, no, I'm only kidding, I'm only kidding," he joked.
The 22nd Amendment prohibits any person elected president twice from being elected again.
It reads, in part: "No person shall be elected to the office of the President more than twice, and no person who has held the office of President, or acted as President, for more than two years of a term to which some other person was elected President shall be elected to the office of the President more than once."
While the amendment is common knowledge to many Americans, it didn't stop Trump from joking that he could hold the presidency for many years to come, as evidenced by a June video that played to Edvard Grieg's "In the Hall of the Mountain King" and culminated in a sign that reads "Trump 4EVA."
pic.twitter.com/JDS4zUXXJG

— Donald J. Trump (@realDonaldTrump) June 21, 2019
From NTD News
Follow Mimi on Twitter: @MimiNguyenLy