Trump Posts Faked Photo Of Him Giving Medal To Hero Dog
A photo tweeted by Donald Trump on Wednesday is getting dogged by accusations that the pic is the very definition of fake news.
The image shows the president putting a medal around the neck of a Belgian Malinois credited with helping to capture and kill so-called Islamic State leader Abu Bakr al-Baghdadi.
However, the photo didn't really happen. Someone Photoshopped a picture of the hero dog over an Associated Press photo of 2017 Medal of Honor recipient James McCloughan, according to The Washington Post.
This side-by-side photo will show the similarities.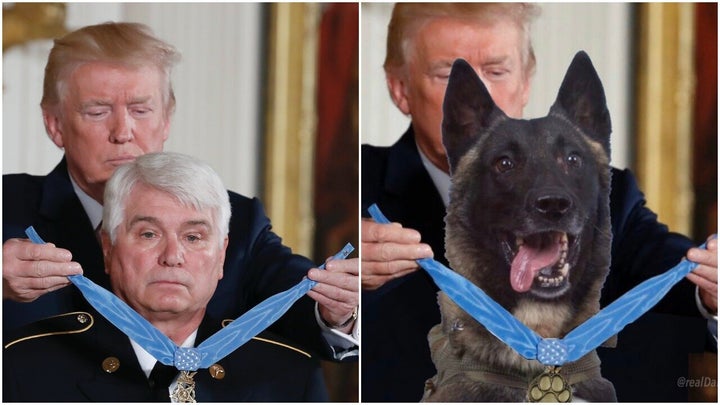 Although Trump tweeted the photo, it originated on the Instagram page of the conservative news outlet the Daily Wire.
The hero dog has never been to the White House and is back on duty despite being injured by an electric cable during an explosion, according to U.S. Central Command.
HuffPost reached out to the White House for comment on the decision to post a doctored photo, but no one immediately responded.
McCloughan seemed OK with being photoshopped out of a pic in order to honor the dog's heroism.
The 73-year-old war hero told The New York Times that he interpreted the tweeted photo as the president recognizing the dog's heroism and was not offended.
But many Twitter users had a bone to pick with the decision.
This story has been updated with James McCloughan's opinion of the doctored photo.
REAL LIFE. REAL NEWS. REAL VOICES.
Help us tell more of the stories that matter from voices that too often remain unheard.