Trump: Schiff Wasn't Told of ISIS Raid Because He 'Is the Biggest Leaker in Washington'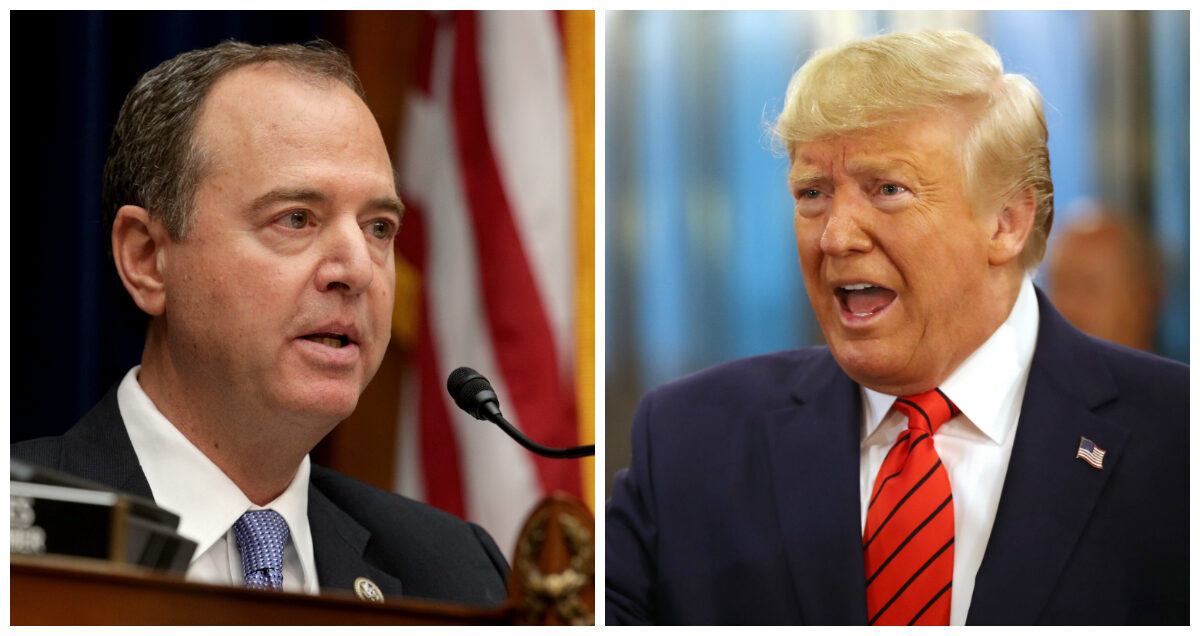 President Donald Trump told reporters in Washington on Oct. 28 that the White House didn't notify the House Intelligence Committee about a raid against the leader of the ISIS terrorist group because of concern that the information would be leaked by committee Chairman Adam Schiff (D-Calif.).
"Well, I guess the only thing is they were talking about why didn't I give the information to Adam Schiff and his committee. And the answer is: Because I think Adam Schiff is the biggest leaker in Washington," Trump said.
"You know that. I know that. We all know that. I've watched Adam Schiff leak. He's a corrupt politician. He's a leaker like nobody has ever seen before."
U.S. forces conducted the raid that resulted in the death of Abu Bakr al-Baghdadi, the founder of ISIS and arguably the most wanted terrorist in the world, on Oct. 26 in Syria's Idlib province. Baghdadi's death marked a major blow to ISIS, which has already lost all of its territory in the Middle East since Trump took office.
"Last night, the United States brought the world's No. 1 terrorist leader to justice," Trump said in an announcement. "Abu Bakr al-Baghdadi is dead. He was the founder and leader of ISIS, the most ruthless and violent terror organization in the world."
The president has repeatedly accused Schiff of leaking information to the press. In February last year, Trump wrote on Twitter that Schiff "is one of the biggest liars and leakers in Washington." In March this year, Trump wrote, "Congressman Adam Schiff, who spent two years knowingly and unlawfully lying and leaking, should be forced to resign from Congress!"
Unauthorized leaks to the media had potentially contributed to al-Baghdadi slipping away from U.S. forces, Gen. Tony Thomas said in 2017. During a raid that killed ISIS oil minister Abu Sayyaf in 2015, U.S. forces captured Sayyaf's wife, who provided a trove of valuable information on Baghdadi's recent whereabouts.
"That was a very good lead. Unfortunately, it was leaked in a prominent national newspaper about a week later and that lead went dead," Thomas said at the Aspen Security Forum.
"The challenge we have [is] in terms of where and how our tactics and procedures are discussed openly. There's a great need to inform the American public about what we're up to. There's also a great need to recognize things that will absolutely undercut our ability to do our job."
Thomas was likely referring to a June 2015 New York Times article that disclosed details of the Sayyaf raid, including the information that U.S. forces seized.
"Abu Sayyaf's wife, Umm Sayyaf, who was captured in the operation, has also provided information to investigators, one senior American official said," the newspaper reported.
Schiff is leading the Democratic-run impeachment inquiry in the House of Representatives. The investigation is being conducted behind closed doors and has been characterized by a number of selective leaks of information damaging to Trump.
Schiff said that the congressional Gang of Eight wasn't notified about the raid; the Gang of Eight consists of the chairmen and ranking members of the House and Senate intelligence committees.
House Speaker Nancy Pelosi (D-Calif.) criticized the White House for not notifying Congress in her statement about the killing of al-Baghdadi. Trump had previously said the White House planned to notify Congress, "but we decided not to do that because Washington leaks like I've never seen before."
Follow Ivan on Twitter: @ivanpentchoukov