Trump Speaks to NASA Astronauts During the First All-Women Spacewalk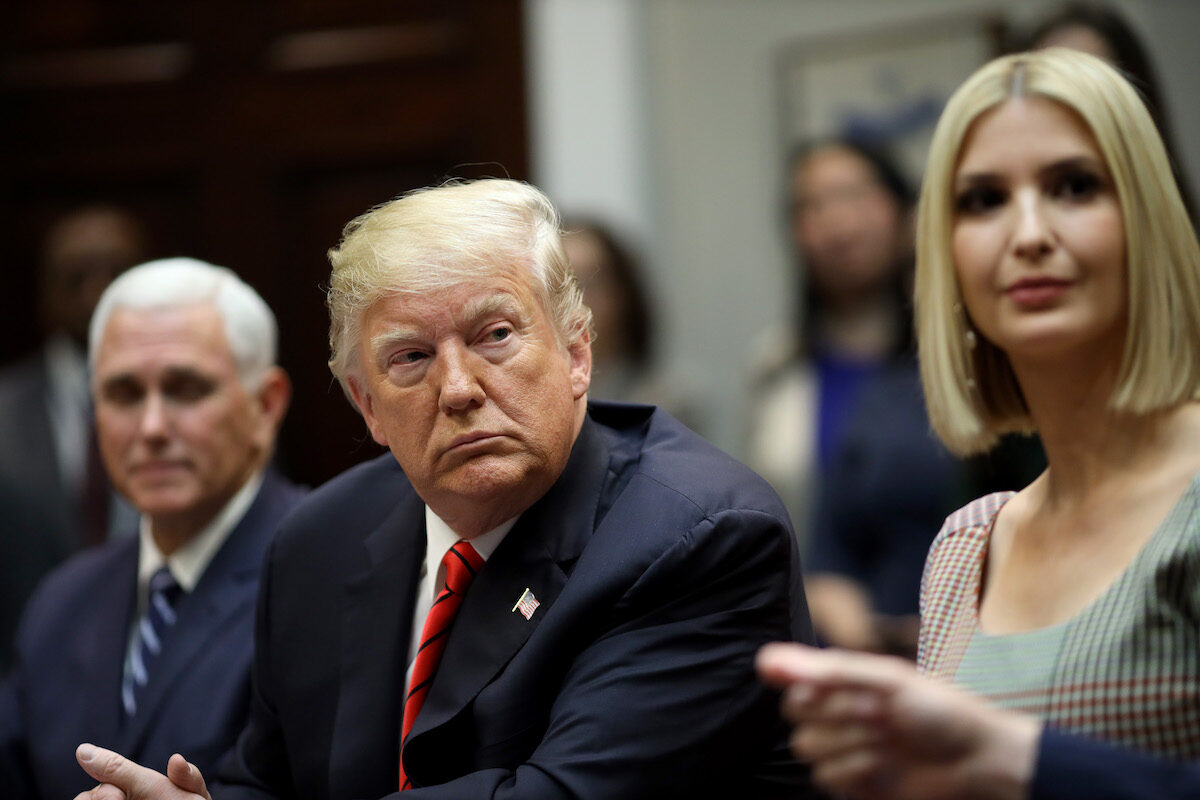 President Donald Trump spoke to two NASA astronauts via video conference on Oct. 18 to praise them for their work and congratulate them for participating in the first all-women spacewalk.
Trump praised Christa Koch and Jessica Meir, members of NASA's 2013 astronaut class, as "brave, brilliant women" during the call at the White House while the two astronauts were replacing a an exterior part of the International Space Station.
"Station, this is President Donald Trump. Do you hear me?" Trump said joined by Vice President Mike Pence, his daughter and White House advisor Ivanka Trump, and NASA Administrator Jim Bridenstine. After a short delay, the women responded, "we can hear you."
"That's great, I was starting to get worried about you," the president then said.
LIVE: POTUS calls participants of first all-women spacewalk https://t.co/jEnANRca4H

— The White House (@WhiteHouse) October 18, 2019
The commander-in-chief said he was "thrilled to speak" to Koch and Meir, adding that he thought they were "brave" and "amazing."
"This is the first time for a woman outside of the space station," Trump said. "I just want to congratulate you. What you do is incredible. You're very brave people. I don't think I want to do it, I must tell you that, but you are amazing people. They're conducting the first-ever female spacewalk to replace an exterior part of the space station," adding that they were doing it at an altitude that "very few people will ever see."
Responding to the president, one of the astronaut's clarified that there were other female spacewalkers before them but it was the first time two women were outside of the space station at the same time.
"For us, it's just coming out here and doing our job today, and we were the crew that were tasked with this assignment," Meir said. "At the same time, we recognize that it is a historic achievement and we do of course want to give credit for all of those that came before us. There has been a long line of female scientists, explorers, engineers, and astronauts. And we have followed in their footsteps to get us where we are today."
"We hope that we can provide an inspiration for everybody … to everybody that has a dream—that has a big dream and that is willing to work hard to make that dream come true," she added.
Meir said that she has been in space for three weeks and that it was her first spacewalk, one that she would "never forget."
White House Press Secretary Stephanie Grisham said in a statement that the spacewalk "highlights the advancements of women in science, technology, engineering, and mathematics (STEM) – an initiative that has been championed by both the President and Ivanka Trump."
This call also marked the first time since 1969 when a president spoke to astronauts outside the space station, according to Ivanka Trump. In 1969, President Richard Nixon called Neil Armstrong and Edwin "Buzz" Aldrin to congratulate them while they were on the moon. That call is considered the longest-distance telephone call ever.
Follow Janita on Twitter: @janitakan