Trump's Former Russia Advisor Testifies in Democrat-Run Impeachment Inquiry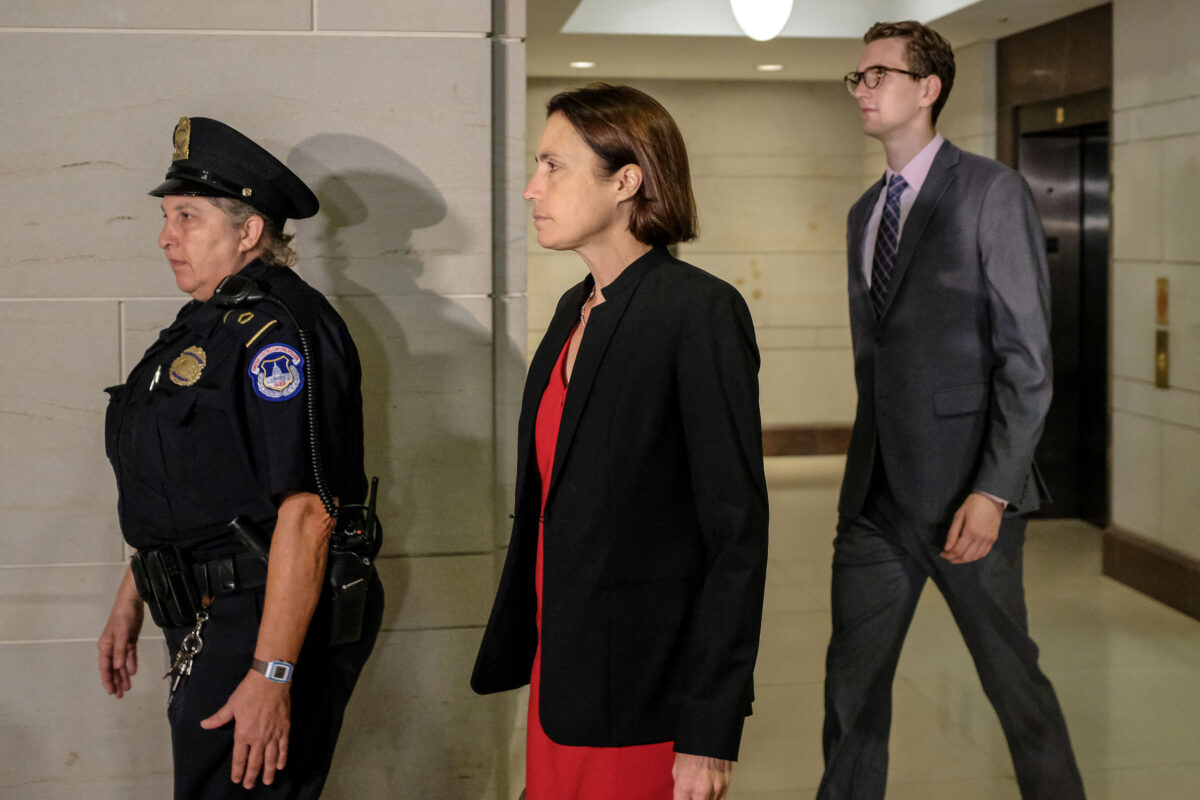 President Donald Trump's former Russia adviser testified behind closed doors on Oct. 14 as part of the Democrat-run impeachment inquiry focused on the president's request for Ukraine to investigate former vice president Joe Biden and his son Hunter Biden.
Fiona Hill, former senior director for European and Russian Affairs on Trump's National Security Council, arrived at the U.S. Capitol on Oct. 14. She walked past reporters and made no comment. Hill may provide information to lawmakers about the Trump administration's reassignment of U.S. Ambassador to Ukraine Marie Yovanovitch.
On Oct. 11, Yovanovitch told lawmakers that she was reassigned based on "unfounded and false claims." The events surrounding Yovanovitch's removal are part of a whistleblower complaint that triggered the impeachment inquiry.
The whistleblower, who remains anonymous, alleged that Trump's request to Ukrainian President Volodymyr Zelensky during a July 25 call may have amounted to a violation of campaign finance law. The Justice Department determined no further action was necessary after reviewing the complaint.
Trump's request echoed reporting by The New York Times, The Hill, and investigative journalist Peter Schweizer, which questioned Hunter Biden's position on the board of directors of a major Ukrainian gas firm, Burisma. Joe Biden bragged early last year about forcing the firing of a top Ukrainian prosecutor by withholding $1 billion in loan guarantees.
Ukraine immediately removed the prosecutor, Viktor Shokin. In a sworn statement to a European court, Shokin said he was fired due to pressure from Biden because he refused to drop the Burisma investigation.
On Oct. 13, Hunter Biden's lawyer confirmed that his client held a paid position on the Burisma board for five years. Biden also promised to not do any work for foreign companies if his father was elected.
In another development, Trey Gowdy, a former Republican congressman who on Oct. 9 announced that he was joining Trump's impeachment legal team, will no longer be doing so, at least for now, according to Jay Sekulow, a lawyer for Trump.
House Speaker Nancy Pelosi launched the impeachment inquiry before the White House released a copy of the transcript of the call between Trump and Zelensky. A plain reading of the transcript shows no obvious evidence of a quid pro quo. Democrats have nonetheless alleged, without evidence, that Trump withheld military aid to Ukraine in order to pressure Zelensky. The Ukrainian president has said he did not feel pressured on the call with Trump.
Republican congressman Matt Gaetz, an outspoken defender of Trump, was asked to leave the closed session about an hour into Hill's testimony. Gaetz is not a member of any of the three House committees conducting the impeachment inquiry, and Gaetz told reporters that the House parliamentarian said he couldn't attend.
"Chairman Schiff and the radical democrats are now active participants in the coup. To exclude Members of Congress from hearings confirms the American people's suspicions: this is not a legitimate 'impeachment inquiry'—it is a charade," Gaetz wrote on Twitter.
Chairman Schiff and the radical democrats are now active participants in the coup. To exclude Members of Congress from hearings confirms the American people's suspicions: this is not a legitimate "impeachment inquiry" — it is a charade.

— Rep. Matt Gaetz (@RepMattGaetz) October 14, 2019
Lawmakers this week are returning from a two-week recess, with testimony from current and former administration officials on the schedule. Gordon Sondland, the U.S. ambassador to the European Union, is expected to testify on Oct. 17. Sondland appears in the whistleblower complaint alongside Kurt Volker, the U.S. special representative for Ukraine. Volker told lawmakers there was no quid pro quo involved in Trump's request to Zelensky.
Sondland is expected to be asked why he relayed from Trump to other diplomats that the president said no "quid pro quos" connecting the Biden investigation with the U.S. aid. Quid pro quo is a Latin term meaning a favor for a favor.
Trump has denied wrongdoing. As talks continue over whether the whistleblower from within the U.S. intelligence community who prompted the inquiry will testify, the president weighed in on Twitter, demanding that the person testify and that the individual's identity be revealed.
The White House informed House Democrats that it will not cooperate with the inquiry unless Pelosi holds a vote to formally initiate impeachment proceedings.
The House Intelligence Committee also is scheduled this week to hear from Deputy Assistant Secretary of State George Kent and State Department Counselor Ulrich Brechbuhl, a top aide to Secretary of State Mike Pompeo.
Reuters contributed to this report.
Follow Ivan on Twitter: @ivanpentchoukov