Trump to Impose Sanctions Against Turkey Officials for Incursion Into Syria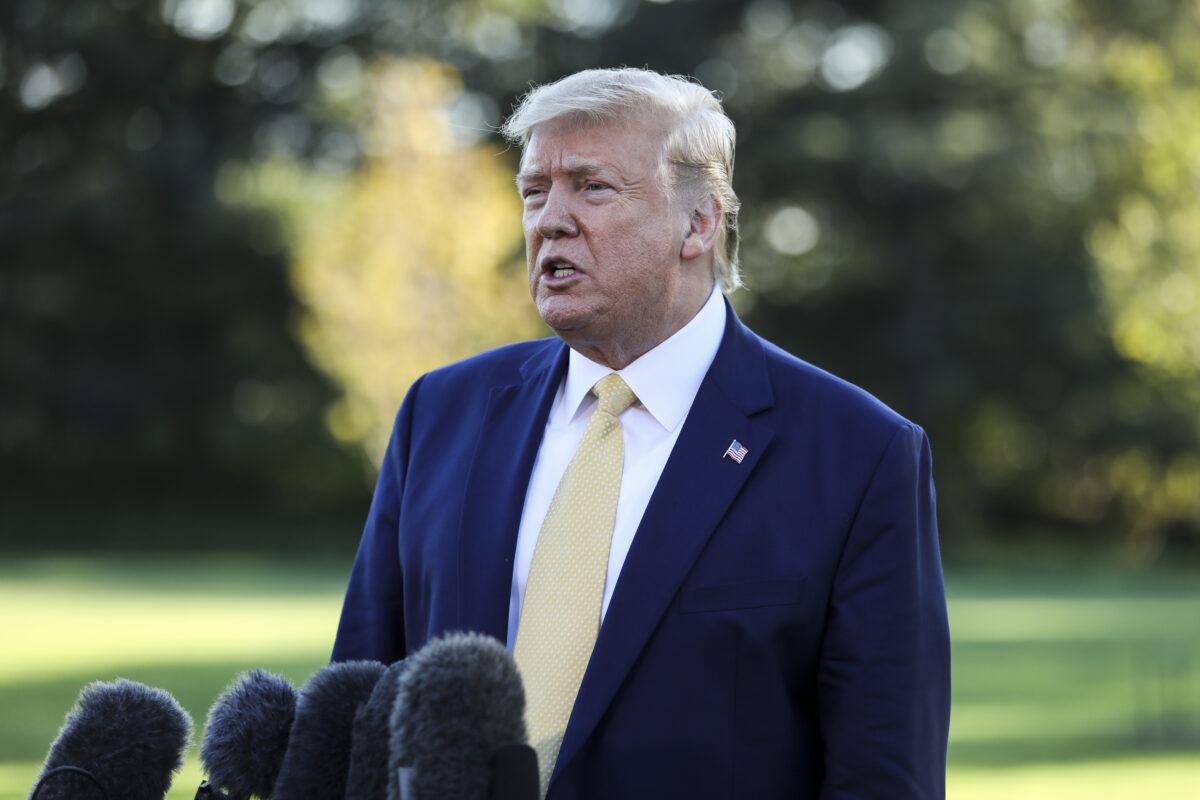 President Donald Trump said that he will impose sanctions on any Turkish officials—whether current or former—who are linked to Turkey's actions in northern Syria.
Trump said on Monday that he will issue an executive order soon authorizing the sanctions, calling Turkey's actions in Syria "destabilizing."
Trump said steel tariffs will jump back to 50 percent.
He also said the United States will immediately halt negotiations with Turkey over a $100 billion trade deal that was being hammered out between the two countries.
"This order will enable the United States to impose powerful additional sanctions on those who may be involved in serious human rights abuses, obstructing a ceasefire, preventing displaced persons from returning home, forcibly repatriating refugees, or threatening the peace, security, or stability in Syria. The order will authorize a broad range of consequences, including financial sanctions, the blocking of property, and barring entry into the United States," Trump said.
Trump said the United States and its partners "liberated 100 percent of ISIS's ruthless territorial caliphate" and "Turkey must not put these gains in jeopardy," adding that, "Turkey must also prioritize the protection of civilians, particularly vulnerable ethnic and religious minorities in northeast Syria."
Turkey's offense in Syria "is endangering civilians and threatening peace, security, and stability in the region," the president said.
Statement from President Donald J. Trump Regarding Turkey's Actions in Northeast Syria pic.twitter.com/ZCQC7nzmME

— Donald J. Trump (@realDonaldTrump) October 14, 2019
"I have been perfectly clear with President Erdogan: Turkey's action is precipitating a humanitarian crisis and setting conditions for possible war crimes. Turkey must ensure the safety of civilians … and is now, or may be in the future, responsible for the ongoing detention of ISIS terrorists in the region," Trump added. "Unfortunately, Turkey does not appear to be mitigating the humanitarian effects of its invasion."
Trump's announcement of sanctions came after the White House announced on Oct. 6 the withdrawal of U.S. forces from Syria.
The next day, Trump said America was initially supposed to be in Syria for one month.
"We stayed and got deeper and deeper into battle with no aim in sight," he said. After defeating ISIS, the United States tried to get European countries to take responsibility for nationals that were fighting for ISIS, but the countries refused.
The Kurds, which assisted the United States, are enemies of Turkey and the United States was holding off both sides, according to Trump.
"I held off this fight for almost 3 years, but it is time for us to get out of these ridiculous Endless Wars, many of them tribal, and bring our soldiers home. WE WILL FIGHT WHERE IT IS TO OUR BENEFIT, AND ONLY FIGHT TO WIN," he said.
He later warned that he would "totally destroy and obliterate the economy of Turkey" if the country did anything untoward.
Trump said in his announcement on Monday: "The United States will aggressively use economic sanctions to target those who enable, facilitate, and finance these heinous acts in Syria. I am fully prepared to swiftly destroy Turkey's economy if Turkish leaders continue down this dangerous and destructive path."
Follow Zachary on Twitter: @zackstieber