Informal GOP Head Count Shows Faint Chance of Senate Convicting Trump on Impeachment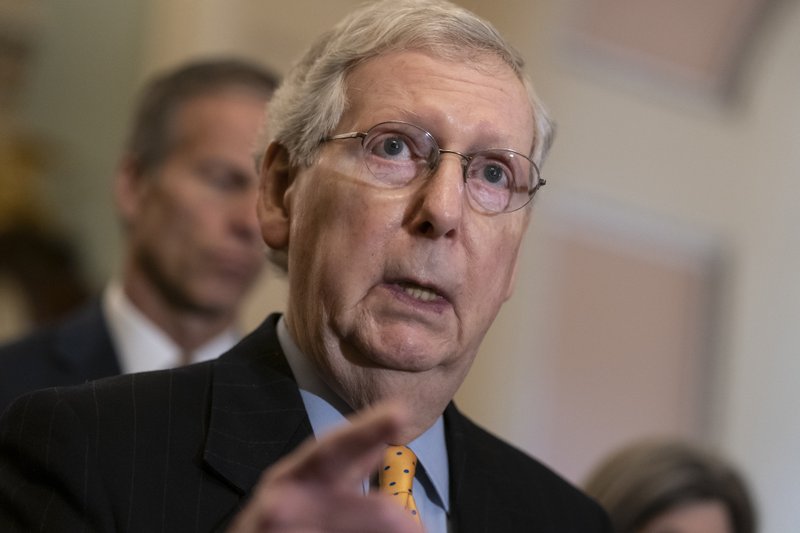 WASHINGTON—An Epoch Times survey of how the 53 Senate Republicans would likely vote today on a motion for an impeachment conviction of President Donald Trump shows virtually no prospect of gaining the required 67 ayes to remove the chief executive from office.
Democrats led by Speaker of the House Nancy Pelosi (D-Calif.) are moving rapidly to impeach Trump due to an alleged whistleblower's complaint that the chief executive threated to withhold U.S. military aide to Ukraine if officials there did not investigate former Vice-President Joe Biden and his son, Hunter.
Trump denies the allegations, saying he's being threatened with impeachment by House Democrats for doing what Biden—who is a leading candidate for the 2020 Democratic presidential nomination against Trump—did in 2015 to protect his son.
Hunter Biden received $50,000 a month in consulting fees from a Ukraine energy company that was the focus of a corruption investigation by Victor Shokin, who was then that country's Prosecutor-General.
The special prosecutor was fired after the senior Biden told Ukraine officials "you're not getting the billion dollars" if they didn't fire Shokin before Biden left the country. Shokin was fired, much to the delight of Biden, as seen in his 2018 video description of the event.
Thirty-eight Republicans in the upper chamber appear likely to vote no on such a motion to convict Trump on impeachment charges approved by the Democrat-led House of Representatives, based on public statements the senators have released, statements they've made in news reports or comments provided by their spokesmen to The Epoch Times.
Nine of the GOP senators have specifically declined to say how they would vote (i.e. "Mums"), and it is difficult to discern from their recent statements or records in office how they might be inclined to come down on such a motion.
There are six Republican senators, however, who appear from their recent published statements to be at least potential aye votes on an impeachment conviction, including senators Mitt Romney of Utah, Ben Sasse of Nebraska, Lisa Murkowski of Alaska, Lamar Alexander of Tennessee, Cory Gardner of Colorado, and Susan Collins of Maine.
Assuming all of the 47 Democrats (including Independent Sen. Bernie Sanders of Vermont and Independent Sen. Angus King of Maine who often vote with the Democrats) vote for conviction, supporters of the motion must gain the votes of 20 of the Senate's 53 Republicans.
To do so, supporters would need the votes of all six of the GOP Potentials, plus all nine Mums and five of the present Nos to achieve the 67-vote "super majority" required by the Constitution to remove a president.
If any of the nine GOP Mums opted to oppose the impeachment conviction motion, supporters would have to convert another from those presently in the No column.
Sen. Johnny Isakson (R-Ga.) is resigning from the Senate due to health concerns, effective Dec. 31, 2019, and thus would not vote on an impeachment conviction motion if it came up after Congress returns in January 2020. Based on his public statement that he did not support the House impeach inquiry, he is considered a 38th No vote for purposes of this survey.
Vice President Mike Pence (R-Ind.) would only vote if there is a tie. It would be an historic first because the Senate previously failed by two votes to convict President Andrew Johnson in 1868 and the conviction motion to remove President Bill Clinton in 1998 failed on a 55-45 vote.
For the Senate to get to a vote on an impeachment conviction motion, the House of Representatives must first gain at least 218 votes to approve a minimum of one article charging Trump with an impeachable offense.
There are 235 House Democrats and all but a handful have already indicated they would vote for impeachment, so the odds clearly favor Trump becoming the third sitting president to be impeached.
House Democratic leaders are pushing the impeachment process to move forward as quickly as possible.
"Democratic leaders have instructed committees to move quickly—and not to lose momentum—after revelations that Trump asked Ukrainian President Volodymyr Zelenskiy to investigate his potential 2020 Democratic challenger, Joe Biden, and his family. The action is beginning even though lawmakers left town Friday for a two-week recess," Fortune reported.
"The chairman of the House Intelligence Committee, Rep. Adam Schiff, D-Calif., says his committee is moving 'expeditiously' on hearings and subpoenas. That committee, as well as the House Oversight and Reform Committee and the House Foreign Affairs Committee, have scheduled depositions starting this week for State Department officials linked to Trump's dealings with Ukraine," Fortune continued.
Democrats issued subpoenas Friday to Secretary of State Mike Pompeo and former New York City Mayor Rudy Guliani, who is one of Trump's personal lawyers, to appear before Congress to testify concerning the Ukraine matter. Pompeo is a former Republican member of the House.
Senate Majority Leader Mitch McConnell (R-Ky.) said Monday the Senate would have to vote on an impeachment conviction motion if the House acts as expected.