Pro-Trump Group Takes Credit For Video About Eating Babies At AOC Town Hall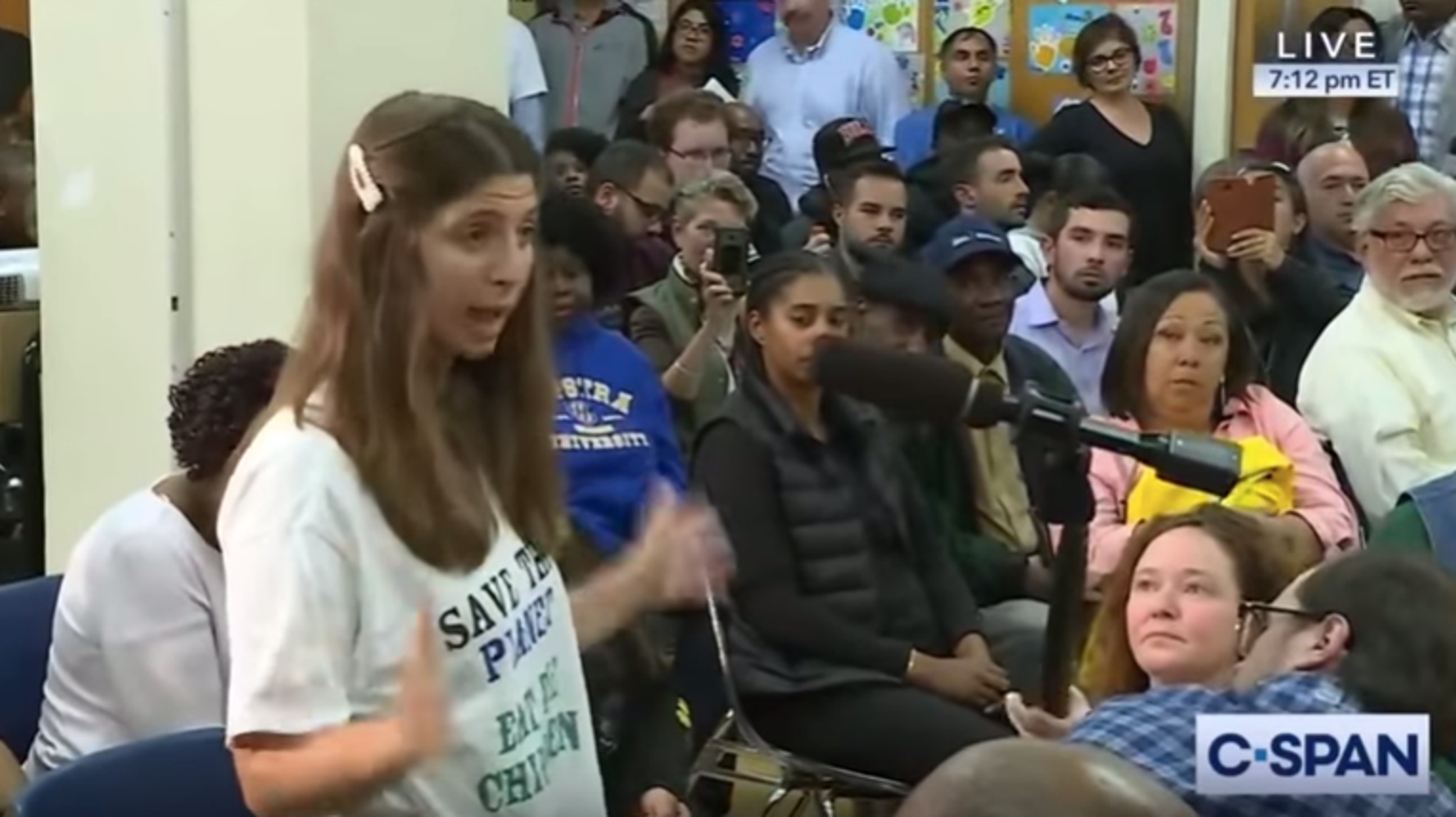 A stunt involving an alleged supporter of Rep. Alexandria Ocasio-Cortez (D-N.Y.) ranting about eating babies to stop climate change was a hoax orchestrated by a right-wing group.
LaRouche PAC, which supports President Donald Trump and believes, among other falsehoods, that climate change is a hoax, took credit for the bizarre stunt on Twitter.
Video of the incident circulated Thursday night, after a woman wearing a shirt that said "Save the planet, eat the children," stood up during a town hall event in Queens.
"I'm so happy that you are really supporting a Green New Deal, but it's not enough," the unidentified woman told Ocasio-Cortez and the packed room. "Even if we were to bomb Russia, we still have too many people, too much pollution. So we have to get rid of the babies. That's a big problem. Just stopping having babies is not enough. We need to eat the babies."
Despite the lawmaker's attempts to calm the woman down, Trump retweeted it, calling Ocasio-Cortez "a wack job!"
In its tweet, LaRouche PAC claimed the stunt was meant to be commentary similar to Jonathan Swift's famed satire on baby-eating, "A Modest Proposal."
"It was us," the group tweeted. "Malthusianism isn't new, Jonathan Swift knew that. Sometimes, only satire works."
Gizmodo, which first reported the video as a hoax, spoke to Matthew Sweet, an author who has written about the group's founder, Lyndon LaRouche Jr.:
Sweet notes that the group did something similar to 1988 presidential candidate Michael Dukakis, spreading leaflets that he was mentally unwell and had visited a psychiatrist. The campaign made national headlines and Dukakis was forced to release medical records refuting the claim.

Aside from yesterday's outburst, LaRouche PAC has been trying to get "eat children" satire out in other street-level engagements to discredit the environmental movement. The group posted photos to Facebook on October 2 that shows people with signs like "Eat the Children," as well as other more earnest messages in support of Donald Trump.
LaRouche PAC did not immediately return a request for comment from HuffPost.
REAL LIFE. REAL NEWS. REAL VOICES.
Help us tell more of the stories that matter from voices that too often remain unheard.