Rep. Lee Zeldin Defends Trump Following Backlash Over His 'Disloyalty' Remarks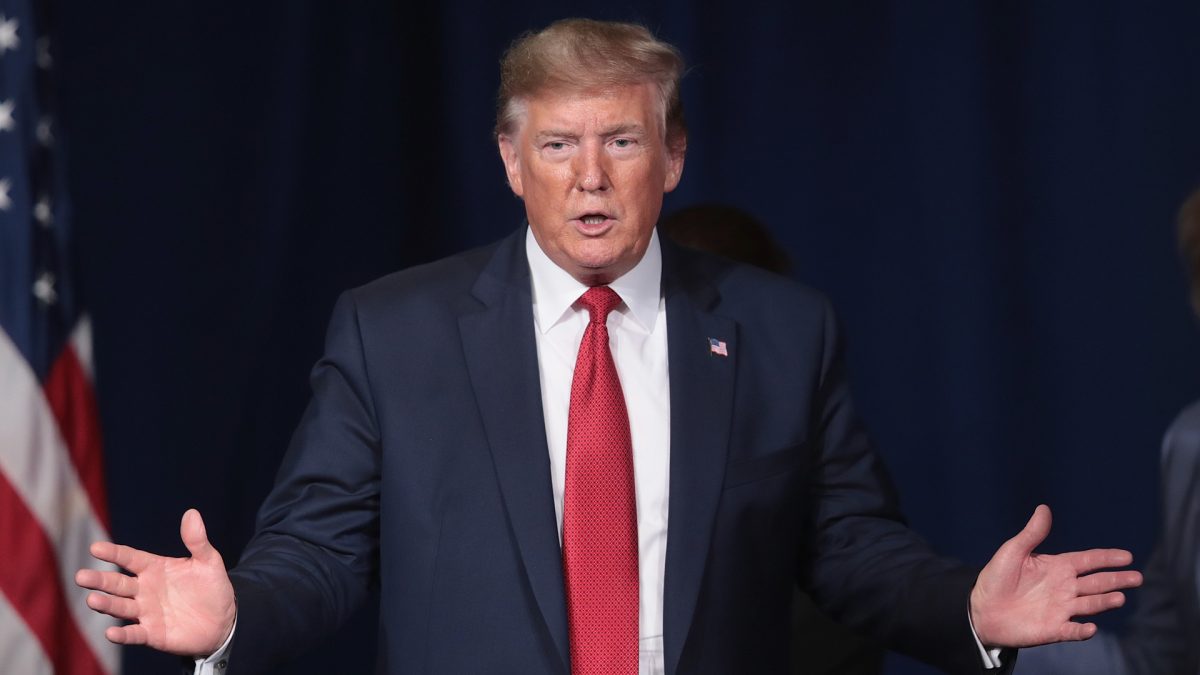 Rep. Lee Zeldin (R-N.Y.) came to President Donald Trump's defense in a recent interview. The president was facing accusations of anti-Semitism when he suggested Jewish-Americans who vote for Democrats show "either a total lack of knowledge or great disloyalty."
"The president is being accused of anti-Semitism, which is crazy," Zeldin said during an appearance on Fox News' America's Newsroom on Aug. 22. "He has shown so much love and support for Jews and the U.S.-Israel relationship. He has pursued policies, he has secured victories to strengthen that relationship, that alliance between the United States and Israel."
Zeldin, who is one of the two Jewish Republicans in Congress, said the president has followed through with many promises he made over Israel.
"Whether it's moving the embassy in Israel to Jerusalem, recognizing Israeli sovereignty over the Golan Heights, opposing BDS and anti-Semitism here at home and abroad … withdrawing from the fatally flawed Iran nuclear deal, he has focused his entire first term in office towards these very important priorities for many Jews and non-Jews here in the United States," he said.
The Boycott, Divestment, and Sanctions (BDS) movement, which is supported by Reps. Ilhan Omar (D-Minn.) and Rashida Tlaib (D-Mich.), aims to cut off economic support for Israel.
Zeldin's comments were in response to the backlash at Trump after his criticism of Jewish-Americans who vote for Democratic candidates at the White House on Aug. 20. He did not specify who they were disloyal to.
These comments garnered criticism from his opponents and various Jewish organizations, including many pro-Democratic Jewish groups. Some of the groups accused the president of weaponizing anti-Semitism for political gain.
While speaking with reporters at the White House on Aug. 21, the president clarified his Aug. 20 comments. He said that Americans who vote for Democrats are "very disloyal to Jewish people" and "very disloyal to Israel."
"In my opinion, the Democrats have gone very far away from Israel. I cannot understand how they can do that. They don't want to fund Israel. They want to take away foreign aid to Israel," he said while responding to a question from a reporter.
"They want to do a lot of bad things to Israel. In my opinion, you vote for a Democrat, you're being very disloyal to Jewish people, and you are being very disloyal to Israel. And only weak people would say anything other than that."
Zeldin defended the president saying that there's always been an issue with using the terms "loyalty" or "disloyalty." He added that he wouldn't use those terms in the same context as the president.
He added, "The president, who as I said, is approaching this from a very different standpoint, he chose to use a word that I wouldn't use in that particular context."
"He's being accused of anti-Semitism, which is just so not true. The definition of anti-Semitism requires a hatred toward Jews, and he's shown that he has none of it. Literally, his son-in-law, his daughter, his grandchildren are Jewish, and as I mentioned earlier, all of those policy victories," he added.
Tlaib and Omar—both of whom have been criticized for pushing an anti-Semitic narrative—were denied entry from visiting Israel last week. Israeli Prime Minister Benjamin Netanyahu said in a statement on Aug. 15 that the country's Minister of Interior had decided to bar entry to the two congresswomen. Both of them have been outspoken about their disdain for Israel. The Minister stated that their itinerary "reveals that the sole purpose of their visit is to harm Israel and increase incitement against it."
"As a free and vibrant democracy, Israel is open to critics and criticism, with one exception: Israeli law prohibits the entry into Israel of those who call for and work to impose boycotts on Israel, as do other democracies that prohibit the entry of people who seek to harm the country," Netanyahu wrote in the statement.
Omar and Tlaib subsequently held a press conference to publicly condemn Israel's decision to bar them from entering the country. During the press conference, Omar suggested that the United States should reconsider giving foreign aid to Israel.
"Fortunately, we in the United States have a constructive role to play," Omar said. "We give Israel more than $3 billion in aid every year. This is predicated on their being an important ally in the region and the only democracy in the Middle East. But denying visit to duly elected members of congress is not consistent with being an ally and denying millions of people freedom of movement or expression or self-determination is not consistent with being a democracy.
"We must be asking, as Israel's ally, [that] the Netanyahu government stop the expansion of settlements on Palestinian land, and ensure full rights for Palestinians if we are going to give them aid."
In his remarks on Aug. 20, Trump said there will be no changes to foreign aid for Israel in response to Omar's suggestion.
"I would not cut off aid to Israel. And I can't even believe that we're having this conversation," Trump said.
"I mean, Omar is a disaster for Jewish people. I can't imagine if she has any Jewish people in her district, that they could possibly vote for her."
Follow Janita on Twitter: @janitakan