Trump Again Considering Pardon for Rod Blagojevich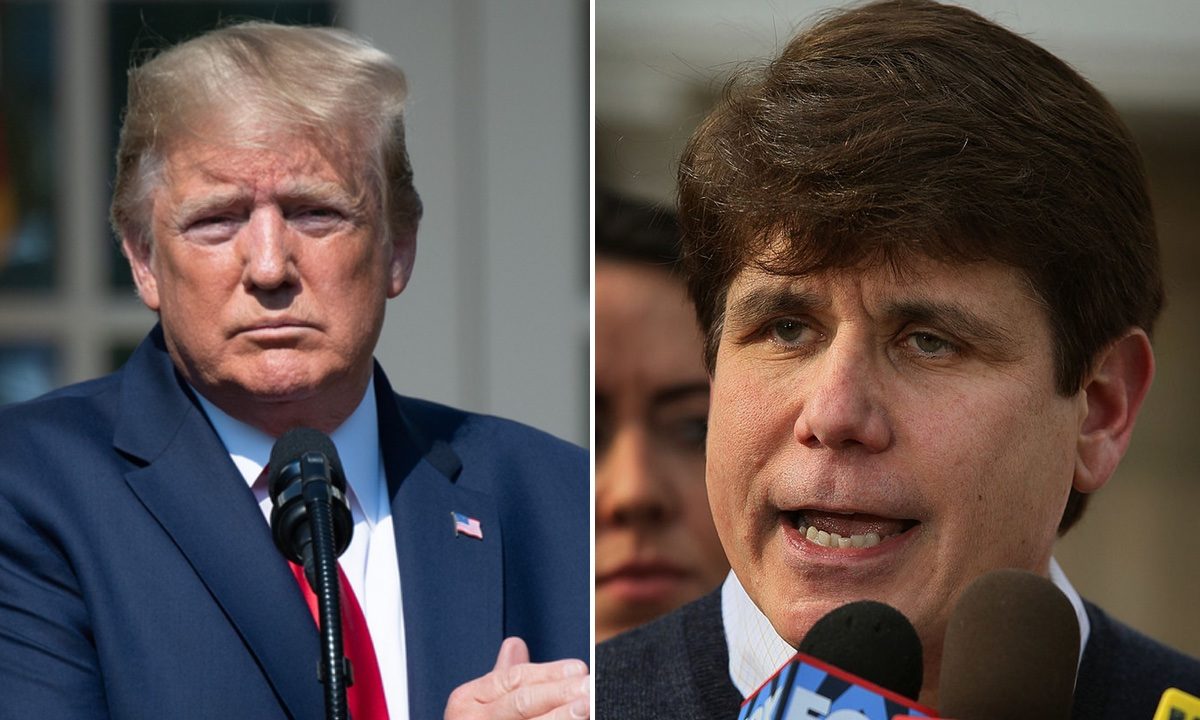 President Donald Trump said late on Aug. 7 that he is again considering commuting the sentence of former Illinois Gov. Rod Blagojevich.
"I thought he was treated unbelievably unfairly," the president said. "He was given close to 18 years in prison. And a lot of people thought it was unfair, like a lot of other things. And it was the same gang—the Comey gang and the, all these sleazebags—that did it."
Blagojevich served as the governor of Illinois from 2003 to 2009, when he was impeached for abuse of power and corruption. Blagojevich claimed that his impeachment was politically motivated because of his unwillingness to raise taxes. The impeachment was based on allegations against Blagojevich in a criminal case linked to an attempted pay-to-play scheme to fill the Senate seat vacated by President Barack Obama. The criminal case concluded in 2011 when Blagojevich was sentenced to 14 years in federal prison.
In the spring of 2010—after his indictment and prior to his conviction—Blagojevich starred in the ninth season of "The Celebrity Apprentice." Trump, the show's star, predicted that Blagojevich would win but ended up firing him in the fourth episode.
Blagojevich's appeal of the conviction resulted in some of the charges being dropped, with the case ultimately reaching the Supreme Court in 2016. The court declined to review his case. In August 2016, a federal judge resentenced Blagojevich to the same 14-year term. The judge acknowledged the suffering of Blagojevich's family and his good conduct in prison, but argued that his conduct merited the sentence.
"He's been in jail for seven years, over a phone call where nothing happened," Trump told reporters aboard Air Force One on Aug. 7.
"And I watched his wife, on television, saying that the young girl's father has been in jail for now seven years, and they've never seen him outside of an orange uniform. You know, the whole thing," Trump said.
The president emphasized that Blagojevich is a Democrat.
Trump had said in May 2018 that he was considering commuting the sentence for Blagojevich and pardoning entrepreneur Martha Stewart. The president revealed the two names shortly after pardoning Dinesh D'Souza, the author of two scathing documentaries about Obama and Hillary Clinton.
Reverend Jesse Jackson in July asked Trump to pardon Blagojevich. Jackson and Blagojevich had traveled together to Serbia 20 years ago to secure the release of three U.S. servicemen.
"We stand with his family as they seek a full pardon for a father and husband that has served most of a sentence that was far longer than the offense deserved," Jackson and his son wrote in a letter (pdf) to the president on July 12.
Mark Vargas, who handles press inquiries for Blagojevich's wife, Patti Blagojevich, didn't respond to a request for comment.
"Our President's comments on Air Force One last night make us very hopeful that our almost 11-year nightmare might soon be over. We are very grateful," Patti Blagojevich wrote on Twitter.
Trump has issued 15 pardons since taking office. The president granted his first pardon to Joe Arpaio, the former sheriff of Maricopa County, Arizona, in August 2017. Trump's most recent pardon took place on July 29, with seven people receiving either pardons or sentence commutations.
Follow Ivan on Twitter: @ivanpentchoukov