Trump Creates New Position Dedicated to Fighting Human Trafficking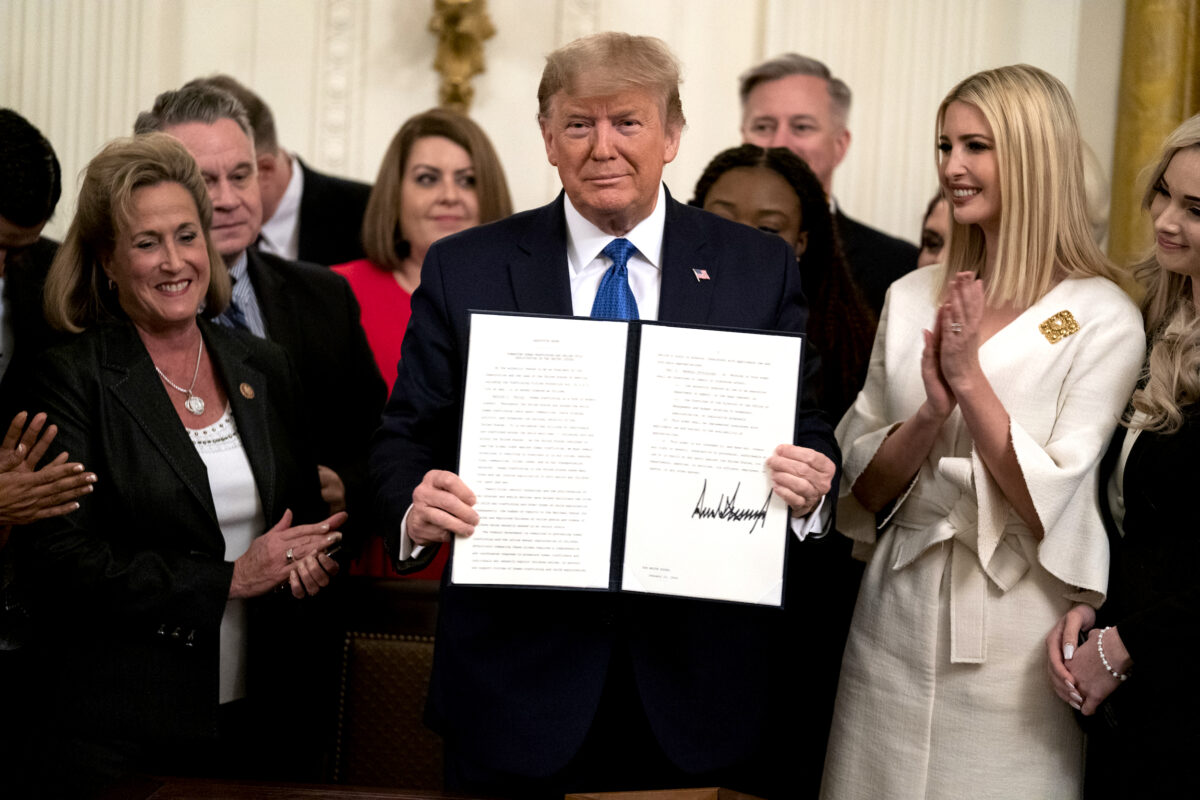 President Donald Trump on Friday signed an executive order on combating human trafficking, including the creation of a new White House position that will be dedicated to the task.
Trump has made combating human trafficking a key goal of his administration and has often spoke publicly about the issue. He signed the executive order upon the conclusion of a White House summit on human trafficking while surrounded by administration officials, members of Congress, and trafficking survivors.
The president said at the event, which ran for roughly 25 minutes, that it was a "historic" day, and praised the passion of the advocates and supporters in the room. He declared his administration "100 percent committed to eradicating human trafficking from the earth," and called it a form of "modern-day slavery."
A candidate has yet to be revealed for the new post, which will be an addition to the Domestic Policy Council, officials said. Trump, during the shout-out portion of his remarks, said that there were a number of senators who "wanted to be here." The Senate is currently poised to vote on whether or not to call witnesses in the impeachment trial of the president.
In his speech, he also thanked Ivanka Trump for her efforts on both the human trafficking issue and jobs, saying, "She has taken this under her wing." Ivanka stood on stage alongside her father.
Earlier in January, Ivanka Trump toured housing that had been provided for trafficking victims in Atlanta.
"This issue has been so important to her—this, and being sure people are ready to work," Trump said.
Trafficking is a global, daily issue hidden in plain sight. About 1 in 800 people in the United States are living in "modern slavery," according to 2018 data by the Walk Free Foundation. The phrase is a broad term used to describe victims of forced labor, sexual exploitation or servitude, and forced marriages, among numerous other abuses.
Trump later introduced Bella Hounakey, a young woman and survivor of human trafficking. Hounakey gave brief remarks, touting her accomplishments since being rescued from trafficking at a very young age. She is now a college graduate, an American citizen, and the newest member of the U.S. Advisory Council on Human Trafficking.
Hounakey received a standing ovation after her remarks, which closed with a message to other victims and survivors: "You're not alone, you're not alone, you're not alone." Before the signing of the executive order, Vice President Mike Pence also gave remarks, saying the order "will impact the federal response across our government" and empower agencies "to have even more tools to combat the scourge of human trafficking."
The executive order also expands prevention education programs, promotes housing opportunities for survivors, and prioritizes the removal of child sexual abuse material from the internet.
The State Department will be tasked with creating a website to serve as a clearinghouse for resources and information on government-wide efforts to combat human trafficking.
On the last day of 2019, Trump proclaimed January as "National Slavery and Human Trafficking Prevention Month," calling the crime of trafficking an "affront to humanity that tragically reaches all parts of the world."
The Department of Homeland Security has initiated more than 800 investigations related to human trafficking, Trump noted in the proclamation, adding that the Department of State has also launched its Human Trafficking Expert Consultant Network, made up of survivors and other experts, to inform its anti-trafficking policies and programs.
The Associated Press contributed to this report
Follow Bowen on Twitter: @BowenXiao_