Trump Has No Plans to Meet With Iran at UN, as US Sends Troops to Saudi Arabia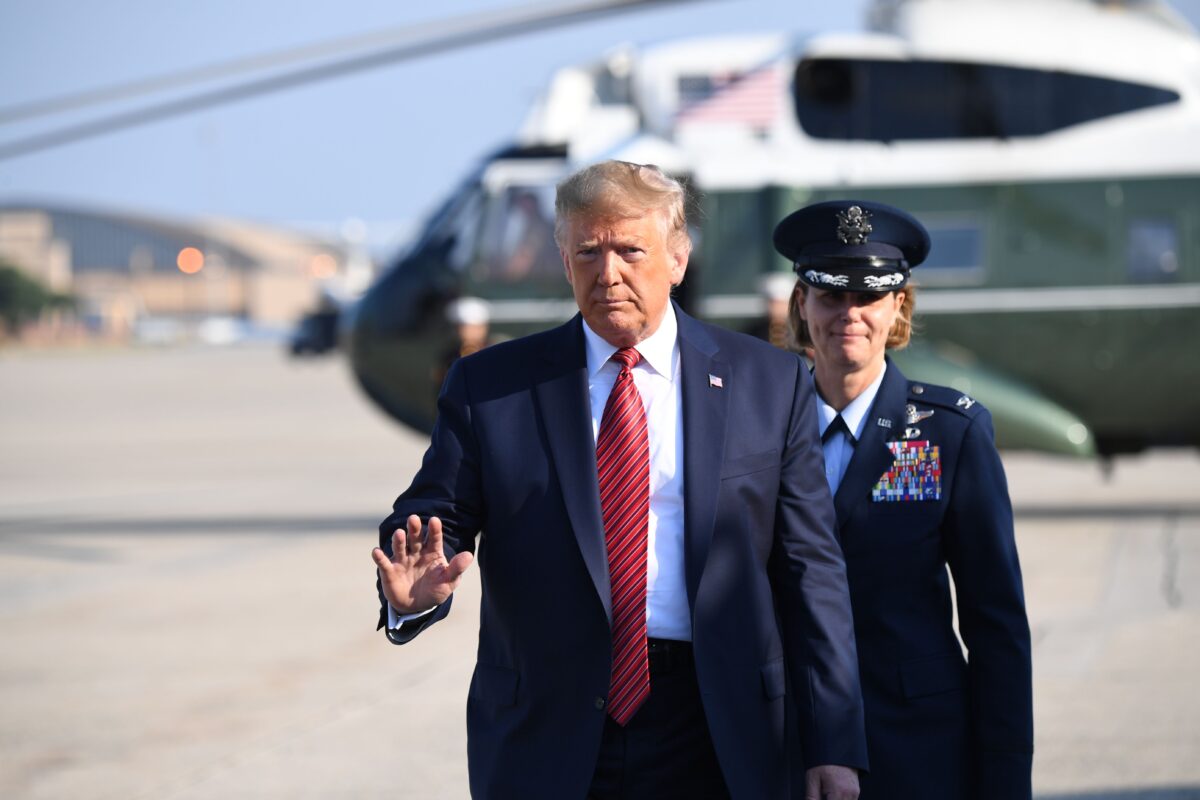 President Donald Trump said he had "no intention" of meeting with Iran at the upcoming U.N. meetings, as the United States is set to deploy additional troops and missile defense equipment to Saudi Arabia and the United Arab Emirates, according to the Pentagon.
The upcoming deployment announced Sept. 20 comes after Trump put off any immediate military strike on Iran in response to the recent attack on Saudi Arabian oil facilities.
Trump didn't rule out meeting with Iran at the U.N. meetings in New York starting on Sept. 23. The president is set to make the protection of religious freedom a key focus at the 74th session of the U.N. General Assembly.
"Nothing is ever off the table completely, but I have no intention of meeting with Iran, and that doesn't mean it doesn't happen," Trump told reporters on Sept. 22. "I'm a very flexible person, but we have no intention. It's not set up."
The president said he has about 15 meetings scheduled, but Iran isn't one of them. Days ago, Trump said he was exploring avenues other than war that the administration can use to punish Iran. He said there were "many options" other than the "ultimate option," meaning "go in—war."
The extra U.S. presence is the first step in increasing security, Defense Secretary Mark Esper told reporters; he didn't rule out additional moves down the road. More information about the deployment will be determined in the coming days, but it wouldn't involve thousands of U.S. troops, according to Gen. Joseph Dunford, chairman of the Joint Chiefs of Staff.
The U.S. deployment would be in the hundreds, and the defensive equipment heading to the Middle East would probably include Patriot missile batteries and possibly enhanced radars, other officials told The Associated Press.
Dunford told reporters the extra equipment and troops would give the Saudis a better chance of defending against unconventional aerial attacks.
"No single system is going to be able to defend against a threat like that," he said, "but a layered system of defensive capabilities would mitigate the risk of swarms of drones or other attacks that may come from Iran."
Trump ordered on Sept. 18 an escalation of already unprecedented sanctions on Iran after drones and cruise missiles struck an oil field and two large oil processing facilities in Saudi Arabia on Sept. 14.
Secretary of State Mike Pompeo said on Sept. 22 that Iran was definitely to blame for the attacks, which were initially claimed by Tehran-backed Houthi rebels. Pompeo told CBS's "Face the Nation" that the attacks "could not have come from the Houthis—it's crazy for anyone to assert that they did." He added that this was "a state-on-state act of war."
While Houthi rebels claimed responsibility and Iran denied involvement, the Saudis displayed drone and missile debris as "undeniable" evidence of Iranian involvement. A Saudi Defense Ministry spokesman said during a Sept. 18 news conference that a total of 25 drones and missiles were used in the attacks launched from Iran, not Yemen.
The increasing tensions between Iran and the United States show that Trump's approach is working, according to Treasury Secretary Steve Mnuchin.
"Tensions are worse because it's working," Mnuchin told CNN's "State of the Union" on Sept. 22. "We've cut off all the money to Iran. You see Iran in desperation attacking its neighbors."
Meanwhile, former Secretary of Defense Jim Mattis said the Iranian regime is continuing its campaign of "destabilizing influence" in the Middle East to a "revolutionary fervor," in an interview with ABC's "This Week" program.
In June, Trump had also called off a missile strike after Iran shot down a U.S. surveillance drone. The president said he canceled the attack because it would have killed dozens of Iranians.
Iran's Response
While Iran denied any involvement in the Sept. 14 attack against Saudi Arabia, the country's Revolutionary Guard says it is ready for combat, the country's chief commander said on Sept. 21.
Gen. Hossein Salami, at a ceremony displaying pieces of the American drone Iran shot down in June, said that his forces have carried out "war exercises and are ready for any scenario."
"If anyone crosses our borders, we will hit them," he said.
Meanwhile, Iran President Hassan Rouhani said on Sept. 22 that Western powers should leave the security of the Persian Gulf to regional nations led by Tehran. He criticized a new U.S.-led coalition patrolling the region's waterways as nationwide parades showcased the Islamic regime's military arsenal.
Rouhani also promised to unveil a regional peace plan at the upcoming U.N. meetings.
Iran has begun enriching uranium beyond the terms of its 2015 nuclear deal with world powers, which the United States unilaterally withdrew from over a year earlier.
Iranian Foreign Minister Mohammad Javad Zarif, who is in New York for the U.N. meetings, has warned that any retaliatory strike on Iran by the United States or Saudi Arabia will result in "an all-out war."
Zarif claimed in a post on Twitter that Saudi Arabia doesn't believe its own allegations that Iran was responsible for the attack on Saudi oil sites.
Saudi Arabia has been at war with the Houthi rebels since March 2015. The U.N., Gulf Arab nations, and the United States accuse Iran of supplying arms to the Houthis, which Tehran denies.
Epoch Times reporter Petr Svab and The Associated Press contributed to this report.

Follow Bowen on Twitter: @BowenXiao3