Trump Meets Victims on National Day for Victims of Communism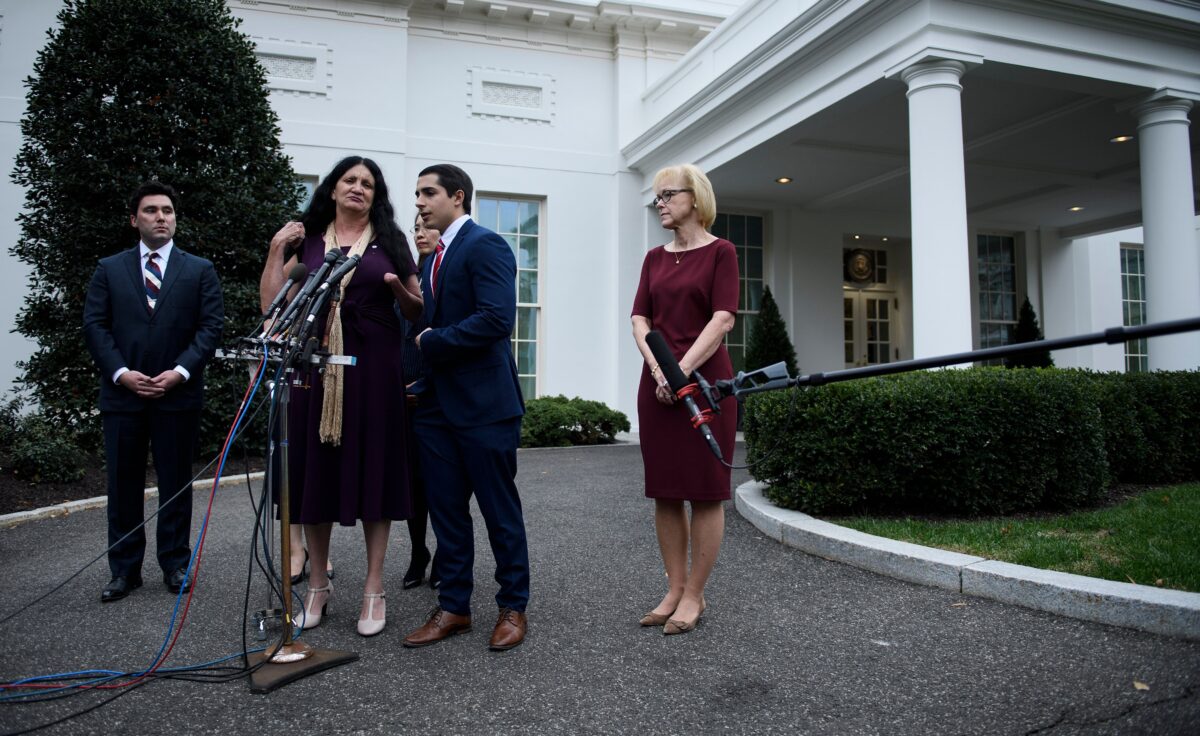 President Donald Trump met with several victims of the communist regimes of Vietnam, Cuba, Venezuela, and North Korea on Nov. 7, the National Day for the Victims of Communism.
Trump and several other White House officials, including his domestic policy assistant, Joe Grogan, met with the victims in the Oval Office to "honor the victims of communist regimes and help highlight the evils of communism," said Judd Deere, White House deputy press secretary.
Nov. 7 marked 102 years since the Bolshevik Revolution in Russia, the first country that was taken over by communism.
Since then, communist regimes have caused more than 100 million unnatural deaths, excluding casualties of war, according to The Black Book of Communism.
"These movements, under the false pretense of liberation, systematically robbed innocent people of their God-given rights of free worship, freedom of association, and countless other rights we hold sacrosanct," stated a Nov. 7 White House release.
"Citizens yearning for freedom were subjugated by the state through the use of coercion, violence, and fear."
The individuals invited to the White House included Sirley Avila Leon, a Cuban refugee who in 2015 survived an assassination attempt by the communist regime's secret police. The assailant cut off her arm and maimed her legs. She became a dissident advocating for regime change. She's lived in Miami since 2016, according to Memory of Nations, a database of post-World War II life stories managed by Czech charity Post Bellum.
Venezuelan-born Daniel Di Martino also attended. He left the socialist country in 2016.
"My experience in a socialist country taught me that any country can go through what we experienced, and my goal is to stop it from ever happening again," he says on his website.
Another guest was Nguyen Ngoc Nhu Quynh, a Vietnamese blogger known under her pseudonym, Me Nam (Mother Mushroom). She's the coordinator of the Vietnamese Bloggers Network and has been arrested and physically assaulted for her criticism of the Vietnamese communist regime for corruption and human rights violations, according to Front Line Defenders, a human rights advocacy group.
The president also met Grace Jo, a North Korean defector whose father was tortured to death after he tried to bring food for his family from neighboring China. Her family tried to escape North Korea through China multiple times since she was a child, but each time were captured and returned. Her grandmother and younger brothers died of starvation, she told WTOP.
Trump is the first president to recognize National Day for the Victims of Communism.
"Today, we remember those who have died and all who continue to suffer under communism," the White House release stated.
"In their memory and in honor of the indomitable spirit of those who have fought courageously to spread freedom and opportunity around the world, our Nation reaffirms its steadfast resolve to shine the light of liberty for all who yearn for a brighter, freer future."
Coming up on Nov. 9 is the 30th anniversary of the fall of the Berlin Wall, which marked the coming fall of the Soviet bloc.
To mark the occasion, Rep. Daniel Lipinski (D-Ill.) introduced a resolution on Nov. 5 in support of marking Nov. 7 as "Victims of Communism Memorial Day."
In a Nov. 7 tweet, he recalled visiting Berlin 30 years ago. "I'll never forget that historic celebration of freedom," he said.
Today, one in five people in the world still live under a communist dictatorship, a large number of them under the regime in China, which last month surpassed the Soviet Union as the longest surviving communist regime.
Follow Petr on Twitter: @petrsvab