A Majority Of House Democrats Now Back Impeachment Inquiry For Donald Trump
More than half of the House Democratic caucus supports opening an impeachment inquiry into President Donald Trump.
The number of House Democrats calling for an impeachment inquiry reached 118 with the support of Rep. Salud Carbajal (D-Calif.) on Friday, and now includes more than half of the 235-person Democratic caucus. (Other news outlets have previously reported that a majority of House Democrats supported an impeachment inquiry. HuffPost has only been counting explicit and open calls for an inquiry, and not hedged statements that a member would support impeachment under certain conditions. The majority threshold for those had not been reached until now.)
House Speaker Nancy Pelosi (D-Calif.) has sought to tamp down impeachment talk ever since Democrats won control of the House in the 2018 elections, contending that impeachment might backfire and help Trump's reelection. She dismissed calls for an inquiry in May by noting the small number of supporters. "Yes, there are some, and the press makes more of a fuss about the 38 than the 200," she said at the time.
But Pelosi now finds herself opposed to the position of a majority of her caucus, including front-line freshmen in swing districts like Reps. Tom Malinowski (D-N.J.), Chris Pappas (D-N.H.), Katie Porter (D-Calif.), Mike Levin (D-Calif.) and Harley Rouda (D-Calif.).
The Democratic caucus milestone still leaves impeachment supporters far short of the 218 votes they need in the House to begin the process, as Congress did in the cases of Richard Nixon and Bill Clinton.
Calls for an impeachment inquiry have steadily grown since the release of then-special counsel Robert Mueller's "Report on the Investigation into Russian Interference in the 2016 Presidential Election" on April 18.
Mueller's report detailed instances in which Trump may have obstructed justice to end, derail or stymie the investigation, but noted criminal charges could not be brought because of a Department of Justice policy forbidding the indictment of a sitting president. The report noted that there is another constitutional redress to presidential abuses of power ― an allusion to impeachment.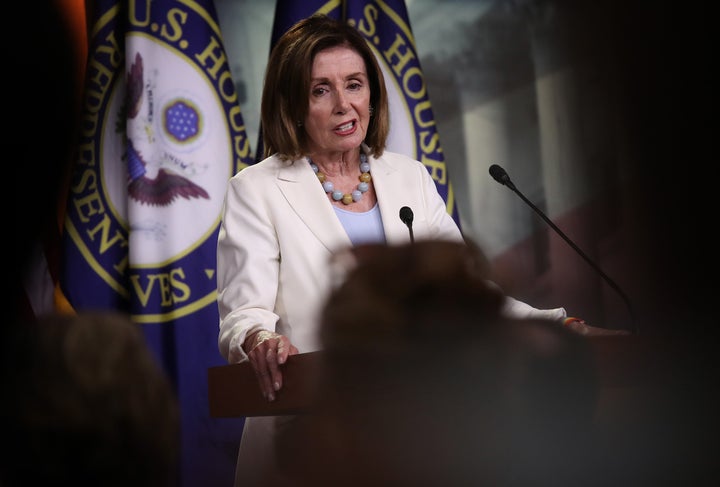 The Trump administration has since blocked most efforts by House committees to obtain testimony and documents from key witnesses to incidents described in Mueller's report. The administration also is suing to prevent the House from obtaining Trump's personal financial information, including his tax returns, which could expose other wrongdoing.
Mueller testified in July to the Judiciary and Oversight committees. Since then, more than 20 lawmakers have joined calls for an impeachment inquiry.
The details of the Mueller report and the administration's blockade of oversight are the most common reasons lawmakers give for supporting an impeachment inquiry.
"After reading Robert Mueller's report, hearing his testimony, and responding to President Trump's repeated stonewalling of Congress, it's clear that our democracy faces substantial risks that require congressional action," Rep. Jason Crow (D-Colo.), a freshman who defeated a Republican incumbent in 2018, wrote on July 30.
"As a former prosecutor, it is clear to me given the conduct by the president detailed in the Mueller Report and Director Mueller's recent testimony before Congress that ― were he not a sitting president ― Donald Trump would be indicted on charges for obstruction of justice," Rep. Jennifer Wexton (D-Va.), another freshman who won a swing district in 2018, said in a statement on July 30.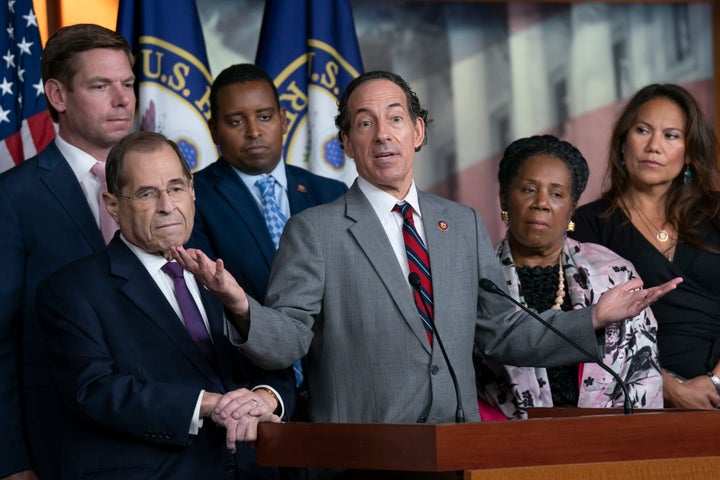 An official impeachment inquiry would be conducted within the House Judiciary Committee. A majority of Democrats on the committee have supported opening an impeachment inquiry since June. The committee is now involved in a process that Chairman Jerrold Nadler (D-N.Y.) said is, "in effect," an impeachment investigation ― if not an inquiry.
The committee argued for the first time in court that it needs to obtain some of Mueller's grand jury information that the Department of Justice has withheld to determine "whether to exercise its full Article I powers," including recommendations for articles of impeachment.
"From my personal point of view, we are in an impeachment inquiry," Rep. Jamie Raskin (D-Md.), a Judiciary Committee member, said at a July 26 press conference.
Grassroots groups Indivisible and MoveOn have promised to pressure additional lawmakers, including Republicans, at town halls during the August congressional recess, according to BuzzFeed News.
Michigan Rep. Justin Amash, a Republican-turned-independent, is the lone House non-Democrat to call for an impeachment inquiry.
REAL LIFE. REAL NEWS. REAL VOICES.
Help us tell more of the stories that matter from voices that too often remain unheard.